Today, we are going to take a comprehensive look at a small-cap biotech company with several near-term catalysts, a strong cash position, and high insider ownership. I feel with all factors considered, this company can see very good price appreciation heading into its near-term catalyst.
GTx (NASDAQ:GTXI) specializes in developing synthetic hormones to achieve certain therapeutic effects in the body. Hormones are extremely important in controlling certain cellular and intracellular activities in our bodies and drugs that manipulate these hormones can have a very powerful effect. Many of our body's cells have specific receptors, where certain molecules with the correct stereochemistry and conformation can activate or inhibit a response. GTx develops drugs termed "nonsteroidal selective receptor modulators" that facilitate control of androgen and estrogen receptors by binding to the receptor instead of the natural hormone. These nonsteroidal selective receptor modulators (SRMs) are important because they are able to interact with the hormone receptors that usually only allow the four fused chemical ring structure of a steroid to bind, even though they do not contain the same chemical structure. This is significant because it allows GTx's drugs to control these vital hormones and stimulate their beneficial characteristics, while also minimizing the unwanted side effects of synthetic steroidal compounds.
GTx is currently in two pivotal Phase III trials, termed Power 1 and Power 2, for enobosarm (Ostarine; GTx-024), which is used for the prevention and treatment of muscle loss in patients with non-small cell lung cancer and for other muscle wasting diseases. Additionally, GTx is conducting a Phase II trial for its estrogen receptor alpha antagonist, Capesaris (GTx-758), for secondary hormone therapy for castration resistant prostate cancer.
GTx's Platform and Pipeline:
· Selective Receptor Modulators (SRMs)
GTx's SRM platform is potentially very powerful because it's able to maximize the benefits of a drug, while minimizing the side effects. Steroidal hormones have been used for years to treat certain diseases and conditions. However, use of these hormones has been rather limited due to the unwanted side effects that steroids cause. This is of particular importance because steroid usage causes very noticeable side effects that include potential stimulation of prostate cancer, aggravation of existing benign prostatic hyperplasia, acne, hair growth, virilization, and gynecomastia.
GTx's platform allows scientists to harness the power of some of our body's strongest hormones to stimulate tissue growth, development and function, without using steroids. Whether the desired effect is to be an agonist (stimulating a biological response) or antagonist (blocking a biological response), scientists can have better control over the treatment of select tissues.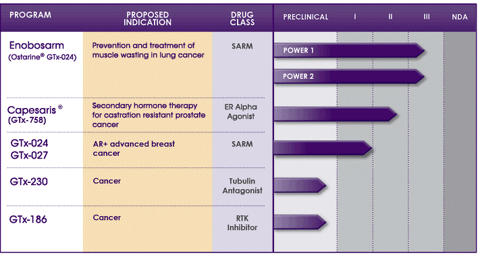 Enobosarm
Enobosarm, also termed Ostarine or GTx-024, is in two Phase III clinical trials for the prevention and treatment of muscle wasting in patients with non-small cell lung cancer (NSCLC). These trials are of the utmost importance for patients with muscle wasting because there is currently no approved treatment.
Muscle wasting is a common problem for patients with non-small cell lung cancer and it can be quite debilitating. In fact, 88% of patients report they have difficulty doing everyday activities such as climbing stairs. This muscle loss is a common cancer symptom that can be caused by the underlying condition or the side effects of several chemotherapy drugs. Nearly half of NSCLC patients present severe muscle loss and 70% have muscle loss before death.
So far, previous trials for enobosarm have gone well and met primary endpoints.
According to the company website:
To date, GTx has evaluated enobosarm in eight clinical trials involving approximately 600 subjects including three efficacy studies. A four month Phase IIb enobosarm clinical trial enrolled 159 patients with NSCLC, colorectal cancer, breast cancer, non-Hodgkin's lymphoma, or chronic lymphocytic leukemia. The study met its primary endpoint of absolute change in total lean body mass (muscle) compared to placebo and the secondary endpoint of muscle function (performance). The incidence of serious adverse events, deaths and tumor progression were similar among placebo and the treatment arms. The most common side effects reported among all subjects in the trial were fatigue, anemia, nausea and diarrhea.
So many NSCLC patients live with a lower quality of life, due to the fact that there is currently no approved treatment. The FDA recognizes this unmet need and gave Fast Track Designation for this indication of enobosarm. If Phase III trial results are positive, it will be a huge success for patients and investors alike.
Capesaris
GTx is also working on developing GTx-758 (Capesaris), which is in Phase II clinical trials. Capesaris is a selective estrogen receptor alpha agonist, which is being tested for use in treating men with advanced prostate cancer. It is thought that by increasing the sex hormone binding globulin and reducing serum free testosterone, patients will see a significant decrease in prostate cancer cell growth.
On March 15, 2013, GTx presented its Phase II Trial Data in advanced prostate cancer at the 28th Annual European Association of Urology Congress and was selected as One of the Best Posters.
Near term catalysts:
GTx is expecting to release topline data from the two pivotal clinical trials termed POWER 1 and POWER 2 soon this year. Both of the pivotal trials are placebo-controlled, double-blind, and were fully enrolled by the 4th quarter of 2012.
According to Mitchell S. Steiner, Chief Executive Officer of GTx:
We are pleased that the DSMB (Data Safety Monitoring Board) has recommended that GTx continue as planned with our clinical studies of enobosarm under the existing protocols. The extensive safety database GTx is compiling from the numerous clinical studies of enobosarm will be a critical component of GTx's application for marketing approval, which we hope to submit following receipt of topline data from our Phase III clinical trials in the 3rd quarter of 2013.
In both trials, patients with stage III or IV NSCLC were randomized at the time they began first line chemotherapy and were either treated with placebo or 3 mg of enobosarm. The study measured the response rates of enobosarm vs. placebo, on maintaining or improving total lean body mass. To test this, doctors had patients perform a stair climb to assess the individual's power at day 84 of treatment. Additionally, the study used dual x-ray absorptiometry (DXM) to measure the patient's bone mineral density at five months of treatment.
GTx's indication for enobosarm deals with muscle loss, however there are some big name pharmaceutical companies that produce therapies for patients with non-small cell lung cancer.
One of these companies is Pfizer (PFE), which currently markets Xalkori (crizontinib). Xalkori is a protein kinase inhibitor that binds to the ATP-binding pocket of target kinases. About 4% of NSCLC patients have an abnormality to the anaplastic lymphoma kinase ((ALK)) gene, which can cause cancer growth in the lung. This approved drug causes 90% of tumors to shrink at least 30%-50% in clinical trials. The purpose of this comparison is not to highlight a competing product (because GTx's indication has no current treatment and thus there is not competition), but to show that the market for products that help treat NSCLC is large and profitable.
Future Catalysts:
GTx also has several catalysts in the future that could drive share price significantly higher.
On April 30, 2013, GTx announced that it would be initiating a Phase II, open-label study of enobosarm to treat ER positive metastatic breast cancer. The primary endpoints for this study will be clinical benefit and will be assessed within 6 months time.
Moreover, GTx is currently enrolling a Phase II clinical study (G200712) to evaluate the safety and effectiveness of lower doses of Capesaris to treat men with metastatic castration resistant prostate cancer and expects to receive topline data from this study later this year.
Financial Position:
GTx is in a very strong financial position for a developmental biotech company. The company engaged a public offering on June 23, 2011, of 10,000,000 shares priced at $4.75 per share, totaling about $47.5 million. Currently, GTx has $56.09 million in cash, and no debt, so it's not likely the company will have a need to dilute anytime soon as its cash position should be able to last through next year.
Share Structure:
| | |
| --- | --- |
| Shares Outstanding: | 62.89M |
| Float: | 20.57M |
| % Held by Insiders: | 69.28% |
| % Held by Institutions: | 24.80% |
| Shares Short (as of Apr 15, 2013): | 2.64M |
| Short Ratio (as of Apr 15, 2013): | 18.70 |
| Short % of Float (as of Apr 15, 2013): | 10.40% |
| Shares Short (prior month): | 2.66M |
Similar to many of the other biotech companies that I have covered, GTx has a favorable share structure. They only have 20.57 million shares in the float, which means when the stock does move, it will move quickly and decisively. Furthermore, there is no significant outstanding warrants that would act as an overhang to limit the share price from appreciating into the anticipated release of Phase III data.
Insider ownership:
From the same table above, we can also see the bullish sentiment of GTx insiders. Currently, insiders hold 69.28% of the shares, which is a large position for a developmental biotech company.
Joseph Hyde, the former Chief Executive Officer of Autozone and director of the FedEx Corporation, is currently on GTx's board of directors and is the largest shareholder. He holds 9,405,014 shares of GTx, with a current market value of over $42,500,000.
Jack Schuler, the former President and Chief Operating Officer of Abbott Laboratories (NYSE:ABT), also owns 6,954,144 shares, with a current market value of over $31,500,000. It's important to note that neither of these heavily invested insiders has sold a single share within the last year. In fact, they have continually added, with the most recent acquisition as close as March 31, 2013, by Joseph Hyde.
Small-cap developmental pharmas that show positive results in clinical trials dealing with unmet need markets are often acquired by larger pharmas, especially when the small-cap company has former executives from large cap companies with significant insider ownership. Often times these former top executives help engage acquisition discussion as they are well "connected" with their former companies - Abbot might very well be interested in acquiring GTx if the upcoming data release is positive.
Prolar Biotech (PBTH) is a recent example of a company being bought out by an insider with a large stake in the company. Opko Health (OPK) CEO Dr. Phillip Frost owned about 20% of PBTH at the time and on April 24, 2013, Opko Health announced that it would be acquiring Prolar Biotech for about $480 million.
The level of insider ownership in GTx is also similar to that of OPK, which has insiders holding 55.35% of the shares. Dr. Frost continually bought shares before the stock ran from $4.50 to $7.50.
Charts and Indicators: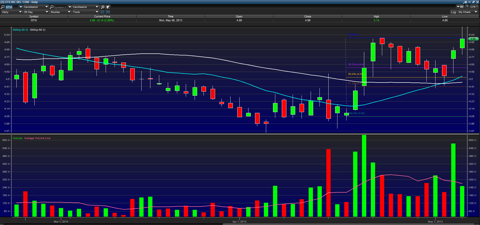 From the above daily 50-day chart, we can see that GTXI is gaining interest as the catalyst approaches. The chart had a classic "flagging" continuation pattern, in which share price falls slightly and consolidates before the next run. Using the Fibonacci Retracement indicator, we can see that the stock retraced between the 38.2% and 50% levels and has began its next wave run. In terms of timing, this could indicate that we start to see a higher push very soon. In addition, the 20-day simple moving average crossed up through the 50-day simple moving average. This is a bullish sign for the intermediate term, as it signals that the stock might be ready for another run. From a volume standpoint, we can see from the pink average volume line that investors have begun to take their positions for the upcoming months.
Looking at the indicators from the same time frame, we can see bullish sentiment going forward. The Relative Strength Index is in a general uptrend, still has a bullish reading on the scale, and is below the 70 "overbought" reading. The accumulation/distribution line made a vicious reversal from lows on April 15 and is now in a nice uptrend as well. The Money Flow Index also shows nearly the same trend as the RSI, indicating bullish sentiment going forward as well.
With combined factors considered, GTx could have a run similar to that of Array BioPharma (ARRY), which ran from about $4.00 in mid March to about $6.20 at the end of April. Array BioPharma develops small molecule drugs to treat patients with cancer and is partnered with Novartis (NYSE:NVS), InterMune (ITMN) and AstraZeneca (NYSE:AZN). Array is expecting results this summer for its ARRY-520 Phase II trial for asthma.
Conclusion:
GTXI should see a significant run in the next coming months, as investors anticipate date release from its Phase III trials. The company's strong cash position, heavy insider interest and bullish chart are indicators of this. If GTx produces positive data here, investors will be significantly rewarded as the drugs associated with the data address large unmet need markets.
My short-term price target is $6.25 per share. Before the data release, my target is $7, and on a good data release, I believe GXTI can reach $10 per share.
Disclosure: I am long GTXI. I wrote this article myself, and it expresses my own opinions. I am not receiving compensation for it. I have no business relationship with any company whose stock is mentioned in this article.
Additional disclosure: Disclaimer - This article is intended for informational and entertainment use only, and should not be construed as professional investment advice. They are my opinions only. Trading stocks is risky -- always be sure to know and understand your risk tolerance. You can incur substantial financial losses in any trade or investment. Always do your own due diligence before buying and selling any stock, and/or consult with a licensed financial adviser.