In an environment of low rates, a stock market that has risen so far so fast that it's causing many to go either insane from waiting for a pullback and missing the ride or insolvent from shorting, and one where the darling investments of the last few years have been absolutely crushed, it leaves many wondering, "where exactly can I put money to work and get a decent return without risking half my capital?". The answer, it appears, has been staring us in the face every time we open our wallets to make a purchase, Visa Inc (NYSE:V), MasterCard Inc (NYSE:MA), and Discover Financial Services (NYSE:DFS). I think that with stabilizing economic data and slowly declining commodity prices that can be correlated with a rising dollar, these companies have plenty of room to run.
These companies depend on an ideal economy to increase performance, right?
It definitely helps, but as long as the global economy isn't collapsing, these companies have been able to make money. Let me be clear about this, outside of buying these companies on their lows in late 2008, and you would have been a brave soul to buy anything relating to credit or transaction processing, there has never been a better time to buy. All have seen massive increases in price since the collapse and continue to hold 45 degree angles on their charts. Visa is up ~250%, MasterCard is up ~400%, and Discover is up ~1000% in the time since the market fall, and this has been in environments that one wouldn't consider ideal for their business models.
The recent economic data has been better than horrible and all three companies have seen their profit and revenues growing at very impressive clips. If the economy really is beginning to finally pick up speed, these three could be in line for some healthy returns. Globally, all have seen their charge-off rates slowly decline and have seen their optimal loss rates for their portfolios decline. Their balance sheets have never been more solid and they continue to expand the ways in which they can derive revenues.
Sounds like they have been on a tear. Have I missed the boat?
Looking at the most recent data, it doesn't look like these three are showing any signs of slowing. Here are some highlights from each company's most recent quarter.
Visa:
Net operating revenue grew 15% year over year driven by global payment volumes, data processing revenues, and international revenues.
Net income grew 17% year over year.
Service revenue grew 10% year over year.
International transaction revenue grew 13% year over year.
Transactions processed grew 6% year over year.
Global payment volume grew 8%.
Operating margins from most recent quarter were 63% - very consistent margins.
Visa also remains extremely committed to returning cash to shareholders. Of their six billion in free cash flow guided for the year, between share buybacks and dividends, five billion will be returned to shareholders with the remaining one billion being kept offshore to avoid it being subjected to taxes for being generated off-shore. The company paid over 200 million in dividends in the most recent quarter and repurchased 12 million shares. Finally, maybe most importantly, as a result of a more certain revenue outlook and earlier than planned share repurchases, they have increased their 2013 EPS guidance from the mid teens to 20%. This is good for the share price in case you were wondering.
Visa's 2 year chart and a more focused year to date chart both show extremely bullish momentum and technicals. These are some of the best looking charts you will see.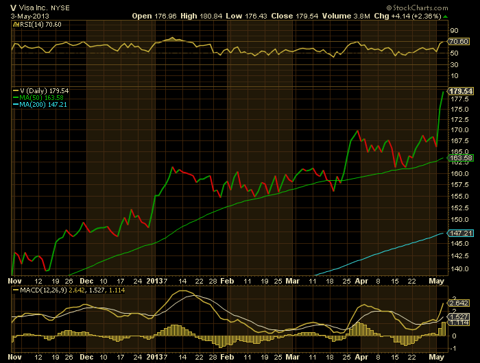 MasterCard:
Net operating revenue grew 9% year over year.
Net income grew 13% year over year.
Earnings per share growth of 17%.
Global gross dollar volume grew 12% year over year.
Transactions processed grew 12% year over year.
Maintains committed to annual operating margin target of 50%.
The most impressive highlights from MasterCard's quarter and what should propel their growth going forward is their launches of new travel, eCommerce, and management programs domestically and around the world. They recently launched a new consumer credit card at Bank of America that provides consumers cash back for responsible payment practices and launched new business with each of the following: Quantas (Australia), Alibaba Group (ASIA), Rakuten (Japan), Oriental Tours (CHINA), Credit Mutuel (France), CIBC (Canada), Banka Marcel (Mexico), Citi Bank (Hong Kong, Malaysia, Mexico, Singapore, USA), and Net Bank (South Africa).
MasterCard has an equally impressive share buyback program in place of which 1.7 billion dollars remains on the current authorization. They purchased 766 million dollars of shares under their program in the recent quarter. They maintained guidance of 11-14% for 2013 net revenue and at least 20% EPS over the 2013-2015 period. Again, all good for the share price. Of the three companies being profiled today, MasterCard may be best positioned for growth over the next 24 months.
A look at their fantastically bulled-up charts both on a 2 year time frame and a dialed in year to date timeframe: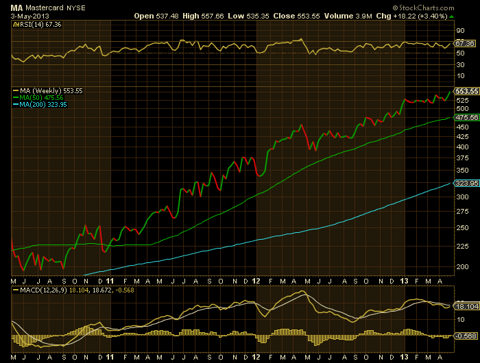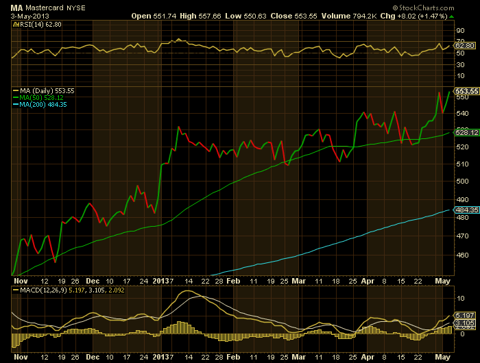 Discover:
Net operating revenue grew 10% year over year driven by global payment volumes, data processing revenues, and international revenues.

Net interest income grew 9% year over year driven by asset growth and higher net interest margins.
Card receivables grew 5% year over year.
Private, student, and personal loans grew 10% year over year as a whole.
EPS grew 10% year over year driven primarily by loan growth and share repurchases.
Over the quarter, Discover returned 310 million of capital to shareholders through repurchases and dividends. The board has currently authorized a two year, 2.4 billion share repurchase program and increased the dividend in the recent quarter from 14 cents to 20 cents a share, a 43% increase. Discover Home Loans, launched in 2012, crossed the one billion threshold when it comes to originated direct mortgages and the company intends to expand their home loan business into the home equity arena as well later in the year. Look for this to be a catalyst for valuation in the second half of 2014, possibly earlier.
Their personal loan business continues to grow, cannibalizing a very small portion of their credit business but an overwhelming percentage of the new business is coming from external sources, helping their clients consolidate and deleverage, allowing for future credit expansion within their portfolio. Even though Discover has seen a decrease in the frequency of default AND the severity of default, the company has no plans to increase their risk profile to get closer to the optimal loss rate for the portfolio that they are now under. This should provide a cushion in both risk and loss mitigation in the event that we experience another financial crisis or the economy experience a severe downturn.
Of the three companies profiled, I feel Discover is the least certain for growth at this point, but with their extremely risk managed portfolio and the expansion of their revenue streams this could very easily lead the other two companies as they have over the last 5 years.
Along with Visa and MasterCard, Discover's chart is a thing of beauty. It's clearly bullish on all time frames and has more than solid technical momentum.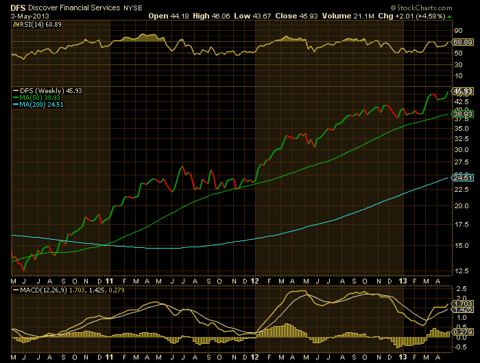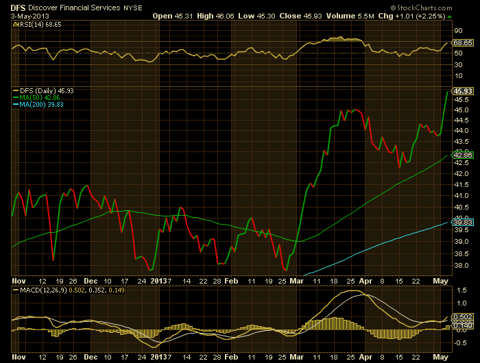 Looks like they have some catalysts for future growth, anything else?
Outside of having expanding business models and what seems to be an improving economy, I think that these companies will also benefit from a slow fall in commodity prices that is partially taking place because of a return to more realistic growth expectations globally and partially taking place because of currency manipulations. A drop in commodity prices as a whole acts as a "tax cut" that significantly affects the largest portions of the middle class, obviously an important driver of spending and consumption in this country and a very important market for each of the above companies. The commodities "tax cut" could go a long way in offsetting actual tax raises recently implemented. I don't believe this has been priced into the stocks at this point and that this should continue to provide upside surprises to consumption and spending numbers from consumers. We are still very early into this trend but the evidence is starting to validate this theory.
When looking at commodities an important benchmark to consider is the CRB INDEX. The Commodity Research Bureau Index is an index that measures the overall direction of commodity sectors. The CRB was designed to isolate and reveal the directional movement of prices in overall commodity trades. The CRB has 19 components, with Crude Oil being the largest individual component.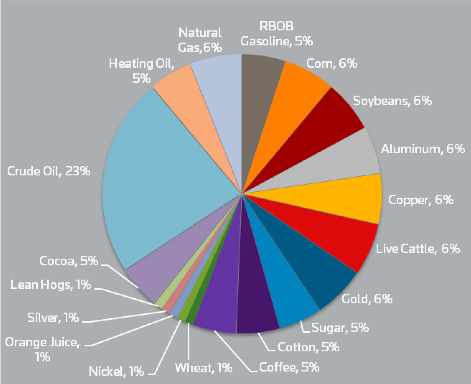 Looking at a six year chart of the CRB Index shows that declining commodity prices usually indicates demand for goods is dropping and the economy is in trouble, I don't believe this is the case this time around. I feel the most current series of lower lows on the CRB is signaling a return to realistic growth projections for China and emerging economies from the unrealistic, and that the CRB has been hurt by the rising dollar which is being manipulated by other currencies on an artificial basis as the using countries ease and rate cut, very similar to how we weakened our currency during the period from 2008 until recently.
The US dollar is up 4% in the last 90 days. The CRB is down 4.1% on the year and has declined 11.5% from the most recent peak, making lower highs and showing no sign of reversing and maintaining any upside momentum. Oil itself, the largest component and most sensitive to the consumers' wallet, has been as low as $86 over the last weeks. Oil and food prices have been in steady overall decline since September. The average household consumes 1300 gallons of gasoline per year, meaning that every ten cent drop in gasoline prices is $130/year saved or spent in some other capacity. All should continue to help improve consumption data and provide a steady upward thrust to the bottom lines of Visa, MasterCard, and Discover. More money means either paying down debt or it means more spending for large portions of this country and these companies stand to benefit from both.
Take a look at the following charts, starting with a series of lower lows on both peaks and valleys for national gasoline prices: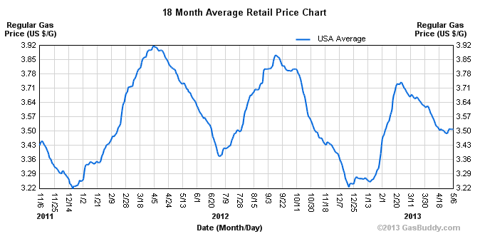 Here are some charts for both the CRB and the U.S. Dollar over the last two years, illustrating the larger trend of lower lows for the CRB and higher highs for the USD. This is a 24+ month time frame with a clear, definitive trend.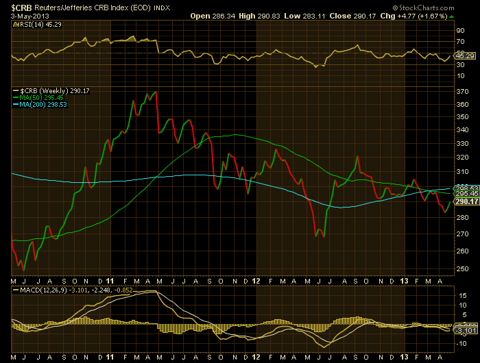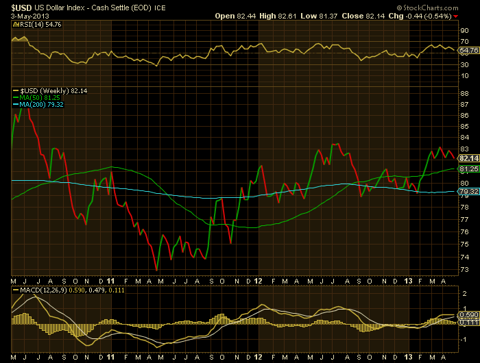 Finally, some focused charts of the CRB and USD from a year to date time frame. Still within the larger trend of lower lows for the CRB and higher highs for the USD: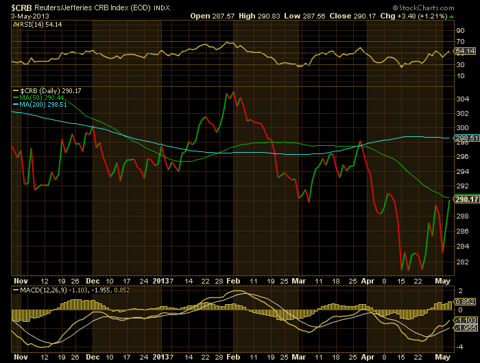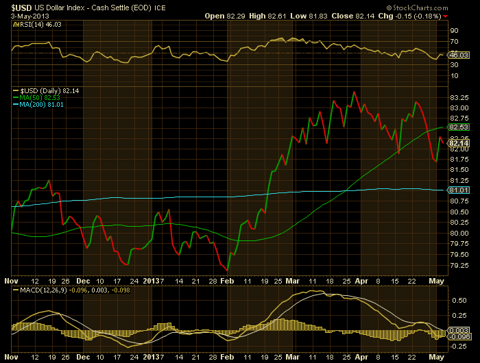 I'm convinced. What do I do now?
Regardless of whether or not you agree with my theory on the CRB/USD and the effect it will have on consumption and spending, there is no denying the strength of these three companies. All have steady to expanding margins, all have either new business or product launches that should continue to increase EPS and valuations, and all have risk profiles that are getting better and better by the quarter.
When you couple that with the fact that all have very shareholder friendly dividends and buybacks in place, these make for a great foundation to your portfolio-- whether it be from a capital gains or income standpoint. I'm a big fan of the stock, and in the case of these companies, I'm also a big fan of the LEAPs, if you trade options. I am very bullish on all three across all time horizons.
Disclosure: I am long V, MA, DFS. I wrote this article myself, and it expresses my own opinions. I am not receiving compensation for it (other than from Seeking Alpha). I have no business relationship with any company whose stock is mentioned in this article.