It's been tough for Facebook (NASDAQ:FB) since the IPO in May 2012, as it has been unable to justify its IPO price to its investors. That's the reason that its stock price is still fluctuating. Currently the stock is trading 29 percent lower than the IPO price. Since the IPO, Facebook has been trying to convince investors of the growth potential of the company by investing in a series of companies.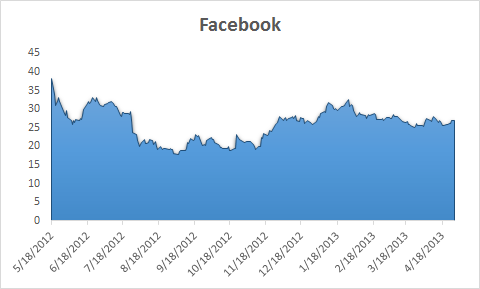 The acquisition:
In such an effort, Facebook has recently acquired the startup company Parse in a cash-and-stock deal valued at $85 million. The deal came shortly after its big mobile move - the rollout of "Facebook Home" for Android-based mobile phones.
Parse is a cloud-based platform for Windows 8, Windows Phone 8, iOS, Android, JavaScript, and OS X that provides scalable cross-platform services and tools for developers. With the help of its powerful tools, developers can create back-end applications in minutes and launch a full-featured mobile app in record time without any worrying about server management. Parse offers push notifications, social integration, data storage, and the ability to add rich custom logic to the app's back-end with Cloud Code.
Parse can provide Facebook developers a framework that will let them more tightly integrate their apps with the Facebook platform. It will also help them to create an app that works the same on other mobile platforms as it does on Facebook. This acquisition will reveal new levels of integration and monetization for Facebook and its business customers.
According to Parse CEO Ilya Sukhar, partnering with Facebook makes a lot of sense because both companies built up a core technology and a great community of developers in a very short time. Joining hands with Facebook allows the company to work with their incredible talent and resources to build the ideal platform for developers.
Area of Concern for Facebook:
The acquisition made many developers angry. Many developers claimed that they would be moving to other competitors' MBaaS platforms including StackMob. StackMob has already built a special importer tool that Parse developers can use to export their app records and import them into these other services. But Sukhar told Facebook that the developers are just angry and trying to create chaos because statistical figures show that the number of records exported per day since the acquisition announcement is lower than before. That means nobody is using that importer tool and there is no overall exit.
Analysis on Parse revenues:

Parse has over 60,000 apps developers so far on its platform. Let's suppose that after the acquisition, Parse will be able to retain 20 percent of its developers, in a worst case scenario, that is about 12,000 developers. Let's assume that on average they spend $200 per month, which is the Basic plan price. This means that Parse can obtain around $2.4 million in monthly revenues and around $28.8 million per year under the assumed scenario. This means that the amount ($85 million) paid by Facebook is equivalent to around 3 years of Parse revenues (assuming zero growth). In my opinion that's a great deal for Facebook because first of all 20 percent retention rate of developers is very low as I assumed that 48,000 will leave after the acquisition (which is very unrealistic in real situation) and second, the growth opportunities for Parse are very high in future.
Over the years the app development market has grown twice that of the app download market. According to a report, the cumulative total number of downloads in 2011 were 37 billion, in 2012 it reached more than 83 billion, and it is expected to reach 165 billion by the end of 2013. The research report also mentioned that at the end of 2012 app revenues were $12 billion, and by the end of 2013 worldwide revenues are expected to reach $20.4 billion. The researchers also expect that app downloads will continue to grow by more than 200 billion apps per year until 2017, and revenues in 2017 will reach to $63.5 billion.
What Drives rapid Growth:
The rapid shift from PCs to smartphones and tablets is driving the growth of app downloads. According to an IDC report, more than 700 million smartphones were shipped in 2012, a 45 percent growth from the previous year. Worldwide tablet shipments were 128.3 million units with a 78.4 percent YoY growth. The researchers expected that the smartphone and tablet worldwide shipment figures would reach 1.4 billion and 398 million, respectively, by the end of 2017. And due to this rapid growth in smartphones and tablets, researchers expect that over the period of 2012-2017, the number of app users will grow at a CAGR of 29.8 percent to reach 4.4 billion users by 2017.
Conclusion:
This acquisition creates a whole new opportunity for Facebook to enter into the paid B2B app development market, which has a huge growth potential. As the demand for more smartphones and tablets increases, so does the demand for apps, therefore attracting more developers. Currently, Parse has over 60,000 apps, and approximately the same number of developers, which will become part of Facebook. I believe that Facebook's bet on this new business line will help it to regain its lost honor. My recommendation for this stock is 'buy.'
Disclosure: I have no positions in any stocks mentioned, and no plans to initiate any positions within the next 72 hours. I wrote this article myself, and it expresses my own opinions. I am not receiving compensation for it (other than from Seeking Alpha). I have no business relationship with any company whose stock is mentioned in this article.