After having a chance to delve more deeply into Q1 results from the various coal companies, it's becoming increasingly likely that my forecast for coal exports (detailed in this previous article) will be fairly close to actuals. In that article, I put the total figure somewhere in the range of 90-100Mst; however, that doesn't tell the full story.
After last year's record exports of over 125Mst, most analysts assumed that several factors would drive down the export market. Unfortunately, there's no straight answer as to whether this is a good or bad thing for the coal industry. For thermal coal, this could be considered largely a good thing as increasing natural gas prices mean that coal producers are better able to compete domestically - therefore they have less of a need to export. However, lower thermal exports also mean increased domestic supply - maintaining pressure on already record-low thermal prices and limiting the ability to draw down inventories. Declines in met coal exports are a little more straightforward. Demand is decreasing from the export markets and prices have not risen as much as anticipated, resulting in continued hardship for many producers in Appalachia.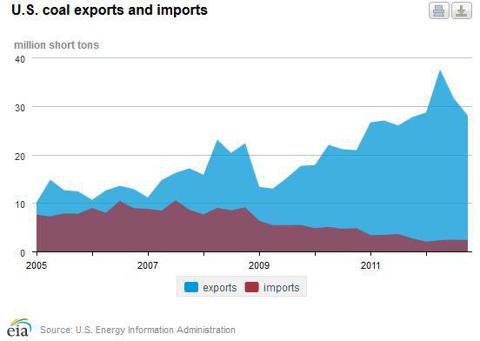 Thus far in 2013, exports have actually been fairly robust. However, a large number of contracts are set to expire, which will result in a dramatic decline for the remainder of the year. In addition to that, several factors are driving the forecasted decline. Namely:
Increasing natural gas prices have made more room for domestic coal consumption for power generation
Continued stagnant economic conditions in Europe are driving down demand for met coal
Slowing growth in Asia is driving down demand
Increasing global supply is keeping U.S. coal imports limited in major markets (particularly Asia)
Decreasing European prices for thermal coal is making the export market less lucrative
These sentiments were reinforced by comments made by Peabody (NYSE:BTU) CEO, Gregory Boyce, in which he stated his opinion that coal exports would decrease ~25Mst from 2012. Specifically, he predicts met coal exports to decrease by 15Mst and thermal coal to decrease by 10Mst. We can see the impact this will have on some major coal producers. For example, roughly six weeks ago, Walter Energy (NYSE:WLT) announced production cuts at two met mines. So if exports for 2013 shape up as Mr. Boyce indicated, it's unlikely that we will see them resume standard production anytime soon.
In terms of thermal production, Arch (ACI) actually elected to pay liquidated damages of $11 million in the first quarter rather than ship the minimum contracted tonnage at such reduced prices. This is bad news for natural gas producers such as Chesapeake Energy (NYSE:CHK), Anadarko (NYSE:APC), and Devon Energy (NYSE:DVN), who are desperate to see increased domestic coal prices.
So what does this all mean for investors? Well, we should consider met and thermal as individual markets in addition to viewing each Basin independently.
ILB: The ILB is poised for growth. The Illinois Office of Coal Development released 2012 export figures on May 1 - producers in the state exported 5.5Mst more than in 2011, for a total of 13Mst (from Illinois only, not counting W KY and Indiana). In addition, Illinois production increased 25% for the year. Unfortunately, major producers such as Foresight Energy and Murray Energy are privately held. The largest public producer is Peabody .
PRB: I covered PRB export potential in more depth in this recent article. The synopsis is that the PRB has a great long-term opportunity for exports in the Pacific Northwest, but it will take years before anything comes on line in a meaningful way. Companies such as Arch and Cloud Peak (NYSE:CLD) are well positioned if and when a terminal comes online.
Appalachia: There are still some significant issues in Appalachia. Thermal coal is beginning to find its footing, specifically in NAPP. However, met coal production will likely remain stagnant for a little while longer.
Conclusion:
This article barely scratches the surface on the impacts of a decline in coal exports. Some of the most significant impacts will be on the railroad companies and the export terminals owners / operators. However, it should give a good sense of just how complex this topic is and how it necessitates looking beyond the headlines when considering individual companies - whether they be coal producers, dry natural gas producers, or railroads and terminal owners.
Disclosure: I am long CLD, ACI. I wrote this article myself, and it expresses my own opinions. I am not receiving compensation for it (other than from Seeking Alpha). I have no business relationship with any company whose stock is mentioned in this article.