Marvell Technology (NASDAQ:MRVL) has enjoyed a tremendous run since hurtling downward after a legal setback in its patent dispute with Carnegie Mellon back in December. At the time, I thought it would consign MRVL to dead-money status until legal arguments resumed in May of this year (see "Loss in Patent Case Turns Marvell Technology Into Dead Money"). Just one week later, I realized that the stock was exhibiting classic signs of printing a sustained bottom (see "Chart Review: Stronger Signs Of A Bottom for Marvell Technology"). I promptly added to my position at that time. A quick plunge and recovery in the stock on May 2nd as legal arguments resumed was a great reminder of how the patent infringement case may yet impact the stock.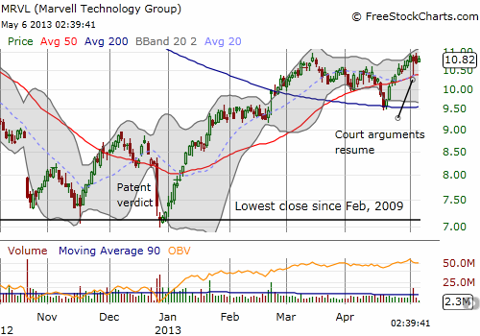 MRVL hangs tough in the face of patent verdict and resumption of court arguments
Source: FreeStockCharts.com
From a technical perspective, the stock is behaving very well for such a weighty overhang of a billion dollar plus a judgment that the plaintiff is seeking to triple. Not only has MRVL jumped 52% in four months since closing at its lowest level since February, 2009, but also a sell-off in mid-April stopped cold at the 200-day moving average (DMA) and last week's case-driven selling stopped cold at the 50DMA.
Regardless, I had May painted red in my calendar for MRVL, and on May 1st I decided it was time for some share replacement therapy to help me sleep at night through the final settlement of this case. On May 1st, I tweeted that call options looked exceptionally cheap. My original thought was to just sell call options against the shares, but implied volatilities were a lot lower than I expected. For example, at the time of writing, the June 22 '13 $11 Call is selling with an implied volatility of 44.5% versus historical volatility of 30.5%. The Jun 22 '13 $10 Put is selling with an implied volatility of 49.8%. The put versus call skew is not even significant, indicating that the market is, surprisingly enough, concluding that the resolution of this case will be a non-event going forward. Tempering this view is the open interest put/call ratio which has return to 2+ year highs. In particular, the last two days it has soared from 0.59 to 0.90. However, overall open interest is relatively small compared to MRVL's average daily trading volume of almost 8M. Moreover, a large chunk of the open interest in puts are in strikes that are now nearly worthless; I strongly suspect MRVL put buyers moved to replace those essentially worthless puts as a final bet on (or protection from) a bad outcome in May's court proceedings.
Adding to the sense of "serenity" is that short interest is still a tiny fraction of MRVL's float at 1.2%. The short interest in MRVL has plunged in recent weeks and has returned to last seen almost a year ago.
Even with these promising signs as backdrop, I executed the share replacement therapy. I promptly replaced my shares with January, 2014 call options. I will miss the dividend yield (now down to 2.2% thanks to MRVL's share appreciation), but it is a small price to pay to maintain the potential upside in MRVL without worrying about a sizeable overnight loss (in absolute, not relative, terms).
From the press reporting of the case, it seems that MRVL is planting its hopes on getting the judgment significantly reduced, if not eliminated.
Thomson Reuters News & Insight provides a decent summary in "Carnegie Mellon asks judge to back huge award in patent case." MRVL argues that about $1B of the jury award is based on sales outside of the U.S. that should not be subject to the verdict. MRVL is also arguing that the royalty rate should be reduced from 50 cents to 3 cents per chip. These two adjustments would reduce the verdict all the way down to $10-20M. Carengie Mellon is arguing that the only issue is whether MRVL "objectively" knew it was infringing and chose to proceed with product sales anyway.
Either way, this case seems likely to head to appeals, further dragging out resolution. The article quotes the judge as saying "We're going to the Circuit no matter what." Perhaps this likelihood explains why the options are not more expensive. There is no telling right now how long it will take to hear an appeal. It took over four months to get the current stage. Whenever that date gets set, I will adjust my strategy accordingly, if needed.
Be careful out there!
Disclosure: I am long MRVL. I wrote this article myself, and it expresses my own opinions. I am not receiving compensation for it (other than from Seeking Alpha). I have no business relationship with any company whose stock is mentioned in this article.
Additional disclosure: Long MRVL through call options