It was just four months ago that I wrote an article warning REIT investors of the expensive valuations relative to historical standards. Whether we blame it on the current low interest rate environment or not, these valuations can be justified given the limited income options from the bond market.
So far this year, U.S. REIT performance has been very strong as investors continue to flock to the only "forced" dividend alternative (REITs) that has exceeded many other risk-aligned investment options. The pace has intensified in April as REITs (FTSE NAREIT All Equity REIT Index) returned 5.8%, beating the S&P 500 (1.93%), DJIA (1.79%) and NASDAQ (1.88%) by a wide margin.
But we all know that the market cannot sustain the growth and the momentum that we have all witnessed over the last few months. Yet, this love affair for REITs is awfully hard to dismiss - especially when searching the universe for other investment options with similar risk profiles. I explained this "love-hate" concept a few months ago:
My risk-averse outlook is simply a harbinger call and although REITs have been performing well of late, an intelligent REIT investor should recognize the fact that risk control is invisible (and essential) in good times. Accordingly, investors should begin to consider more qualitative factors (such as management, integrity, uniqueness of brand, etc...) to assess value. This, in turn, will lead to a more traditional approach (like Ben Graham) of purchasing securities cheaply, or simply said, "buying a wonderful business at a moderate price.
It's Hard to Stop a Ball When It's Going Downhill
Last summer, I moved into a new house and it sits on a big hill. The good news is that most of my backyard is wooded, so I don't have to cut a lot of grass. However, the majority of my backyard is the top of ridge that slopes down to a creek.
It's almost like we live on a mountain top. I sit on my balcony overlooking the backyard and it feels like we are "the Swiss Family Robinson." Yes, it's a picturesque setting; however, it's not a great place to shoot hoops. Balls roll down hill…
So what does my backyard have to do with REITs? Nothing. But it has a lot to do with measuring REIT risk.
Take a look at this mountain below. This is a historical snapshot of where interest rates have been - starting with 1900 going all the way to now (this illustration depicts the interest rates for 10-year US Treasury):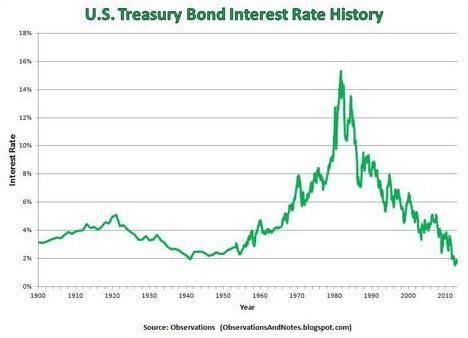 The 10-year US Treasury is a leading benchmark for what lenders charge and the above chart depicts the steady, downward trajectory of interest rates from their peak of over 15% in 1982 to a low of 1.47% in 2012 (closed at 1.66%).

I haven't read Realty Income's (NYSE:O) 2012 Annual Report yet (it's on my desk now); however, this caught my attention in a previous (2011) Annual Report. As Tom Lewis, CEO of Realty Income, wrote (in the Letter to Shareholders):
We might think of the past 30 years as being akin to an easy downhill ski run with evenly packed powder and little to block one's progress. Eventually, however, we do get to the bottom of the hill, which is where we may be right now with interest rates and there seems to be no chairlift in sight.
Clearly, rising interest rates pose the greatest risk for REIT investors today. It's clearly a recognized risk and one that could cause the biggest decline in REIT market valuations. As I explained in a previous article:
However, as cycles shift - perhaps in two, three, five, or 10 years - this trend will almost certainly reverse and rising rates will become a hindrance to growth for a wide range of different stocks, including REITs. However, as long as the low rate environment remains in place, and credit markets are open, there is a strong likelihood that sound REITs will continue to earn their investors a reasonable total return on capital comprised of both dividends and capital appreciation.
Let's Make Hay While the Sun Shines
The insatiable demand for income has also been one of the biggest "moats" for REIT management teams. Accordingly, that same quest for yield has allowed many REITs to fund acquisitions quite easily. As a consequence, commercial real estate values have continued to thrive - driving down capitalization (cap rate) - or the income generated from a property divided by its value.
For REIT 101 Investors: The CAP rate; or capitalization rate, is the relationship of the net operating income (NOI) of the property divided by the sales price or appraised value. So a property with $200K of NOI that sold for $2 Million, sold at a 10 CAP - ($200K divided by $2 Million).
It's because of the strong demand for stable income-producing investments that cap rates have compressed making it much easier for REITs to access low-cost debt or raise ultra low cost equity. It seems that REITs are not the only benefactors of cap rate compression as Michael Bull, CCIM, host of Commercial Real Estate Show and founder of Bull Realty explains (by email):
As cap rates have compressed on core assets in the gateway markets investors searching for yield have shown more interest in secondary and tertiary markets. As more debt has become readily available and property performance fundamentals have improved, investors are eager to acquire good assets. We have seen investor interest increase to a level not seen since 2007. Stable properties with good tenants are achieving cap rates lower than prerecession levels on many properties.
As illustrated below, cap rates have compressed across all sectors: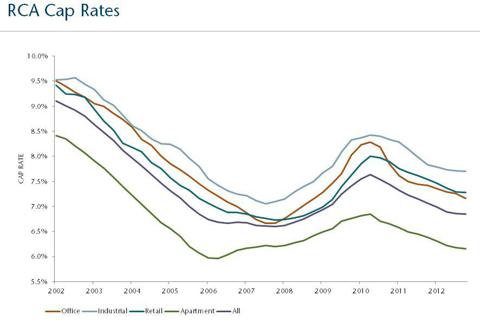 We can see, based on history, that cap rates were impacted by the last three recessions. As the snapshot illustrates below, when money is flowing, cap rates fall. Conversely, when capital is harder to access, cap rates rise.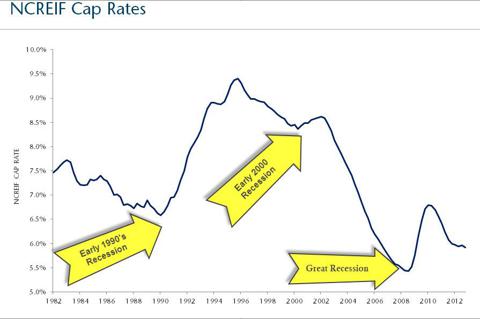 What is most compelling about the current economic environment is the fact that although cap rates and borrowing costs are at all-time lows, the spread (profit margin) is the highest. As David Lynn, Ph.D., Executive Vice President & Chief Investment Strategist with Cole Real Estate Investments explains (by email):
One of the key indicators we keep track of in commercial real estate is the average cap rate spread over the 10-year treasury. Historically, this has been a good barometer of value and opportunity over the years. When the spread is very large, we believe it indicates a great buying opportunity-good values and promising forward yields. The average historical cap rate spread has been about 270 basis points and the current cap rate spread is about 400 basis points over, suggesting strong commercial real estate fundamentals.
Here is a snapshot illustrating Lynn's point: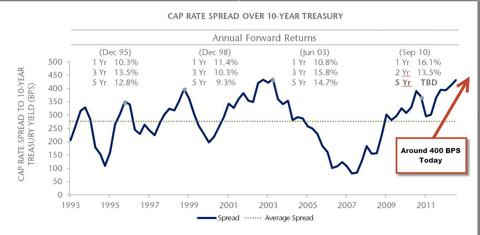 It's obvious that publicly traded REITs have moved sharply year-to-date and with most of the first quarter earnings results winding down, it's also clear that the majority of the gains have been in share price growth, not cap rate compression or valuation growth. As we consider REIT buying (or selling) opportunities, it's important to recognize (and filter out) the long-term players and pay special attention to the healthier sectors.
Accordingly, investors should consider supply and demand fundamentals and how they impact cap rates. In other words, investors should consider the "wider moat" sectors in which the supply and demand fundamentals are advantageous and where there is a differentiated value proposition that provide more sustainable long-term growth.
Some of my Favorite Risk-Aligned REITs Today
Today Healthcare Trust of America (HTA) hit $13.00 and an all-time high. As I wrote a few days ago, medical office buildings (or MOBs) performed well "during the downturn (the vacancy rate has been much more stable) largely due to the retention costs and the reduced supply of new product." In this case of HTA, the largely (90%) MOB-focused model has created strong investor demand as over 57% of the company's tenants are credit rated and the Scottsdale-based REIT has a rent coverage ratio of 9x (much better than the other healthcare operators that have less safe rent coverage of around 1.5x).
HTA has a market cap of around $2.94 billion and a current dividend yield of 4.43%. Armed with a BBB- credit rating (S&P) and a strategically diversified portfolio (12.7 million square feet of gross leasable area located in 27 states), HTA is able to acquire high-quality (accretive) MOBs creating a uniquely competitive healthcare REIT. I was able to catch up with Scott Peters, CEO of HTA, earlier today:
Cap rates across all real estate sectors continue to compress as investors' search for yield in today's low rate environment. In the medical office sector, this general trend has been amplified, as new investors recognize the asset class and become aware of the broad tailwinds benefiting the sector - including the implementation of the Affordable Care Act, the aging of the U.S. population, and the strong growth forecast for both healthcare expenditures and employment. As a buyer, we continue to be disciplined in our approach identifying assets with long term value located on major Healthcare campuses.
Another one of my favorite REITs is Tanger Factory Outlets (NYSE:SKT). As the only "pure play" outlet REIT, Tanger has tremendous growth prospects as the demand for new outlet space is increasing and many leading retailers are now moving towards the lower priced distribution channels. As the leader in the expanding outlet sector, Tanger is armed with deep relationships and experience that provides a competitive advantage over the small and big peers.
Tanger is the only mall sector REIT that has paid and increased dividends during the Great Recession and more impressive, Tanger has paid and increased dividends for 20 years in a row. That's an extraordinary accomplishment and also the reason that I consider Tanger to be a premium brand. Tanger shares are currently trading at $37.30 and the dividend yield is 2.41% (1-year total return is 22.69%).
Finally, and as many of you know, I have a passion for Triple Net REITs. The reason is simple: Because of the nature of the long-term contractual leases, Triple-Net REITs provide the best risk-adjusted returns when compared with the other sectors. It's not only the fact that the leases are long-term (in nature) but also because the leases have built-in increases and that makes them more like a bond.
So far this year, the Triple Net REITs (or as NAREIT refers to the sector, Free Standing Retail) have outperformed ALL of the other sectors: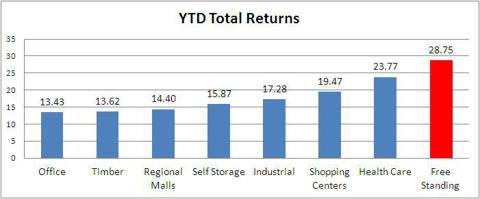 Also, the "stand-alone" REITs outperformed the other sectors based on dividend yield: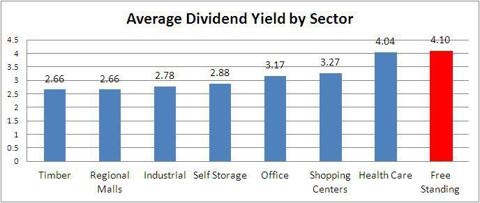 It's plain to see that the Triple Net REITs have prepared for risk better than many of the less defensive REITs. My favorite picks - Realty Income , National Retail Properties (NYSE:NNN), and W.P. Carey (NYSE:WPC) - have NEVER cut annual dividends and, like Tanger, all three of these REITs have increased annual dividends during the period in which they have been publicly traded. That's what I call "sleeping well at night."
I'm Worried About These REITs with Mispriced Risk
About a month ago, I wrote an article called 3 Healthcare REITs With Mispriced Risk. In that article I explained:
It's clear to see that these "higher risk" assets are also driving the returns, and it's important for investors to understand the risks and the value proposition of investing in lower quality vs. higher quality assets. Simply said, OHI, MPW, and AVIV have all turned in outstanding total returns in recent months; however, there is reason to believe there is a lower margin of safety when there is mispriced risk.
Conclusively and referring back to my argument at the beginning of this article, Omega Healthcare Investors (NYSE:OHI), Medical Properties Trust (NYSE:MPW), and AVIV REIT (NYSE:AVIV) are all exposed to high cap rate risk and accordingly, I consider all of these REITs to be mispriced. What do I mean?
Simply that these lower quality healthcare assets do not enjoy the same high quality standards - credit quality, demographics, and operating fundamentals - as the others and I am concerned that these REITs will be impacted the hardest when interest rates begin to rise. Any REIT that acquires assets at an 8% cap rate and pays out a dividend yield of 5.5% is risky. Let's take a look: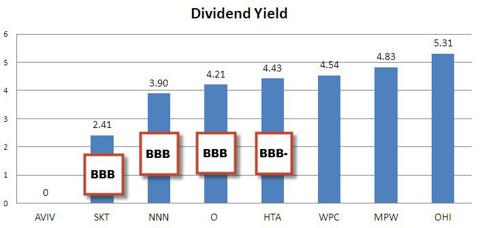 We have already seen evidence of MPW's mispriced risk with the news of a downgrade a few weeks ago; however, Mr. Market has pushed the shares back to $16.58 - translating to a 4.83% dividend yield and a market capitalization that is NOT sustainable over time.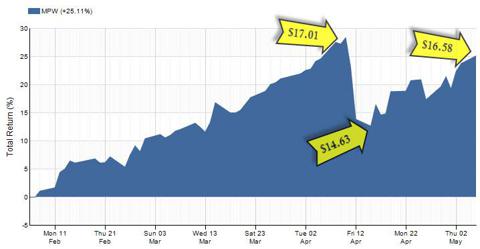 OHI has also climbed an extraordinary 36.7% in 90 days and like MPW, the dividend yield has compressed to 5.31% - a number that cannot be sustained when cap rates have not compressed at the same rate. Clearly and most profoundly, these REITs are suffering from mispriced risk.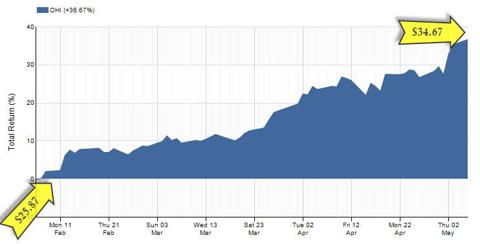 It Will Take More Than a Bump to Upset Mr. Market
As alluded to earlier, I live on the side of a hill and when my kids roll the ball down the slope, it's hard to stop it. In fact, once the ball gets moving it's impossible to stop the momentum. It would take a strong force - like a huge rock - to prevent the ball from making its way down to the creek.
That's true for the market. It took years - or actually decades - for the cost of money to hit rock bottom, and, it will take a large force of nature to move the needle back up. I suspect that there we will continue to see market head fakes - or modest levels of correction - and at some point, there will be a monumental shift that will reset the cycle.
For now, REITs provide an exceptionally powerful value proposition: durable dividends and strong growth. It's important to selectively take advantage of the winners and stay away from the losers. Make sure you ask yourself these questions:
(1) What's the price you are paying for your dividend?
(2) If the stock price goes down, can I protect the integrity of the dividend?
(3) Does the company deliver sound dividends, year-in and year-out?
(4) Can the REIT management team mitigate risk during the downturn?
(5) Most importantly, do I know what the REIT is worth and can I pay less for it? (aka: THE MARGIN OF SAFETY)
Answer these correctly, I guarantee that you will SLEEP WELL AT NIGHT.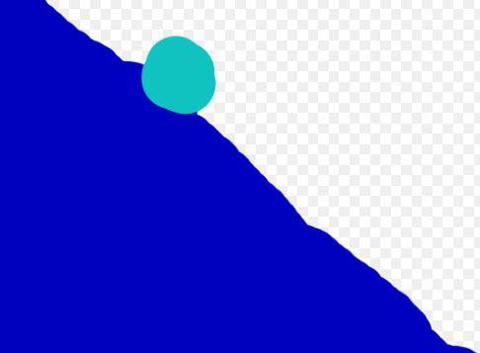 Source: SNL Financial and NAREIT
Disclosure: I have no positions in any stocks mentioned, and no plans to initiate any positions within the next 72 hours. I wrote this article myself, and it expresses my own opinions. I am not receiving compensation for it (other than from Seeking Alpha). I have no business relationship with any company whose stock is mentioned in this article.