The water torture for bears continues as the market seems to have the bulls running all over them. And this is not limited to days when we are up but days when we are down too, for there has been a trend where if we open red, we finish green. Eventually, we will need a bit of a micro shock to the system in order to inject some fear and worry into the market, and to give bulls another wall climb. For more guidance on that, in our opinion it would be best to watch the VIX volatility index.
Chart of the Day
Solid growth in consumer credit has us back to a growth rate comparable to that seen in 2004. One would expect to see retailers' operations improve further this year.
Click to enlarge images.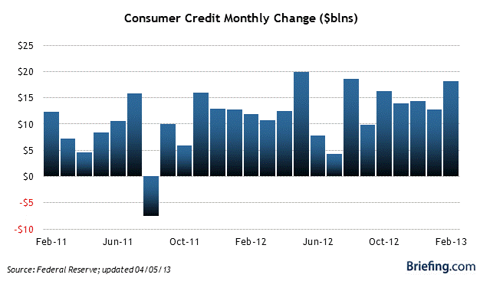 Chart courtesy of Briefing.com.
We have economic news due out today, and it is as follows:
Consumer Credit (3:00 p.m. ET): $16.3 billion
Asian markets finished higher today:
All Ordinaries -- down 0.22%
Shanghai Composite -- up 0.20%
Nikkei 225 -- up 3.55%
NZSE 50 -- up 0.55%
Seoul Composite -- down 0.36%
In Europe, most markets are higher this morning:
CAC 40 -- up 0.62%
DAX -- up 0.85%
FTSE 100 -- up 0.38%
OSE -- down 0.234%
Financials
We wanted to point out to readers that the trade in Regions Financial (NYSE:RF) has gone according to plan and quite well over the past few sessions. We have been doing a slow and steady creep toward the $8.80/share price target we set out for it, and with yesterday's move higher by just over 1.50% the shares now trade at $8.71/share, or just over 1% below the target. With the trade having gone on at the $8/share area, this is a roughly 9% gain in a very short time and we would be profit takers in this area. It's best to lock in profits and redeploy elsewhere rather than let them dissipate.
The company saw big gains in less than a month -- profit taking is in order: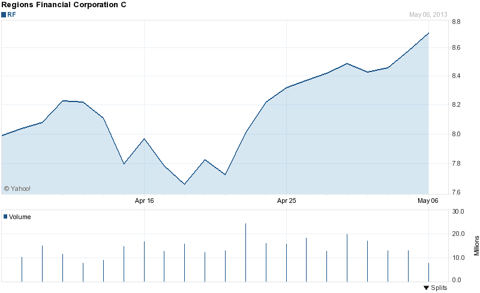 Chart courtesy of Yahoo Finance.
Shareholders in MBIA (NYSE:MBI) enjoyed a tremendous day yesterday as shares rose $4.46 (45.37%) to close at $14.29/share on volume of 67.4 million shares, as the company settled their legal dispute with Bank of America (NYSE:BAC) for $1.7 billion. It was great news for MBIA and even good news for Bank of America as both stocks rose, but make no mistake because MBIA was the clear winner here. This removes a lot of questions regarding the legal situations that the company found itself in and most certainly shores up its capital position moving forward.
Technology
We highlighted Apple (NASDAQ:AAPL) recently and discussed just how poor the stock has performed while the operating results are not bad. Yes, margins are compressing and it lacks the next new big product or innovation to a current product line, but it makes more money than anybody else and -- among large companies -- sports some of the healthiest margins. As more and more investors rush in from the sidelines, we are noticing that they are moving capital into the blue-chip names. Many of those, other than the utilities, are companies with strong brand names. It is no mistake, and likewise it is no mistake that the smarter money is moving into Apple after the beatdown to take advantage of the price near 52-week lows while everyone else trades either at or near 52-week and/or all-time highs. If the market continues to rise, so too will Apple.
We went bullish on 3D Systems (NYSE:DDD) after the bad quarter and when the stock found support around the $30/share level. That has proven wise as our thinking that this latest quarter would be a beat turned out to be correct, which saw the shares approach $40 and a level that we stated would be important for psychological reasons. With yesterday's announcement that the company would be added to the S&P MidCap 400 at the close on Wednesday, shares gained enough momentum to power through the $40 level and finish the session at $43.17/share, having risen $3.29 (8.25%). We would ride momentum here, but keep a tight stop on it so as to protect these gains.
Retailers
It has paid in the long run to be bullish all things related to homebuilding, even those names which have balance sheets that send a shiver down one's spine or are grossly underperforming their peers. Holding through the downturns and stagnant periods has also worked as everything homebuilding has been in a steady uptrend. This includes Lowe's (NYSE:LOW), which plays little brother to Home Depot (NYSE:HD), but is a name that should perk up as we shift from a housing recovery focused solely on building new homes and seeing the growth there to a story where families are buying homes and renovating/sprucing up. Shares hit a new 52-week -- and consequently a new all-time -- high yesterday, and closed at $40.81/share after finishing higher by $1.22 (3.08%) on volume of 10.5 million shares.
Here's further evidence of how healthy American companies are, as we have Lowe's trading at all-time highs and the housing market not anywhere near where it was pre-bubble: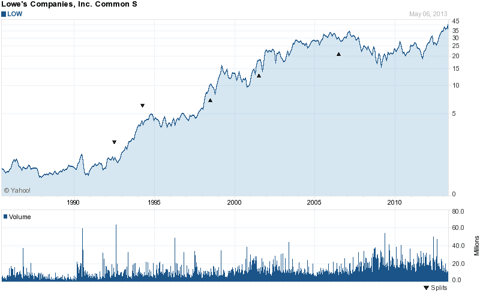 Chart courtesy of Yahoo Finance.
Disclosure: I have no positions in any stocks mentioned, and no plans to initiate any positions within the next 72 hours. I wrote this article myself, and it expresses my own opinions. I am not receiving compensation for it (other than from Seeking Alpha). I have no business relationship with any company whose stock is mentioned in this article.