It has been a couple of weeks now since Apple (NASDAQ:AAPL) reported its fiscal second quarter results, which included a huge announcement on its cash return plans. I promised investors that I would be back in a couple of weeks with an update on Apple, and here I am today.
Apple has certainly enjoyed a nice run recently. The stock is up $75 from its 52-week low, of which $55 has been since the earnings report. While that has been a nice rally for those already in the name, those that don't have a position have missed the rally. That gives me pause, as my goal here is to also look out for those that are looking to enter a name, not just those already in it. Today, I'll detail why I think Apple has run a little far, too quickly, and why a pullback may be in order.
So, about that raised dividend and buyback:
A lot was made about Apple's dividend, which was increased by 15% from $2.65 to $3.05 per quarter. It was a nice raise, even if it wasn't as much as many were hoping for, because Apple decided to go the buyback route instead. But for investors looking to now buy Apple, that 15% dividend raise basically didn't happen. What do I mean? Well, take a look at the following chart, which shows Apple's yield at certain times, including before earnings.

The key takeaway here is that if you are buying Apple now, at Monday's closing price, you're only getting 4 basis points more in yield (per year) than you were pre-earnings! Yes, you're getting a 15% higher payout in dollar terms, but your yield isn't much higher. You were actually getting 10 basis points more with the old dividend when Apple was at its 52-week low! This is what happens when a stock runs as much as Apple has. Sure, if you are already in the name, you are certainly fine with riding the $55 rally since earnings. But if you haven't jumped on board yet, you should know that the 15% raise is really not coming to you.
The same can be said about the buyback. After the increased buyback plan, Apple had about $58 billion left to repurchase shares and such. At the pre-earnings close, that represented about 142.8 million shares. As of Monday's close, $58 billion would "only" get about 125.9 million shares. That's about 17 million shares less, which represents almost 2% of outstanding shares. It might not seem like much, but an extra 2% of outstanding shares gone could boost earnings by almost a full dollar right now.
Estimates could still come down:
Apple's guidance for fiscal Q3 revenues of $33.5 billion to $35.5 billion and earnings per share just over $7.00 was well below what anyone was expecting. However, I had been warning of a potential kitchen sink quarter for weeks, and it certainly happened. The table below shows how Q3 estimates have trended since mid-March, with the green line representing where they were when Apple reported Q2.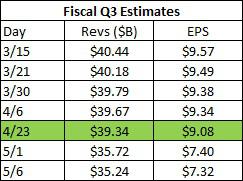 Analyst estimates still have a bit of room to the downside in my opinion. They still are roughly $750 million and about $0.30 above Apple's guidance midpoint. Don't forget, Apple sold 17 million iPads in last year's period, and those were much higher priced units. Apple also was generating more revenue per unit on the iPhone, so it's not a surprise that current estimates call for just 0.6% revenue growth and an earnings plunge of 21.5%.
The main issue here is timing. When Apple published guidance well below expectations, it was a given that analysts would just come out and lower their numbers. You really don't hear about them cutting their estimates, because it really is just assumed. But here's something to really think about. We're less than ten days away from the midpoint of fiscal Q3. What happens when the first analyst finds some instance of iPhone builds being weak, or iPad mini shipments being cut? Then we start to really hear about analysts cutting their numbers and price targets. Additionally, because Q3 is expected to be so weak, you would figure analysts will continue cutting their numbers, just to make sure Apple doesn't miss again. They could also take down their Q4 numbers to make sure Apple's guidance is good. Those negative reports could take us down again, just like I said taking down the Q2 and Q3 numbers into the Q2 report would. Apple went from $450 to $385 on "reports" like that. It could happen again.
You wanted a higher P/E multiple:
Over the past 6-9 months, I can't remember how many articles I've read that have claimed Apple was undervalued because of its P/E ratio. I initially was in that camp, but soon realized that the street did not care. Apple was falling because expectations were being cut. So I put together the following table showing how Apple's P/E has trended over time, against the stock price and fiscal 2013 average analyst estimates. The yellow line represents days when Apple reported quarterly earnings.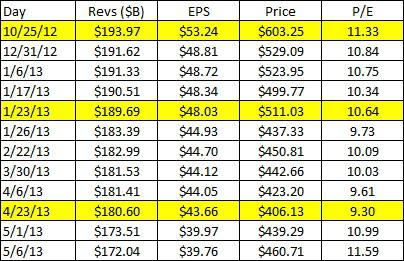 You wanted a higher P/E, and now you have it. When looking at this fiscal year's expected earnings, Apple now trades at a higher multiple than when it was over $603! The problem here is that the multiple has expanded because earnings estimates have plunged. At its lowest point a few weeks ago, Apple was trading at around 8.75 times this year's expected earnings. Since that point, Apple's valuation has increased by roughly 32%. However, the stock is up less than 20%. Everyone wanted a higher P/E, and now you have it. The only issue is that earnings are now expected to be lower, much lower.
Technically speaking, good time for a pullback:
I don't use technical analysis a lot, but there are times when I see something I need to discuss. If you look at the 3-month chart below showing Apple with its Bollinger bands, you'll see Apple is right up against its upper Bollinger band. This usually is where a stock pulls back, and you can see that the last time it was close to the upper band it pulled back. That's when Apple just missed hitting $470, and dropped almost $100 from there.
(Source: Yahoo! Finance)
Just in the last couple of weeks, Apple has gone from the lower Bollinger band, a level of support, to the upper Bollinger band. I put together the following table to show Apple's potential upside from its current price to the upper Bollinger band. A few weeks ago, that upside stood at nearly $80, or 20%. Now, the upside is almost nothing.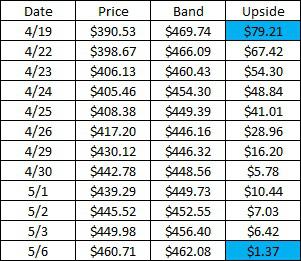 A brief update on pricing differences:
I wanted to briefly mention average selling prices. Apple's selling prices the past two quarters have looked a little low, and that has caused some concerns. I mentioned in the past that Apple has reclassified some of their revenue categories, which is why the numbers appear low. Apple now has an "accessories" category, which includes items like iPad and iPhone accessories. Those used to be included in each product's revenue group, which essentially boosted the average selling price. Now that they aren't included, it appears that selling prices are low. They really aren't, it's just a different way of calculating them. To show you this, I've taken excerpts from Apple's quarterly reports. Look at the Q2 2012 numbers I've put the red box on.
Fiscal Q2 2012 numbers (original report)
Fiscal Q2 2012 numbers (at Q2 2013 report)
Can you see where iPhone revenues went from $22.690 billion to $22.276 billion? That might not seem like much of a decline, but it takes the average selling price from $647.10 to $635.30. If you add up all of the "other revenues" not from the four product lines, you'll see those numbers have changed too. I wanted to bring this up to eliminate some of the confusion and concerns about low selling prices. It's just a new way of calculating things, which makes selling prices look low but gives more revenues to the "accessories" number.
A value stock with a value stock valuation:
With Apple raising the dividend by 15% and announcing a huge raise to their buyback program, many are now calling Apple the ultimate value stock. I've been talking about Apple becoming less of a growth stock and more of a value stock over the past year. The initial dividend and buyback were part of that, and the raised dividend and buyback play into that even more.
But if Apple is now going to be a value stock, what does that mean for its valuation? Well, generally speaking, most investors think that value stocks have lower valuations than growth stocks, especially in terms of price to earnings. Right now, there are essentially four large cap technology value names. Other than Apple, the other three are Microsoft (NASDAQ:MSFT), Intel (NASDAQ:INTC), and Cisco Systems (NASDAQ:CSCO). I put together the following chart showing some key comparisons between these four names, in terms of dividends, buybacks, and growth estimates for their current fiscal years.

*Estimates based on non-GAAP earnings. Cisco Systems has not reported its quarter yet, so buyback information as of previous quarterly report.
So maybe this is the new Apple. Apple's growth has certainly slowed down, so maybe it does not deserve a high P/E like Google (NASDAQ:GOOG), which is showing more growth right now. Just look at the comparisons above. Apple has the lowest dividend and negative earnings growth. Apple's revenue growth isn't way above these other names like it used to be. Additionally, Microsoft and Intel have not raised their dividends yet this year, which could make Apple's yield look even smaller. Apple does have the buyback in its favor at this point. However, these other names have been buying back stock for years, and might have already spent more than Apple will spend in the next three years.
Don't forget, Apple, Intel, and Microsoft have all risen nicely in the past few weeks. Intel is up 15.3% in the past month, with Microsoft up 17.6% and Apple up 8.9%. These valuations have been pushed up, but they all are in a similar range. While I'm sure many will disagree with Apple's valuation here, the numbers above don't exactly show that Apple should be valued tremendously higher. If Apple's estimates get cut even further, that valuation could go up some more, even if the stock does not move higher from here.
Conclusion - due for a healthy pullback:
Let me start off by saying I am not an Apple bear. I have never said that Apple is in big trouble. I merely describe what I see in front of me at any given time. I realize that there will be some disagreement here, but I'm not calling for the death of Apple. Let's get that fact straight, and make it clear once again.
What I am saying and have tried to show throughout this article is that Apple might have jumped just a little too quickly. You're not getting the 15% dividend raise anymore when it comes to yields. If Apple has not bought any shares back yet they won't be able to buy as many. Apple is also up to some technical levels that show a pullback may be coming. The valuation seems fair to me right now, and further analyst estimate cuts could be coming.
In the end, Apple has risen $75 from its recent 52-week low, with $55 of that coming in just eight trading days. I wouldn't be surprised if a pullback is coming, and that's probably a good thing. It will allow investors to get in at a lower price and a higher dividend yield. A pullback to $443.63 would get the yield back above 2.75%. That might be a good entry point should we get there.
I still think Apple is a good long term investment, but a healthy pullback would be fine here. If you're looking to make a quick buck on a short-term trade, you most likely have missed the move. Don't chase Apple here. I believe that there will be better opportunities to get some shares, and I will never recommend a stock that I think could pullback. Even if the stock only declines by a couple of bucks, you'll benefit in the end. Apple gave you two days after earnings to buy shares at a good price, and if you didn't take advantage of it, then you missed out. Don't make another bad decision.
Disclosure: I have no positions in any stocks mentioned, and no plans to initiate any positions within the next 72 hours. I wrote this article myself, and it expresses my own opinions. I am not receiving compensation for it (other than from Seeking Alpha). I have no business relationship with any company whose stock is mentioned in this article. Investors are always reminded that before making any investment, you should do your own proper due diligence on any name directly or indirectly mentioned in this article. Investors should also consider seeking advice from a broker or financial adviser before making any investment decisions. Any material in this article should be considered general information, and not relied on as a formal investment recommendation.