A few interesting snippets came out of Cloud Peak's (NYSE:CLD) earnings call. In all, however, nothing seemed to drastically change the landscape - below are the highlights:
CLD's 50% interest in the Decker mine should be closed out by mid-year. The issue was settled last year but I was unsure when its share would cease.
As you'd expect, CLD has been actively assisting in efforts to advance the coal export terminal projects in the Pacific Northwest. Once a new terminal is opened, it plans to develop Youngs Creek, the Crow Project, and Spring Creek into one large operation.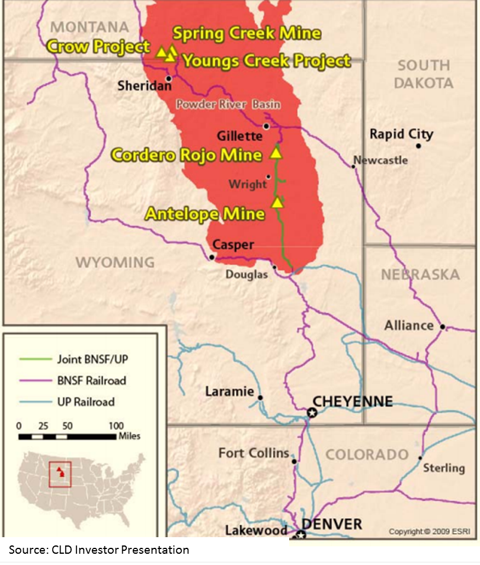 Exports decreased for the quarter versus a year ago. The primary driver is twofold; 1) the collision at the Westshore Terminal has cut into its available export capacity, and 2) lower Australian Newcastle prices have made for stiff competition.
Overall production has decreased versus a year ago as CLD, like nearly all coal producers, is waiting for the switch back to coal (from natural gas) to continue to drive down stockpiles. At which point, it believes the price of PRB coal could move back in the range of $17/ton.
It expects price suppose by mid-year (after the shoulder season) once PRB stockpiles drop below the 80Mst mark.
Costs are up markedly for the quarter, from $9.78/ton a year ago to $10.37/ton. This change, however, should be temporary as the driver was the quarter's lower production (e.g. fixed costs were allocated to fewer tons).
It plans to take a more conservative approach and begin contracting for future years, despite being of the opinion that benchmark prices will increase as the year progresses.
In general, nothing earth shattering came out of the call. The last bullet is a good example of CLD's business philosophy. It takes a conservative approach and plans for the years ahead. This may mean that it doesn't profit as much as it could in the near term; however, as we saw in 2012, it keeps its volatility in check (in a very volatile industry) and sets the company up well for the long term.
Disclosure: I am long CLD, ACI. I wrote this article myself, and it expresses my own opinions. I am not receiving compensation for it (other than from Seeking Alpha). I have no business relationship with any company whose stock is mentioned in this article.