Much like its carbonated drinks, Coca-Cola's (NYSE:KO) recent performance may be described as effervescent. In the year-to-date, its stock has risen by 17.4% - an annualized pace of 52% that would mark its best performance over the past five years.
Indeed, even considering the 24% decline it registered in 2008 amidst the broad equity market decline precipitated by the financial crisis, Coca-Cola's compound annual return in the period is a sterling 10.6% -- more than 3-1/2 times that of the S&P 500, the Dow Jones Industrial Average and the S&P Food & Beverage Index over the same period. Coca-Cola's annual performance in that span is likewise superior to that of its long-time rival, PepsiCo (NYSE:PEP), which rose by a slower 7.1% compound rate over the same period.
Coke Comparables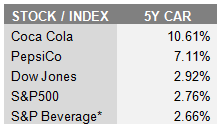 * Latest Available through 8/2012
Source: Bloomberg, S&P
Clearly, the formula has been right for the beverage maker, which has broadened its product offerings over the years to include non-carbonated drinks such as Minute Maid, Powerade and Dasani water. With a 2.7% annual dividend yield bringing its five-year average total return to 13.3%, the stock's performance has been closer to that of top-performing mutual funds than a defensive consumer stock, which it is typically regarded as.
However, the question in investors' minds is whether Coca-Cola can sustain its performance in the long run. We believe so, for the following reasons:
1. Earnings. Coca-Cola reported fiscal first-quarter earnings of 46-cents per share, beating analyst forecasts by a penny (or 2.2%).
For the next quarter, Coca-Cola is expected to bring in 65-cents per share in earnings, 6.6% more than in the same period a year earlier. That puts it in line to earn $2.15 per share in 2013 - 7% more than the $2.01 it earned in the previous year. Earnings growth is predicted to accelerate by 9.3% in the following year, buoyed by demand for its products in emerging markets and broader product offerings in developed markets. In fact, its top-line revenues, which are forecast to grow by 1.2% this year, is expected to more than quadruple its growth rate in 2014, when Coca-Cola is anticipated to generate revenues of $51 billion.
Over the next five years (including next year), analysts expect Coca-Cola's earnings to grow by an annual rate of nearly 9% -- 41% faster than the pace its earnings have risen by in the trailing five years. While these forecasts tend to be volatile, it should be noted that Coca-Cola has exceeded expectations in three of the past four quarters and that, as a consequence, 12 of the 15 analysts covering the stock have upwardly revised their estimates in the past month.
Beyond demand for its products in emerging economies, the rise in Coca-Cola's earnings is expected to come from reduction in its operating leverage as it shifts more of its revenues to a franchising model; in fact, during its last earnings call, Coca-Cola disclosed that it had closed deals to allot more of its distribution territories to independent bottlers.
This is significant since franchising means that Coca-Cola will see a gradual shift in its revenue mix as it generates more of its revenues as fees rather than beverage sales. In turn, other parties will take on the overhead of distributing its products, allowing Coca-Cola to bolster its margins. Consequently, its operating margins, which at 26.6% are already 30% higher than its industry peers, should widen further. That, in turn, will allow it to regain traction with respect to its pre-tax margins, which, at 24.6% over its trailing 12 months, is 3.4% lower than its five-year average of 28%.
Coca-Cola's strongest revenue growth is from emerging markets, which added 4% in its most recent quarter. North American sales were essentially flat, with a percentage decline in carbonated drinks (possibly as a consequence of health concerns) offset by an equivalent rise in non-carbonated drink sales. This is a trend that should continue, particularly with concerns rising over high obesity rates, and consumers becoming more educated regarding the perceived danger of excess soda consumption.
This also opens up the possibility that Coca-Cola could use some of its cash reserves to acquire other makers of non-carbonated beverages, allowing it to restructure its product mix on the fly as growth rates for carbonated drinks erode and healthier drinks increase.
2. Fundamentals, Valuation and Trading. Coca-Cola is currently trading at 22x earnings - in line with its peers and at a slight premium to the S&P 500. While this might make its stock appear pricey, it should be noted that it reached this valuation on the back of just 6.3% earnings growth that, as we've pointed out, is expected to rise by 41% in the next half-decade.
This means two things: the first is that it has a thin margin of error on which to deliver its growth estimates, and as the travails of Apple have shown, the market does not appreciate unmet growth expectations.
That said, what Coca-Cola has going for it is that it isn't a participant in a rapidly-changing, cutting-edge industry such as smartphones - carbonated drinks are about as bleeding edge as paper envelopes. That is evident in the fact that Coca-Cola has a beta of 0.51 - 22% lower than its peers. Consequently, the downside for Coca-Cola on an earnings miss is likely to be far less than it would for a company in a rapidly evolving and growing industry.
Second, its valuation implies that Coca-Cola will only get more expensive on a relative basis. That is, with its earnings rising by 9% and the S&P 500's rising by 9.3%, its five-year forward P/E will come in at 14.4x compared to the S&P's 11.3x - indeed Coca-Cola's five-year price-earnings growth ratio is a little bit richer, at 2.2x than the S&P 500's 2x.
However, as mentioned, Coca-Cola has a higher dividend yield at 2.7%, compared to the S&P 500's 2.1%. In effect, it may be growing just a bit more slowly, but investors do have the incentive of a higher dividend yield to compensate.
Moreover, as a defensive play with low levels of debt (0.45 debt-to-equity ratio compared with its industry's 0.65 and the S&P 500's 0.74), Coca-Cola should thrive in periods of economic uncertainty, which is what is facing the world economy in the next five years as it normalizes and monetary authorities begin to withdraw the massive monetary stimulus that they injected into it over the last half-decade.
On a technical basis, Coca-Cola is not particularly overbought, although it recently broke out of range and could be in the middle of a consolidation period. In our view, this opens up a potential buying opportunity for the stock at the $41.50 level as the stock closes its break-out gap.
Conclusion
Given all the foregoing, we believe that Coca-Cola's surge still has legs and see it going as high as $48 per share, for an approximately 13% upside against its current level.
Disclosure: I have no positions in any stocks mentioned, but may initiate a long position in KO over the next 72 hours.
Business relationship disclosure: Black Coral Research, Inc. is a team of writers who provide unique perspective to help inspire investors. This article was written Jonathan Lara, one of our Senior Analysts. We did not receive compensation for this article (other than from Seeking Alpha), and we have no business relationship with any company whose stock is mentioned in this article.
Disclaimer: Black Coral Research, Inc. is not a registered investment advisor or broker/dealer. Readers are advised that the material contained herein should be used solely for informational purposes. Investing involves risk, including the loss of principal. Readers are solely responsible for their own investment decisions.