Much has been written on Apple's (NASDAQ:AAPL) breakout since its recent lows in the $380s. The company has posted its best two weeks of trading since 2009, rising ~20% since its intraday lows of $385 on April 19. Its recently announced $60 billion buyback and 15% dividend increase seem to have put a floor under the stock, and has also driven a measurable improvement in sentiment on the shares. This is starting to be reflected in analysts' comments and ratings. Barclay's lifted its price target the other day to $525 a share from its previous target of $465, as its analyst believes the "Apple narrative is changing and shares could rally above $500 in short order." Barron's also just ranked the company No. 1 on this week's magazine cover out of the strongest 500 firms it ranked for "stellar operating performance." Given that, even after its recent gains, AAPL sells at ~7x forward earnings once net cash is deducted, the stock has further upside.
One thing that might have been missed by many investors, as pundits focus on Apple's recent rise, is the shift in the market to reward large-cap tech stocks over the last month. I think we are at a start of nascent migration out of some of the defensive stocks that led the rally over the last six months, such as utilities (NYSEARCA:XLU) into large-cap tech. This makes sense given the far greater growth prospects of technology shares, as well as their much cheaper valuations. Some even pay utility-type dividends. Here are three large-cap tech stocks that appear to be breaking out and still sport cheap valuations (see chart).
Click to enlarge image.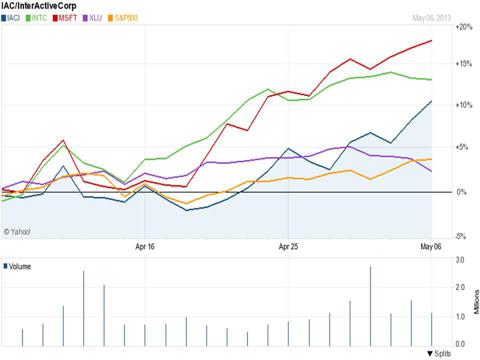 IAC/InterActiveCorp (IACI): The owner of Match.com, Chemistry.com and myriad other web properties has been on a roll recently. The company posted earnings per share of 83 cents a share earlier in the month, 14 cents a share above consensus. UBS reiterated its "Buy" rating after earnings results and upped its price target to $58 from $55 a share previously. The stock is still cheap at under 11x 2014's projected earnings with a dividend yield of 2%. Analysts expect between 12% and 15% annual revenue growth over the next two fiscal years and the stock sports a minuscule five-year projected PEG (.41).
Intel (NASDAQ:INTC): Despite the decline in PC sales, Intel is holding up quite well rising from $21 to $24 a share over the last month. A good portion of the value story for Intel while investors await more products for mobile is its 3.8%. It has also raised its dividend payouts at over a 13% CAGR over the past five years. Earnings have grown more than 20% CAGR over that time frame as well, although growth has been more erratic than its 9% revenue CAGR over the last half decade. The shares are selling near the bottom of their five-year valuation range based on P/E, P/CF, P/S, and P/B. The company has an A+ rated balance sheet, the stock sports a five-year projected PEG near 1 (1.16), and the shares sell at under 12x 2014's projected earnings -- very reasonable for an equity that yields near 4%.
Microsoft (NASDAQ:MSFT): This is another tech giant that is managing declining PC sales well. The company is rapidly growing its cloud offerings Azure and Office 365, both of which are now beyond a $1 billion annual run rate. For a "dinosaur," analysts still expect 7% to 8% revenue growth over the next two fiscal years, and MSFT has a five-year projected PEG of 1.41. The shares sell for less than 11x forward earnings and yield 2.7%. Most importantly, it has an AAA-rated balance sheet with over $70 billion in cash and short-term marketable securities on its balance sheet. Now that activists have garnered success with a more shareholder-focused capital allocation policy at Apple, I expect Microsoft will face more pressure to take similar measures. I would not be surprised to see substantial increases in Microsoft's dividend and share-repurchase program in the near future.
Disclosure: I am long AAPL, IACI, INTC, MSFT. I wrote this article myself, and it expresses my own opinions. I am not receiving compensation for it (other than from Seeking Alpha). I have no business relationship with any company whose stock is mentioned in this article.