By David Russell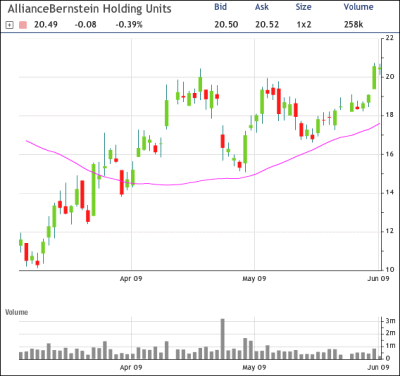 Options traders turned bullish on AllianceBernstein before the money-management firm presents at an industry conference tomorrow morning.
Volume in the June 20 calls climbed to 3,119 against open interest of 1,100 contracts, according to optionMONSTER's Heat Seeker monitoring program. A single purchase for $1.25 accounted for more than a third of the activity and came just seconds after the sale of 1,000 June 17.50 calls for $2.85, suggesting an investor was rolling an existing position to the higher strike.
AB fell 0.77 percent to $20.41 and is up 22 percent since mid-May. The company will make a presentation at 8:45 a.m. ET tomorrow at the Keefe, Bruyette & Woods Diversified Financial Services Conference in New York.
Call volume in AB outnumbered puts by more than 80 to 1 today, reflecting the bullish sentiment. Most of the activity was focused on the June 20 calls, where purchases accounted for the bulk of volume.

(Chart courtesy of tradeMONSTER)