Small pharmaceuticals present a unique combination of risk and reward potential for investors who understand the risks involved but are willing to hedge their bets due to the possibility of significant gains. Regardless of a company's investment promise, the ones with expected near-term catalysts tend to garner more attention, even as more promising ones present more significant long-term gains but have expected catalysts that may be some time away. With a new month upon us, I wish to continue my series on "imminent catalysts in small pharmaceutical companies." Following, I present two more pharmaceuticals with near-term catalysts that should garner investor attention in the coming days. Since not all outcomes are guaranteed to be positive for the impending catalysts, I advise interested investors to perform additional research on these two companies with a focus on information directly pertaining to the imminent catalysts.
Inovio Pharmaceuticals (INO) is an emerging small pharmaceutical company focused on prevention and treatment of infectious diseases and cancers with its electroporation-administered platform of synthetic vaccines. Still in the development stage, the company's pipeline is showing much potential in the mega markets of cancer and infectious disease. Any positive data in its advanced phase 2 clinicals present the possibility of huge gains. Meanwhile the downside is muted somewhat due to multiple and varied indications being targeted with failure in one clinical not necessarily indicating failure in another.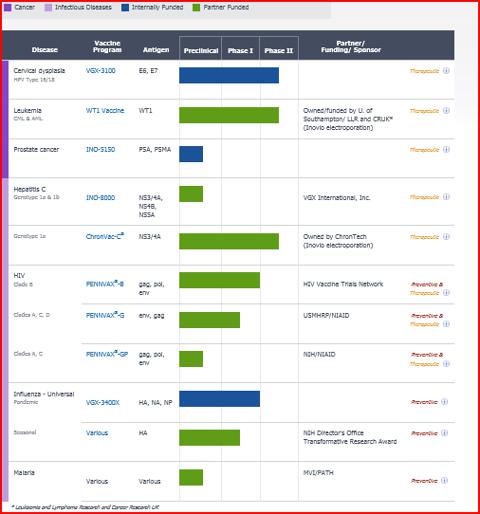 On March 18th, Inovio released its 2012 10K with updates on its pipeline included. Focusing on its phase 2 clinicals underway (the lead product candidates), the company has two with interim data possible to be released at any time, although no set time frames are noted. The company's VGX-3100 synthetic vaccine is designed to treat patients with cervical cancer or its precursor cells, dysplasia. The disease is strongly associated with the human papilloma virus (HPV), with the FDA already approving Merck's (MRK) Gardasil® and GlaxoSmithKline's (GSK) Cervarix® to prevent cervical cancer through the prevention of various strains of HPV. There is currently no approved treatment for patients already having dysplasia. The options are limited to mostly resection (surgery) for treating cervical cancer itself with the end results being uncertain with recurrence possible if cancerous cells remain after the ablation or resection.
According to Inovio's 10K, over 500,000 women worldwide are diagnosed with cervical cancer, with approximately half of those dying - predominantly in developing countries. VGX-3100 utilizes Inovio's synthetic vaccine platform termed its SynCon® technology to induce cells to produce E6 and E7 genes of HPV types 16 and 18. These genes are present in both dysplasia and cancerous cells transformed by these HPV types. The production of the E6 and E7 genes induces an immune T-cell response against not only the electroporated cells, but also the cancerous and dysplasia cells. This learned immune response effectively kills existing and future cancerous cells having the E6 and E7 gene expressions. If interim data indicate a T-cell response against these cells, and if these data indicate the response is robust (not short-lived), efficacy could be assumed and accompanying solid safety data could push share prices well beyond current levels. The clinicaltrials.gov identifier for the trial is NCT01304524, with the trial expected to be complete in March of 2014 and final data release likely following shortly thereafter. The trial is a randomized, placebo controlled study and patients will receive treatment for 36 weeks, with enough patients completing the trial by now to have some indication of efficacy and safety by now once the data has been unblinded. I believe a trial update for VGX-3100 is imminent.
Inovio's second phase 2 trial currently underway is sponsored by the Imperial College Healthcare NHS Trust and the Royal Devon and Exeter NHS Foundation Trust. The trial is targeting chronic and acute myeloid leukemia (CML/AML), and is noted as "In Progress" in Inovio's 2012 10K. However, the clinical identifier of the trial, NCT01334060, indicates the trial hasn't been updated on the clinicaltrials.gov website since 2011 with the statement: "The recruitment status of this study is unknown because the information has not been verified recently." Despite the lack of an update on the clinicaltrials.gov website by the trial's two sponsors, Inovio announced interim data on December 6, 2012, for the CML arm of the trial with positive outcomes. Interim data indicated a robust vaccine-specific antibody response with killer T-cells detected in all vaccinated patients with a generally safe and well-tolerated treatment profile. If this type of response carries over into the final evaluation, the platform could be construed as partially validated at least for this indication with more investor interest following. The AML arm was cleared to begin enrollment due to the positive CML data with interim data on the 37 patient AML set being yet another imminent catalyst in the months ahead.
As of December 31st, 2012, Inovio had approximately $5.6 million in cash and equivalents. In its 2012 10K Inovio noted "We believe that current cash and cash equivalents plus short-term investments are sufficient to meet planned working capital requirements through 2014." On March 12th the company closed on a stock offering with warrants that will provide the company with an additional $15.1 million. Depending on the actual cash burn rate, this should be enough to fund the company through 2015 and greatly reduces the need for additional funding (shareholder dilution) for quite some time. This effectively minimizes one possible negative event. In a show of confidence in Inovio's stock price, CEO Dr. Joseph Kim has bought shares in the company on the open market on several occasions since 2011. Now owning 11,940,809 shares, he has added an additional 150,000 shares at an average price of $0.515 via open market purchases in 2013 alone. I firmly believe in the cliche "there are many reasons an insider may sell shares, but only one reason they buy shares."
Apricus Biosciences (APRI) has been on my watch list for quite some time and has disappointed me on multiple occasions. Although the company still has much room for improvement, it is showing signs of the changes I believe necessary for the company to gain investor trust it needs to return it share price to its 52-week high of $3.61. Apricus started the year off with an update for investors on its long-term business goals. These goals included an aggressive push to focus on its sexual dysfunction pipeline while divesting its oncology support product line. The focus on the company's sexual dysfunction product line will help to streamline the company's business model, eliminate costs associated with the business and allow obtained proceeds to fund its operations according to the update.
True to its word, the Apricus' changes began with a March 14th announcement that the company would cease support of its French subsidiaries, Finesco SAS, its French holding company, Scomedica SAS, its French sales company and NexMed Pharma SAS its marketing company. The decision came "after performing an in depth cost-benefit analysis and evaluating strategic option," noted Chairman of the Board, Rusty Ray. On March 18th, Apricus announced that it had appointed Richard Pascoe as CEO. Mr. Pascoe is a 1986 graduate of the United States Military Academy at West Point, NY, and is a veteran of the first Gulf War. With over 20 years of pharmaceutical experience to his credit, he has held positions at Somaxon Pharmaceuticals as president and CEO, at ARIAD Pharmaceuticals (ARIA) as CEO, and at King Pharmaceuticals in several roles including senior VP of neuroscience marketing and sales and VP positions in both international sales and marketing and hospital sales.
In its biggest move of the year, Apricus announced on April 1st that it had found a buyer for Totect® (dexrazoxane HCl), a marketed, injectable treatment for anthracycline extravasation, and NitroMist® (nitroglycerin sublingual aerosol), an FDA-approved nitrate vasodilator indicated for acute relief of an attack or acute prophylaxis of angina pectoris due to coronary artery disease. With sale prices not yet revealed, Apricus noted that it had received an up-front payment and would receive royalties on net sales of Totect® by the buyer through 2016.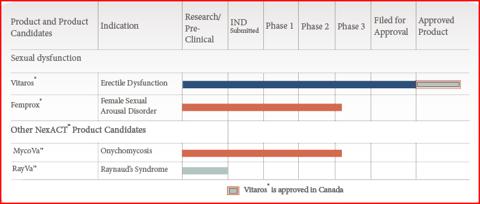 With only its sexual dysfunction product offerings to focus on, Apricus has two imminent catalysts associated with Vitaros (topical alprostadil), currently approved in Canada for the treatment of erectile dysfunction (ED). In its 2012 10K, Apricus mentioned that it is still expecting its Vitaros partner, Abbott Laboratories (ABT), to launch the highly-anticipated drug in Canada in the first half of this year, giving just a little under two months left to meet that goal. Under terms of the deal, Apricus will receive up to $16 million in upfront, regulatory and sales milestones payments as well as tiered royalties based on Vitaros®' sales in Canada. Apricus received $2.5 million as an upfront payment in late 2012, and will likely receive additional funds due to the upcoming launch as a milestone payment. For the remainder of the year, royalty payments from Abbott based on sales should be monitored closely in order to ascertain early revenue generation from the product.
Apricus is eagerly awaiting news on EU marketing approval of Vitaros, also expected in 1H 2013. In the 2012 10K, Apricus gave an indication of sales potential for Vitaros in Europe stating "in Europe, existing ED products currently generate over $1 billion in sales and Apricus Bio believes a significant portion of the market remains untreated or undertreated." Although the EU approval is not a sure thing, I believe the company's confidence in Vitaros' chances exhibited by selling the oncology support product line speaks volumes as to the drug's perceived chances at approval.
A close review of the 10K yields a bit more information than some investors may see upon a quick glance. Specifically, Apricus has a host of partnerships with other pharmaceuticals for upcoming launches around the world for Vitaros with each having appreciable milestone payments in some form or another. On pages 9-11, the following countries are listed with regulatory decisions with some launches pending:
Germany - A collaboration agreement with Novartis AG (NVS) division Sandoz to market the drug with payments of $29.1 million (December 31, 2012 conversion rate) in regulatory and commercial milestone payments and double-digit royalties on net sales of the drug.
Switzerland - A marketing application has been submitted with a decision expected in 2H 2013.
The United Kingdom - A collaborative agreement with Takeda Pharmaceutical (TKPYY.PK) for $45.8 million (December 31, 2012 conversion rate) in regulatory and sales milestone payments as well as payments for regulatory filing fees as well as double-digit royalties on Takeda's sales of

Vitaros.

The Middle East - A license agreement with Elis Pharmaceuticals for ED in the United Arab Emirates, Oman, Bahrain, Qatar, Saudi Arabia, Kuwait, Lebanon, Syria, Jordan, Iraq and Yemen with milestone payments up to $2.1 million in addition to escalating tiered double-digit royalties on Elis' sales of

Vitaros with t

he first country's regulatory decision expected in 2014.
Australia and New Zealand - A license agreement with Global Harvest for an undisclosed royalty payment based on sales of the drug in those countries. Global Harvest is expected to file for marketing approval in those two countries within 24 months of marketing approval of the drug in either the U.S. or the EU.
Latin America - Apricus has started the necessary regulatory paperwork for approval in Mexico, Brazil, Argentina, Colombia, Chile and Peru and will take the next steps in the process pending licensing or other partnerships in these countries.
With at least two imminent catalysts for Apricus via the Vitaros® launch in Canada and the regulatory decision for the drug in Europe in 1H, any number of catalysts from the above-mentioned partnerships could be announced in the upcoming days. The company does have a second sexual dysfunction drug in Femprox®, developed and tested for female sexual arousal disorder (FSAD). The condition is apparently more prevalent than some may believe with an expected worldwide market of over $4 billion, with no FDA-approved treatments for the indication according to the company. With several clinical trials evaluating the topical drug behind it, Apricus is seeking partnerships to help develop Vitaros® in the U.S. followed by Canada, Europe and South America. If a partner is not found, the company stated in its recent 10K that it would consider moving forward on a clinical trial funded partially or totally by itself (likely dependent on financials).
As of December 31st, Apricus had cash and equivalents of approximately $15.1 million with an additional $3.6 million in cash due to the sale of its New Jersey facility in March as well as whatever funds were paid upfront as a result of the sale of its oncology support division. According to the 10K, cash is sufficient to last into 2014, although funds from the oncology support division sale may or may not have been taken into consideration in this estimate. At markets close on Monday, Apricus' market capitalization was $77.7 million with a closing share price of $2.56, about midway of its 52-week range of $1.89-$3.63 and just above strong chart technical support of $2.50. With many catalysts ahead possible and two imminent ones, I believe interest in Apricus' common shares should accelerate with 1H 2013 now winding down.
Disclosure: I am long APRI. I wrote this article myself, and it expresses my own opinions. I am not receiving compensation for it. I have no business relationship with any company whose stock is mentioned in this article.
Additional disclosure: I may initiate a long position in INO over the next 72 hours.