Our latest article, "Zynga After The Earnings Call: The Good, The Bad, And The Ugly" provided an overview of Zynga's (NASDAQ:ZNGA) status post-earnings. Overall, we found that good signals outnumbered bad ones. From a fundamentals perspective, the firm is clearly not a sound investment due to negative cash flows. However, Zynga is under a promising and risky transition, from a FarmVille-centric web-focused firm with high Facebook (NASDAQ:FB) dependence to a mobile-focused firm with its own ecosystem for payments and a couple of social real money gambling (RMG) game hits, which could increase the monetization ratios, monthly average users (MAU) base and revenue in the long term.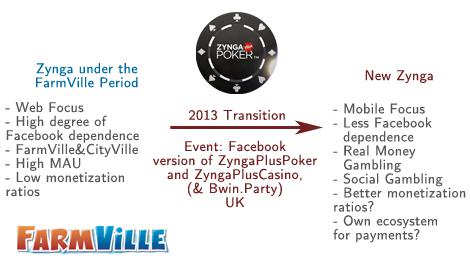 We start this article by briefly reviewing the current momentum of the stock and some events that took place last week. But our main purpose is to explain why the release of the Facebook and mobile versions of the recently launched RMG websites (ZyngaPlusPoker and ZyngaPlusCasino) are crucial events in the transition period of the firm. Due to the uncertainty that the business of mobile games encompasses, investors will focus on the success or failure of this venture to make their forecasts for the overall post-transition future of the firm.
Current Momentum
The stock was trading at about $3.30-$3.35 per share before the earnings announcement (April 24th). After the announcement, there was an immediate 17% drop in price, as investors expecting better results closed their positions. However, the stock price returned to its previous level in less than 2 trading days. Investors with more realistic expectations opened bullish positions, replacing event-driven optimistic investors.
On May 1st, the average price per share reached approximately $3.2. In the absence of any major events in the past 5 days, the share price has not changed considerably. However, the relative strength index and the MACD indicator continue showing a bullish upward trend, which suggests that upside momentum is slowly increasing.
Current Wall: $3.22
Events
Date
Event
Importance
Impact
April 25th
Launch of new game: "Draw Something 2".
Low
Positive. We expect the game to attract some serious level of MAU in the short run, as the first version of the game was very successful.
May 1st

Zynga is set to publish a social game based on the Game of Thrones series through a partnership with HBO and Disruptor Beam.

Platform: Zynga.com, Facebook

Low
Negative. According to this source, Game of Thrones has made the transition to the video game world before in a title developed by Cyanide released in June 2012. The game was not successful.
May 2nd
Zynga donates $1M to new educational games accelerator.
None
None
May 2nd
Zuckerberg mentions Zynga in Facebook's earnings call
Low
Negative
The Real Catalyst: The release of the Facebook and mobile versions of ZyngaPlusPoker and ZyngaPlusCasino
Zynga needs news badly. The absence of events has caused the stock price to underperform. This makes sense, if we consider that investors who believe in the potential of the current transition period need positive signals in order to keep their positions.
In this context, Mark Pincus has mentioned austerity and FarmVille as keywords that the firm shall embrace until the transition is completed. But austerity cannot last forever and FarmVille's MAU could be decreasing faster and faster, as the latest AppData estimates of MAU for the Top 25 Facebook applications shows.
Luckily for Pincus and Zynga, there is a positive catalyst on its way. The release of the Facebook and mobile versions of the U.K. real money gambling sites could be the event that everybody is waiting for.
First of all, it is no news that Zynga's stock price tends to be highly sensitive about events that are not directly related to revenue. The launch of the U.K. websites itself caused a 15%+ increase in stock price. Second, many analysts have identified "social real money gambling" as the potential turnaround of Zynga. But the "social" part is missing so far.
Third, there is already abundant media coverage and much more on its way. I believe that Zynga is preparing an aggressive marketing campaign that shall follow the release. Think about it. Technically speaking, it could launch the mobile and Facebook versions tomorrow, but that wouldn't be strategic. Most likely, they are preparing a big campaign, waiting for positive developments in the real-money Internet gambling legalization process in Nevada and discussing a deal with its partners [Bwin.party (OTC:PYGMF) and Facebook].
The concept of "real money" gambling on Facebook has been partially explored with games like "888" or "Slots", but what Zynga is planning to launch is a set of more than 100 games. This is going to take real money gambling on Facebook at its maximum expression. It is difficult to know whether it will succeed or not in monetizing the games, as this process could take months or even years, but it is relatively easy to forecast a market overreaction after the launch. This makes the idea of opening bullish positions before the launch very tempting.
Final Remarks
Rate: Buy
Investment Horizon: one to three months
Strategy: Event-driven
Uncertainty: High
Disclosure: I am long QCOM. I wrote this article myself, and it expresses my own opinions. I am not receiving compensation for it (other than from Seeking Alpha). I have no business relationship with any company whose stock is mentioned in this article.