Zynga (NASDAQ:ZNGA) is partnering with Disruptor Beam to bring gamers "Game of Thrones: Ascent," a social game based on the popular HBO show. Disruptor Beam is a small social gaming startup that is counting on "Game of Thrones: Ascent" becoming a hit. Disruptor Beam said that thits eir goal has always been to disrupt social games, gameplay and stories. The company will now have a chance to do that with the large built in audience Zynga enjoys. In a given month, over 250 million people play Zynga games online, on mobile devices, or tablets.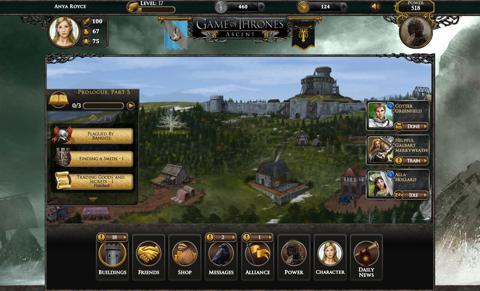 Gameplay will see fans of the show swearing allegiance to one of the houses. Players will make decisions that will impact their individual storylines. The game will follow storylines from the television show and the popular novel series by author George R.R. Martin.
Currently on Facebook, over 100,000 people a month are playing "Game of Thrones: Ascent." This is a relative small number, considering 5.89 million people "like" "Game of Thrones" on Facebook and 5.3 million viewers tuned in for the season three, episode five of the television show.
It's hard to believe that the popular television show has only been on the air for two years and under three seasons. The show premiered on April 17th, 2011. The season one premiere saw 2.2 million viewers. Here is a look at other numbers from the show:
· Season 1 premiere: 2.2 million viewers
· Season 1 finale: 3.0 million viewers
· Season 2 premiere: 3.9 million viewers
· Season 2 finale: 4.2 million viewers
· Season 3 premiere: 4.4 million viewers
· Season 3 episode 5 (most recent): 5.3 million viewers
As you can see, the show has doubled its viewership in under three seasons. The show also continues to gain in popularity. "Game of Thrones" is the number one most pirated show on the internet, a bad thing for HBO owner Time Warner, but a positive for Zynga. The huge fan base should all be curious to try playing this game. It is worth noting that video game company Bigpoint is working on a MMORPG game related to "Game of Thrones" content. Zynga will need its own game to get a strong base of fans and players to keep up popularity prior to the rival game. The MMORPG will target hardcore gamers, while Zynga's partnership will make "Ascent" more of a social and fun playing game.
One of Zynga's latest games, "Draw Something 2," has shot up the charts for downloads. The sequel to the hit drawing game was the #2 free app and #78 top grossing app, according to AppData. This is the second recent game from the OMGPOP division of Zynga. In March, I discussed how the newest game from OMGPOP could finally make the $180 million acquisition pay off. "What's the Phrase" was the game discussed in that article.
"Farmville 2", the sequel of the popular Zynga title, had a big first quarter. The release of the game has powered bookings of the original game to increase year over year as well. "Farmville 2" is one of three titles ("Words With Friends", "Zynga Poker") to currently rank in the top 10 for Facebook's most played games.
Zynga recently reported first quarter revenue and earnings. Reported revenue of $264 was down 18% from the prior year. Bookings, a commonly used revenue method by Zynga, was down 30% to $230 million. Net income of $4 million represented earnings per share (Non-GAAP) of $0.01. Online revenue fell 22% to $229.6 million, while the advertising line saw an increase of 21% in the quarter.
I discussed the prospects and potential of online gaming for Zynga back in December. At that time shares were trading below $2.50. I recommended buying shares at that level and holding them for a year. During the first quarter, the company announced it had launched its first real money games in the United Kingdom. Zynga Plus Poker and Zynga Plus Casino are both currently operated through a partnership with bwin.party, a UK gambling company.
One area of strength for Zynga in its advertising revenue. During the first quarter, advertising revenue rose 21% to $34.0 million. That area is about to get even stronger, as an article on the Wall Street Journal points out. Zynga is doing new video mobile advertisements. As WSJ points out, Zynga is attempting to lure advertisers by bragging about its strong base of free players. These players are more likely to click on advertisements or watch videos, because they feel like they should to keep the game free. This is an interesting strategy by Zynga, and an absolute brilliant one. This should get the company some new deals and ideas like a bonus spin, with videos every tenth spin that makes absolute sense to me.
Another item to watch is share buybacks. Zynga bought one million shares in the first quarter at a price of $2.5 million. The company has now re-purchased six million shares for $14.3 million. The biggest takeaway though is the fact that $186 million remains on the current approved buyback plan. Obviously Zynga won't buy all these shares in the next quarter, but if shares fall, the company could aggressively buy more of its own shares. In April, Zynga paid off $100 million in debt and now has no long-term debt remaining. The company will be looking to make acquisitions or buy back shares, to spend some of its free cash flow.
Shares of Zynga trade at $3.22 (as of 05/05/13), still significantly down from yearly highs and the company's IPO price. Shares have rebounded in 2013, as they are up 35% year to date. In the last year, shares have dropped an astounding 61%. The company obviously has work to do to get shares back to the double digits. Shares are still a bargain at this level with the optimistic results of recent games, new games and the potential for more buybacks.
Disclosure: I have no positions in any stocks mentioned, but may initiate a long position in ZNGA over the next 72 hours. I wrote this article myself, and it expresses my own opinions. I am not receiving compensation for it (other than from Seeking Alpha). I have no business relationship with any company whose stock is mentioned in this article.