Since the 2009 lows, shares of Nu Skin Enterprises, Inc. (NYSE:NUS) have surged over 450% to all-time highs and the company's market capitalization has soared 500%. With such significant growth over the past four and a half years, many investors wonder if they have missed the opportunity to cash in. The answer? Probably not.
Valuation
In terms of price-to-earnings ratios, Nu Skin is actually still favorably priced versus its peers within the personal products industry. For the trailing twelve months, Nu Skin is trading at just under 15x earnings, which is considerably lower than its larger, more diversified peers. For example, Proctor & Gamble Co. (NYSE:PG) is trading at 17.4x trailing earnings and Colgate-Palmolive Co. (NYSE:CL), is trading at 24.5x trailing earnings - shares of both competitors demand a significantly higher premium on earnings-per-share. With respect to future earnings, Nu Skin looks even sexier. For the year ending on December 31st, 2014, the company is trading at a mere 11.59x earnings, while Colgate is trading at 19x forward earnings, Avon Products Inc. (NYSE:AVP) is trading at 16.7x forward earnings, and PG is trading at roughly 18x forward earnings. From a price-to-earnings growth perspective, Nu Skin dominates its competition at .88, signaling strong growth rates moving forward. Let it also be noted that Shares of Nu Skin trade at a significant discount compared to its peers (aside from Colgate) on the basis of price/sales (1.40). The chart below summarizes the previously discussed information:
Valuation Metrics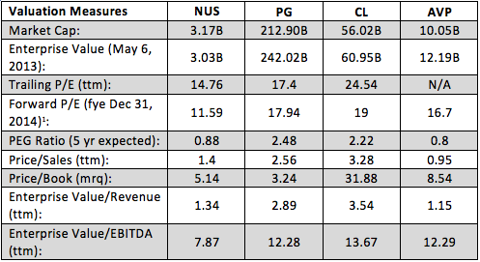 Another interesting fact to mention is that the moving average of the P/E ratio of Nu Skin has actually been decreasing as the share price has soared, due to the fact that earnings growth has outpaced share price appreciation.
Growth
Since the troughs of the "great recession" (as it has been deemed), Nu Skin has grown at tremendous rates in all aspects of operations, revenues, earnings and geographic sprawl. Over the previous quarter, nearly every aspect of the corporation grew at impressive rates. During the past three months (ended March 31), Nu Skin grew revenues by 19% to $550 million, even after a 3% adverse currency fluctuation. Most of the company's new revenues were driven by a dramatic increase in sales volumes in Mainland China and Northern Asia. The company's CEO claims that Nu Skin is still not a top-10 seller of related products in China, showing significant room for growth.

However, growth in the United States was strong as well, as the company grew revenues in the region by 15% to $76.5 million. The company did shrink overall operating margins (15%) year-over-year (vs. 15.5%), however guidance demonstrates that margins will expand in the second half of 2013. The full-year margin target is 16%. By 2014, Nu Skin maintains its target of $1 billion in revenue production in the Greater China region - where it has been seeing the most significant growth over the past year. Below is a chart demonstrating previous quarterly EPS data, as well as some conservative future expectations:
Quarterly EPS Growth (Source: Etrade)

Guidance
In the earnings call last week, Nu Skin raised its guidance across the board. Previously the company had announced a Q2 revenue contraction of 8-10% from Q2 last year. However based on accelerated Asian growth, the company has raised its guidance to match last year's Q2 revenue of roughly $570-580 million. Operating margins are expected to grow to slightly above 15%, resulting in an EPS estimate range of $.91-$.95 for the second quarter. Full year revenue guidance has been raised to $2.15-$2.54 billion, resulting in EPS of $4.18-$4.30, with a margin of 15.8%. Overall, 2013 seems to be a strong year for Nu Skin.
Creating Shareholder Wealth
Nu Skin has been aggressively seeking new ways to return cash to its shareholders over the past few years, and 2013 will be no different. In fact, the company's CEO, M. Thruman Hunt, promised during last Thursday's earnings call that Nu Skin would continue to raise its dividend rate as it has done over each of the past 10 years. In fact, this year, the company has raised its dividend by 50% already. Let it also be noted that Nu Skin has embarked on a somewhat aggressive share buyback plan. During 2012, the company spent $200 million on share purchases (7% of available shares) in the free market, which the board feels will augment EPS for the entire year. So far in 2013, Nu Skin has spent 14.6 million on such buybacks.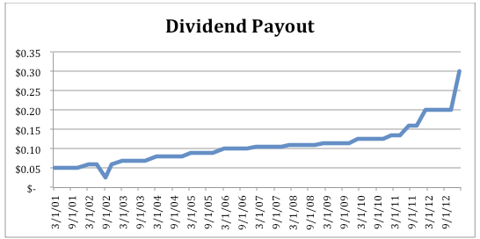 (Source: Nasdaq)
Promising New Product Addition
In the fall of this year, Nu Skin will be rolling out its newest weight management product as part of its existing ageLoc product line. This new launch represents the largest in the company's history, and based on internal projections, will provide the company with a new $600 million revenue stream over its life cycle.
Summary
Although shares of Nu Skin have dramatically increased in price over the past 5 years, and although they currently trade near all-time high values, there seems to be unrealized and legitimate potential here. From a valuation perspective, Nu Skin is cheap relative to its larger-cap peers within the industry. What is most promising, however, is that the company is expanding its operations and global reach rapidly. Aggressive growth in China and sustained operations in Japan (Nu Skin's largest market by revenue) have lead to significant growth in revenue, EPS, and guidance alike. While currency risk continues to be an issue for the company, the simultaneous growth in revenue has mitigated its adverse affects. Overall, Nu Skin is a rapidly growing company that is reasonably "cheap" at current levels. While most of the company's competitors are larger, lower-beta companies, Nu Skin may be a great growth selection to bolster your portfolio's returns in 2013.
Disclosure: I have no positions in any stocks mentioned, and no plans to initiate any positions within the next 72 hours. I wrote this article myself, and it expresses my own opinions. I am not receiving compensation for it (other than from Seeking Alpha). I have no business relationship with any company whose stock is mentioned in this article.