The primary purpose of the Federal Reserve's massive asset buying program over the last few years has been to restore confidence to the markets. By adding huge amounts of liquidity (currently $85 billion per month), the Fed has hoped to drown any potential financial shocks with an ongoing deluge of newly created money, as well as to stimulate the economy with low interest rates.
Clearly, the functioning of financial markets has been dramatically affected by this unprecedented market interference. Interested rates have been near zero for over four years. Investors desperate for yield have piled into dividend paying stocks, helping to drive the S&P 500 and the Dow Jones Industrial Average to all time highs.
One of the primary effects of adding such large amounts of liquidly to the market has been a decline in the Volatility Index or VIX to near all-time lows.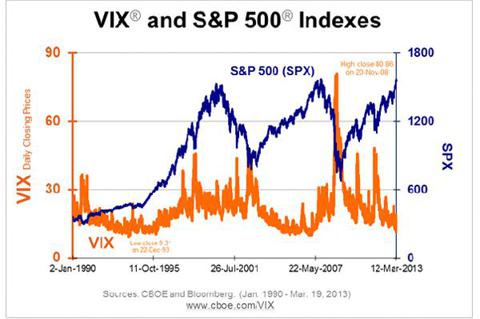 As years go by and it becomes clear that markets are being forced farther and farther from their equilibrium points, it would be reasonable to question whether the liquidity that is being added in such huge quantities could turn from being a force that suppresses volatility to one that actually feeds volatility.
The Adjusted Monetary Base chart below gives a picture of the amount of liquidity that is currently pent up in the financial system.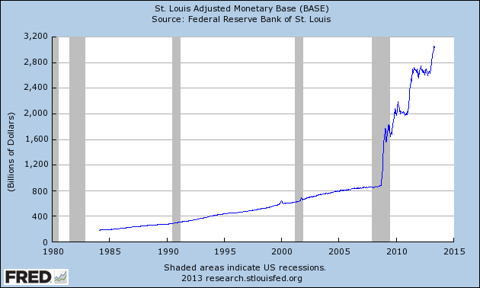 When the Fed goes beyond the point of trying to stimulate the economy by legitimately adding to the illusion of value, for a brief time, to contain a financial crisis by injecting liquidity and instead crosses the line into attempting to actually create value, is where dangerous imbalances will likely be created.
ETFs and ETNs that reflect long volatility positions have seen huge and relatively steady declines over the past few years. There has been increasing chatter in the financial community about what great short positions many of the long volatility ETFs and ETNS make. This led me to consider what the short interest in these products might be and whether a short squeeze in them may be setting up.
My information on the short interest in these products is sourced from Bloomberg on May 6 2013, however I ask you to verify it for yourself before taking any action.
BATS:VXX shares outstanding: 64.4 million. Shares short: 41.4 million or about 79% of float.
UVXY shares outstanding: 53 million. Shares short: 8.5 million or about 26% of float.
VIXY shares outstanding: 19.5 million. Shares short: 658,000 or about 3% of float.
Given the above information, I would carefully watch for any sign of a market correction which will likely cause a significant spike in volatility from current levels. This could set off a significant short squeeze, especially in the extremely heavily shorted VXX.
Disclaimer: Nothing in this article is to be taken as professional financial advice, nor is it a solicitation to buy or sell any type of securities. All financial decisions are your own, seek professional advice before taking action.
Disclosure: I am long VXX. I wrote this article myself, and it expresses my own opinions. I am not receiving compensation for it (other than from Seeking Alpha). I have no business relationship with any company whose stock is mentioned in this article.