Rewind to 2012, Affymax (NASDAQ:AFFY) was a favorite and top performing biotech stock last year. The company had in its pipeline a new drug that was supposed to break the huge multi-billion dollar monopoly that Amgen (NASDAQ:AMGN) has in the chronic kidney disease (CKD) market with its drug Epogen.
The FDA, as well as, the company both knew that there were risks associated with this new drug back in the summer of 2012, however it was still approved. The stock shot from $6.25 in January 2012 to over $27.00 in September, an impressive run to say the least. This week the stock is trading for around $.80 - $1.00.
This presents a high risk lottery play like I wrote about with Questcor (QCOR) last year when the stock fell from $55 to under $20. The Bear raid was in full swing. Some value buyers followed me and "bought the fear." QCOR has since recovered into the low to mid-$30's.
Now let's look at the current landscape of Affymax: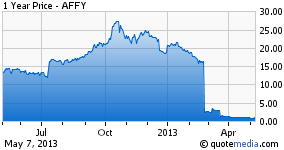 This company (let's call it a medical patient which seems fitting) is on the table with paddles ready. Can the powers that be revive it? The patient is flat lining to say the least. Just look at the EKG (a recent chart).
The company in a swift move recalled all of the lots off the market and laid off over 75% of its work force, then agreed to transfer controls over to its partner Takeda (OTCPK:TKPHF).
The CEO may have clearly capitulated here. He has definitely received some criticism for the move that was made in either:
1) The most honorable of safety measure to patients or
2) An inexperienced move that ultimately and immediately collapsed the value of the shareholders wealth in the process. Many investors and doctors alike are just dumbfounded. Remember, the goal of each and every company out there trading on any public exchange is to "maximize shareholder's wealth" period, not collapse the stock value as was done in this case.
Look, the drug worked in the trials, but failed on the launch. How is this possible? Some might speculate that it was the dialysis centers who may have caused the 0.02% of deaths. This will be rooted out as they go through and test every batch of the drug at every facility.
Is there a conspiracy theory working?
Recently, it seems that Amgen agreed to pay a civil settlement and criminal fines on bribery charges to get pharmacies to sell its product over a competitor's. This story of marketing practices first broke in 2011 as reported by the New York Times. Who was the competitor you might ask? In this matter, Amgen was accused of promoting Aranesp for anemia caused by cancer, for which it was not approved, rather than to combat anemia as a side effect of chemotherapy treatments.
Following up on an article that I wrote here on March 19, 2013, I suggested that due to the extreme drop in (one-time biotech darling) Affymax, the shares could in fact bounce.
Since the shares are over 86% owned by strong institutions, it is quite possible that there may be some strong value buyers who may still think (like me) that the company has a viable chance to get its once promising drug OMONTYS back on the market this year.
Fixing the immediate problems and rebranding OMONTYS cannot be ruled out. This of course will be a long shot if the company can isolate the post-approval issues that have occurred that weren't identified in the extensive and costly phase trials. Once identified, the burden would be on the FDA, as well as, its Japanese partner Takeda to move forward. This is a big hurdle to overcome and will take some time. How much time is anyone's guess.
In the meantime, as you have already seen, the company is taking great strides in preserving its cash position by announcing the rapid decision to lay off 75% of its dedicated staff. If the drug returns in a few months, hopefully these employees will get reinstated?
Currently, the company investigates its options, which may or may not include a new partner, merger, BK or sell of the company assets. Value buyers may be in here buying the last few weeks? Remember, while there is certainly no guarantee of a run up or bounce here, some large funds may be averaging down on their massive positions. Some top funds were caught holding as many as 2,000,000+ shares.
Large Biotech Institutional Ownership Is Outlined Below:
Looking Longer Term:
Clearly, the source of the adverse reactions has to be found. It's all about finding and correcting the issue(s). If Takeda can do this, then it's possible that it could get the FDA to approve a more detailed safety label like another diabetes drug VENOFER received. VENOFER'S slogan is: Millions Prescribed. Millions Treated. Its issues as posted on its website say:
IMPORTANT SAFETY INFORMATION - Serious hypersensitivity reactions, including anaphylactic-type reactions, some of which have been life-threatening and fatal, have been reported in patients receiving Venofer® (iron sucrose injection, USP). Patients may present with shock, clinically significant hypotension, loss of consciousness, and/or collapse. If hypersensitivity reactions or signs of intolerance occur during administration, stop Venofer® immediately. Monitor patients for signs and symptoms of hypersensitivity during and after Venofer® administration for at least 30 minutes and until clinically stable following completion of the infusion. Only administer Venofer® when personnel and therapies are immediately available for the treatment of serious hypersensitivity reactions.
Drugs and chemical compounds can cause severe reactions to end users if not "screened or detected" properly. Just recently, a new study by a Harvard research team linked excessive "salt" consumption contributed to nearly 2.3 million cardiovascular deaths worldwide in 2010. Salt (sodium chloride, NaCl) is a chemical compound used in many foods by people worldwide, and it's still on the market. A remarkable 1 in 10 Americans dies from eating too much salt, the researchers found.
What about these energy drinks where the FDA was investigating reports linked to 5 deaths? Yes, there was a big scare with a leading energy drink company, but its products are still on the market, and its stock has recovered as well.
In Summary:
While no one can predict the future for Affymax stock, I think that once the problems have been isolated, there is a great chance that OMONTYS will be placed back on the market. The potential for success in the U.S. and EU is far too large to be ignored.
The risk reward opportunity does exist. Think about this; Over ten years and a billion dollars in R&D has been spent to get Affymax this far. I suspect that Takeda may spend a few million more to get to the root of the problem. Sure, it will be required to assess (in great detail) the complete manufacturing of the drug, review of its suppliers, handling procedures, inspection of facilities, administration, training, and may require a more elaborate patient screening process. This will be a highly tedious process, but will be required nonetheless.
If the company can maintain a good capital position to use to investigate what went wrong, correct the issues and get the FDA's blessing for a return to the market, the stock could very well see a 100% - 300% or higher move from where it's trading today. So, in moving forward, critical updates are needed by management about the future viability of this company. The drug was working, so something in the process broke down.
After all possibilities are ruled out, it's quite possible that the administrators of the drug (possibly nurses) may have been inexperienced who failed to rapidly identify that patients were having an allergic reaction. Then, failed to treat them in a "timely manner" once a reaction was detected may have exacerbated the problems.
The warning label already expressed that OMONTYS could cause allergic reactions. Failing to properly handle these few cases (by inexperienced health care providers) may be at the crux of the issues that caused the unfortunate issues.
Investors will have to stay tuned for relevant updates. This stock should experience some wild swings over the next few weeks on news or lack of news. Only positive news will save Affymax at this point, so please trade according to your own risk tolerance.
Disclosure: I am long AFFY. I wrote this article myself, and it expresses my own opinions. I am not receiving compensation for it (other than from Seeking Alpha). I have no business relationship with any company whose stock is mentioned in this article.