In our prior article "5 Top Stocks for Dividends, Low Volatility, High Quality and Analyst Ratings" we got an important question that deserves a solid answer.
Note: This article has been amended to change yield data from "12-month distribution yields" which were distorted by special distributions in 2012, to yield data from Bloomberg that is "indicated gross yield". As a consequence, the list of stocks has changed. The former list was based on trailing distribution yields, while this amended list is based on indicated yields.
This article is a response to a comment to our prior article that is a fairly common point of view. We think the view is potentially dangerous and deserves a rebuttal.
The commenter said,
"When discussing dividend stocks, 2-3% is just too low. Not talking about risky high fliers that pay 10% +, just stocks, ETFs, and funds that pay enough to live on, say 4-8%. There are plenty of them, why discuss 2-3% payers?"
That is not an uncommon point of view. We have heard it before, and have acquaintances who invest in a way consistent with that idea - unsuccessfully, by the way. They reached for yield out of a sense of desperation over their retirement income situation, but didn't look into the long-term consequences of the choice - dividend cuts, dividend growth stagnation, or disappointing price outcomes.
We generally disagree with the assumption behind the commenter's question. There is not a significant number of equities with 4% to 8% yields that are also high quality, low volatility and consistent dividend growers (nor that have bullish analyst ratings) - all of which we consider to be highly desirable.
If an investor seeking to live on dividends selects 4% to 8% yield stocks, that investor (based on history) will not find the income to reliably and consistently grow, and will not be able to find many instances of that level of income among equities with low volatility price and high quality characteristics.
To back that up, we did this today:
Identified all stocks designated by Russell Investments as low volatility within the Russell 3000.
All stocks rated as above average quality by either Standard & Poor's or Value Line, and not designated as below average by either service.
All stocks that have paid and increased dividends each year for at least 5 years.
Here is the number of stocks in each of the three groups above:
There were 251 low volatility companies - 94 in the Russell 1000 low volatility ETF (NYSEARCA:LGLV), and 157 in the Russell 2000 low volatility ETF (NYSEARCA:SMLV).
There were 472 stocks that paid and increased dividends each year for at least 5 years.
There were 860 stocks rated as above average quality by either Standard & Poor's or Value Line that were not rated below average by either.
The intersection of those three lists consists of 64 stocks.
The distribution of yields was as follows (grouped by number of stocks in each yield percentage range):
9's or more - 0
8's - 0
7's - 0
6's - 0
5's - 0
4's - 7
3's - 13
2's - 32
1's - 10
0's - 2
The 5 highest yielding stocks (by indicated yield) in that list of 64 were:
| | | | | |
| --- | --- | --- | --- | --- |
| Symbol | Name | StarMine | 1 Yr Tgt/P | Indicated Yield |
| T | AT&T | 4.9 | 1.01 | 4.76 |
| MO | Altria Group | 3.6 | 1.02 | 4.82 |
| NWN | Northwest Natural | 1.0 | 1.01 | 4.00 |
| SO | Southern Company | 2.6 | 1.01 | 4.33 |
| AROW | Arrow Financial | 5.9 | 1.04 | 4.08 |
The table above includes the ThomsonReuters analyst rating for year ahead performance on a 0-10 scale, where 7.1 and above is bullish, and 3.1 and below is bearish.
The table also includes the ratio of the First Call "Street" 1-year target price to the current price, and also the indicated yield.
The ThomsonReuters StarMine data was sourced at Fidelity. The First Call 12-month target price was sourced at Yahoo Finance. The indicated gross yield was sourced at Bloomberg. We have not cross verified these data at multiple sources, and they should not be relied upon for any final decision without prior corroboration.
None of these high yielding stocks have favorable year ahead total return expectations according to StarMine, and none have any significant price appreciation potential according to the "Street" consensus.
Reaching for the highest yield in this instance, even among high quality, low volatility stocks, is not expected to be rewarding - that is why we disagree with the point of view that selecting high quality low volatility stocks yielding 2% or more but less than 4% is a bad idea. Exceptions can be found, but to reject dividend stocks paying less than 4% is a higher risk approach than conservative investors should take.
There are 4% to 8% yield stocks out there, but they are not low volatility stocks within the Russell 3000, and high quality as rated by Standard & Poor's or Value Line, and consistent dividend payers and growers.
If raw yield without those other characteristics is acceptable, then go for it at your peril, but if quality, volatility and dividend consistency and growth are important, don't seize on yield alone.
Here are operational and valuation charts from YCharts that display the same data for these five stocks as we provided in our prior article: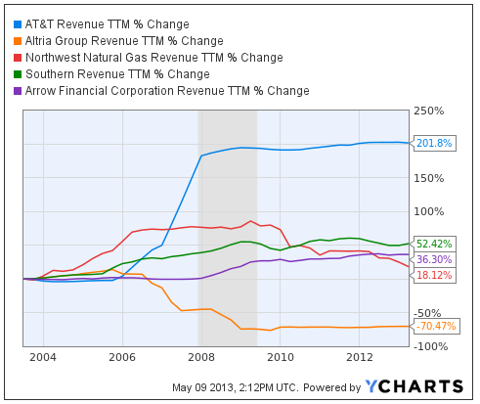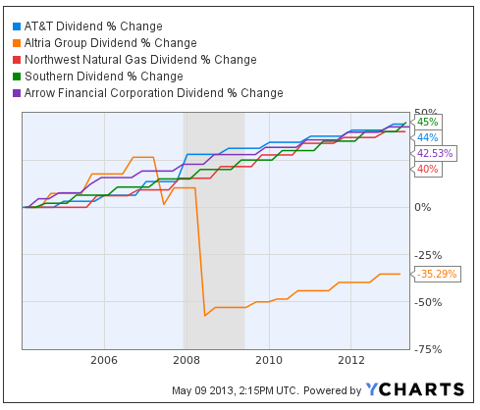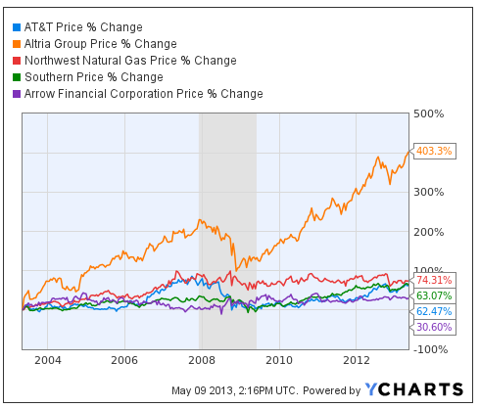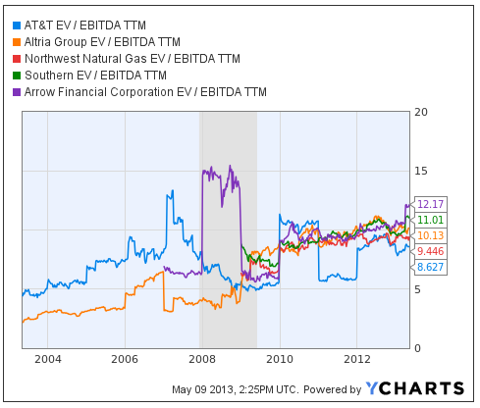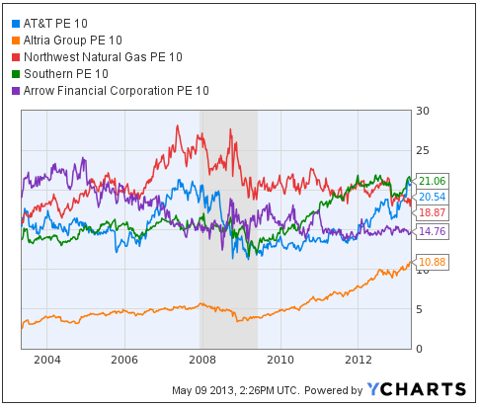 (click image to enlarge)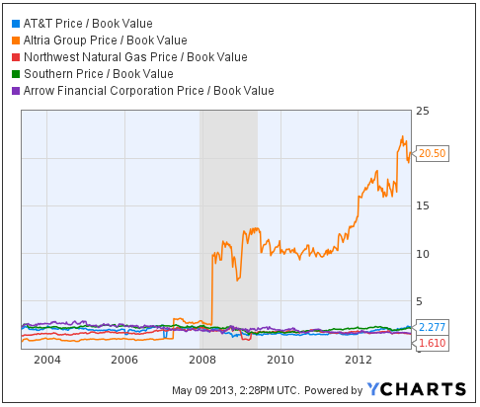 Disclosure: QVM has positions in T as of the creation date of this article (May 7, 2013). We certify that except as cited herein, this is our work product. We received no compensation or other inducement from any party to produce this article, but are compensated retroactively by Seeking Alpha based on readership of this specific article.
General Disclaimer: This article provides opinions and information, but does not contain recommendations or personal investment advice to any specific person for any particular purpose. Do your own research or obtain suitable personal advice. You are responsible for your own investment decisions. This article is presented subject to our full disclaimer found on the QVM site available here.