Strategic Hotels & Resorts (NYSE:BEE) is a REIT that has stopped paying dividends of late but still holds one of the most remarkable portfolios of luxury hotels in the world. The five most prominent hotels include:
Hotel Del Coronado (site of "Some Like it Hot" with Marilyn Monroe)
Ritz-Carlton Half Moon Bay
Ritz-Carlton Laguna Niguel
Fairmont Chicago
Four Seasons Washington D.C.
With an enterprise valuation of 2.07B and with a 2% projected increase in luxury hotels over the next 3-years, any recovery in the economy will present ample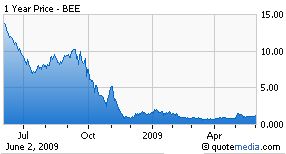 opportunity for revenue growth. Their 19 hotels with 8,358 rooms are situated in the most posh Western European and North American cities. With no debt maturities until 2011/2012, there's ample time for the economy to recover over the next two years, plus for many of the people who stay at such exquisite hotels of this nature the prospect of paying $250 p/n for a room is quite feasible, there are just fewer-and-fewer of these people to go around. Its directorship includes British knights and American financiers. Further Warren Buffett keeps a home in Dana Point as does Bill Gross of Pimco, within minutes of the Ritz-Carlton Laguna Niguel and its remarkable golf course nestled against the Pacific. A full 38% of its EBIDTA comes from oceanfront hotels.
Key Q1 numbers:
24.1% RevPar (revenue per available room) decrease
10.1% decrease in occupancy
A decrease of about 20% in the headcount has decreased the fixed operated costs from ~175MM in 2008 to 150MM in 2009.
Analyst estimates have the 2010 revenue numbers to hit 2006 levels of 750MM but with continued cost cutting measures--cutting staff in percentage parity with RevPar of ~20% as has already taken place--the rest of 2009 could achieve 2006 historical cost of revenue of 600MM--with the 150MM per quarter fixed costs being the model moving forward--allowing them to get into the black perhaps by the holiday season of 2009 or more safety by 2010. The feasibility of a dividend being paid anywhere near the magnatude of previous years is suspect but the stock price should appreciate handsomely nonetheless. Despite presense of the preferred shares eating up most of the enterprise value there's still 600MM worth of net tangle assets which should pull the <100MM market cap up, as it did to the tune of 11% today.
Disclosure: Long BEE.