After flaming all sorts of rumors with its 'Modified Dutch Auction' Tender Offer press release after the market closed on Tuesday, shares of the biopharmaceutical company Cell Therapeutics, Inc. (NASDAQ:CTIC) are likely to move higher after a key development was revealed very early this morning.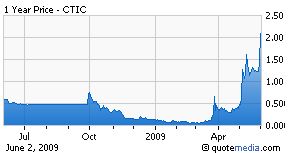 The company, which has been on the move since its dramatic lows of a nickle per share earlier this year, says that in a study released by Brown University at the 2009 American Society for Clinical Oncology (ASCO) Annual Meeting, patients with cancer of the lower esophagus had evidence of a high pathological complete response ("CR") rate when given OPAXIO, a biologically enhanced paclitaxel, in addition to cisplatin and full-course radiotherapy.
"CR" means complete remission, for those not familiar with the jargon.
These developments according to the news release, which was listed on the company website, but had not yet been officialy released to the media (as of this article's publication early this morning).
The cure rate for esophageal cancer is very low so this makes the findings of the study even more significant.
"We are very encouraged by these preliminary phase II results," said Jack Singer, M.D., Chief Medical Officer at CTI. "Patients who have a pathologic CR in most historical studies have had a major survival advantage over those patients with lesser responses. These interesting preliminary findings in an ongoing study indicate that paclitaxel poliglumex may be a uniquely active and selective radiosensitizing therapeutic. Most importantly, patient tolerability appears improved over standard therapy with 5-FU and cisplatin due to the lower incidence of severe gastrointestinal toxicity. It is likely that this is due to the selective accumulation of paclitaxel poliglumex in tumor tissue with continual slow release of the active agent, paclitaxel."
CTI plans to explore with the U.S. Food and Drug Administration (the "FDA") a potential U.S. phase III registration strategy for paclitaxel poliglumex in this indication given the high pathologic CR rates being reported in this study combined with the lower than expected gastrointestinal and other severe toxicities.
The Brown University Oncology Group lead by Dr. Howard Safran published preliminary data on their phase II trial in the ASCO proceedings, but the news appears to finally be making its way to the public now.
Shares of CTIC closed down 18% on Tuesday, -$.38 to $1.72 but that is likely to change after news like this.
Disclosure: No Positions.