Patterson-UTI Energy, Inc. (NASDAQ:PTEN) reported a operating rig count of 60 for the month of May'09 and an average of 64 for the April-May'09. This is the lowest rig count reported by the company in the Gridstone Research coverage period beginning Mar'03.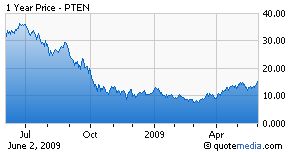 From the oil and gas exploration and production industry perspective, the sharp decline in number of rigs for PTEN is not a very positive indicator for the future. Oil and gas fields have limited lives and lower spend on finding new reserves and developing existing reserves will lead to lower production in the future.
Also, the decline in number of operating rigs indicates sharp drop in capital expenditure of upstream companies. As capex is based on cash flows from operations, the low implied capex (based on lower number of operating rigs) does seem to suggest that cash flows for oil and gas producing companies are under strain.
This is also an indicator that companies could be more focused on raising cash levels to give comfort to investors in a tight capital market scenario. Oil and gas producing have indicated in conference calls and filings that they will be focusing more on projects that yield near-term results i.e development of existing fields.
The slowdown in drilling activity is not very positive for companies such as PTEN. The markets seem to be more positive on the stock than I am, with the stock almost doubling its marketcap in the last 3 months. Market-cap per operating rig stands at $36 M vs $20 M a year ago, partly aided by the general boost in sentiments.
Based on the 350 of the reported marketing rigs, utilization is sub-20%. At this utilization rate it may be difficult to cover overheads. Also, rates tend to follow utilization with a lag and hence the company may not report good results at least in the near-term. Investors seem to be taking a 2 year+ view based on current stock price.
Disclosure: No exposure to PTEN.