Unemployment is still high, the economy is struggling, and most people are barely making it paycheck to paycheck. There's a lot of excuses available to people for why they "can't" or "don't" want to invest in residential real estate, but if you're not investing in some shape or form in residential real estate right now, you're likely making one of the greatest financial mistakes of your lifetime. Well, unless you bought (NASDAQ:AAPL) at $705, but I digress...
Residential real estate took a severe beating from the Great Recession. Price declines were of historic magnitude. The percentage of home ownership in the U.S. has seen a significant decline. Loan underwriting criteria has become much more stringent. All in all, so many forces combined against housing that it became one of the best value investments in a lifetime. Now, with borrowing rates at near historic lows, the Fed doing whatever it can to help housing and prices across the country in the early stages of recovery, residential real estate is a huge investment opportunity with plenty of room to run.
How should a person capitalize on this opportunity? Let's first discuss some options:
-Investing directly in residential real estate (developing, flipping, leasing, etc). There's a lot of upside potential in direct investments for experienced investors and professionals who understand the business, but the investment is somewhat illiquid and it comes with a lot of baggage, such as property management, accounting, financing, leasing, acquisitions and dispositions. Some of the risks associated with direct investments are a lack of diversification, an asset allocation this is likely to be over-weighted heavily toward real estate, illiquidity and legal risk.
-Investing in a U.S. real estate sector ETF (NYSEARCA:IYR). This may be the simplest way to capitalize on this investment opportunity. The ETF has had a strong and steady rise since 2009. It may be at its 52 week high, but based on the analysis/data above, the wind is at its proverbial back and as the real estate recovery continues to strengthen, valuation should continue to rise over the next 6-12 months as well. Some potential risks include rising interest rates and the potential for the Fed to turn off the spigot of QE.
-Investing in real estate companies that have focused on the single family rental market, such as Silver Bay (NYSE:SBY) and Blackstone (NYSE:BX). Both SBY and BX have focused on picking up distressed single family rental portfolios. They were fashionably late to the dance, but should realize strong yields from their portfolios and significant gains at disposition. The big question for both companies is whether they can create an effective operations ground game while keeping costs of operations at a reasonable threshold
-Investing in homebuilders such as D.R. Horton (NYSE:DHI), KB Home (KBH), and/or the sector ETF (NYSEARCA:XHB). The resurgence of residential real estate has jump started the homebuilder sector. While production has yet to ramp up significantly, demand has picked up due to the lack of supply of existing homes for sale. This sector has had a strong run as of late, but there are some headwinds for this sector - specifically, competing against the resale market and distressed inventory, companies are having a difficult time finding skilled labor, increasing costs of skilled labor, increasing material costs, increasing land costs, etc.
In evaluating residential real estate as an investment opportunity, consider this, JPMorgan's (NYSE:JPM) Dr. David Kelly and David Lebovitz provided an extremely insightful report on housing entitled "Housing: A time to buy." The report is from 2011, so some of the data could obviously be updated, but the primary concepts of the report still apply. The report provides some enlightening statistics and takeaways:
MEASURES OF HOUSING VALUE
There are various ways to evaluate the value of housing, the first chart below looks at the median home price as a percentage of household income - the recession cut home values significantly and when you look at the historical data, it's readily apparent how inexpensive home prices are right now.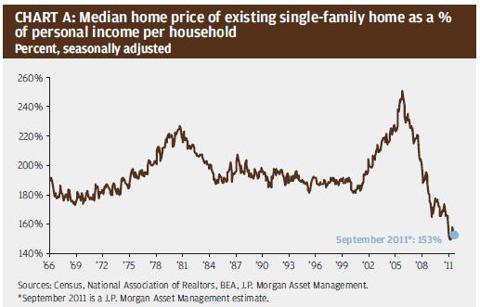 When you factor in record low interest rates, things just get ridiculously cheap (see Chart B below).
Housing is now so cheap that mortgage payments are significantly less than rent (see Chart C below). The current divergence is not sustainable and I highly doubt rents will somehow fall significantly, which means that prices and/or interest rates should rise accordingly.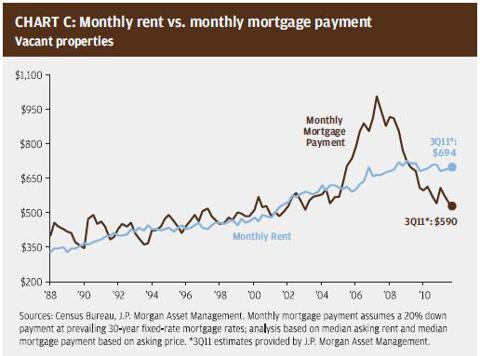 Chart D (below) essentially looks at the historical book value of housing, again, housing looks like a great value under this valuation as well.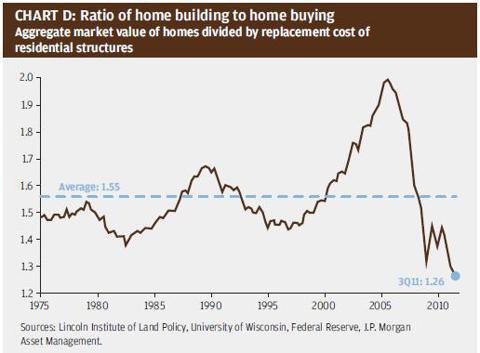 Kelly and Lebovitz make some excellent observations throughout the report. Here are a few I considered more significant:
"In some metropolitan areas, existing home prices have fallen so much relative to construction costs that building, rather than buying, would only seem logical if the land could be bought for close to nothing."

"Given that builders can't actually buy land for a song, in many cities, home prices will have to rise before there is any significant increase in supply."
Here's what happens when home prices are so low that builders can't profitably build:
"In almost 50 years, from January 1959 to September 2008, the lowest annualized rate of housing starts recorded for any month was 798,000, and the average rate was more than 1.5 million units. Since January 2009, the highest rate recorded for any month has been 687,000, and the average rate has been just 575,000 (Kelly & Lebovitz, 2011)."
Based on the charts above, Kelly and Lebovitz emphasize the "potential long-term financial gain from buying cheaper than average housing while also locking in much cheaper than average long term financing."
This is an extremely important concept and the crux of why one who has the ability to invest in real estate right now, but chooses not to, is likely making the greatest financial mistake of their lifetime.
FUNDAMENTAL ECONOMICS
Supply
New supply of housing has been abysmal for the last six years and counting (see Chart E below), even as population has continued to grow.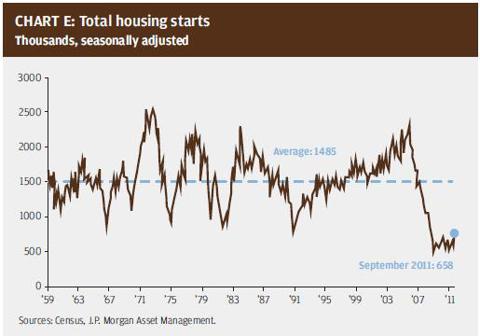 Homes for sale peaked in 2008 and has been steadily declining since then (as shown in Chart G below). Keep in mind that inventories have significantly declined further since 2011 - only strengthening the point of this chart - that inventories are low and going lower.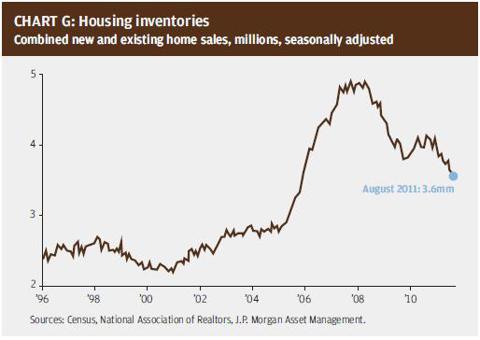 Demand
Chart F (below) compares housing starts to population growth. While the population has continued to grow, housing starts have not been anywhere near sufficient to keep up with the growing population. There's no quick fix for this issue and it means that the supply / demand imbalance will persist until builders can essentially catch up. This will take a significant amount of time and in the interim, we should expect prices to push higher as demand will outstrip supply.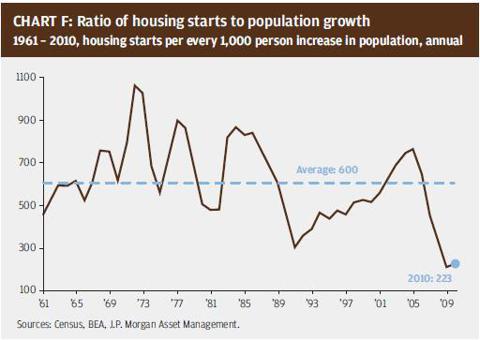 In looking at valuation, comparing rent versus mortgage payment, and analyzing economic fundamentals, it's absolutely clear that housing is a phenomenal opportunity right now. We likely won't see another real estate opportunity like this in our lifetime. Capitalize on this opportunity and don't make what could become the greatest financial mistake of your lifetime.
Disclosure: I have no positions in any stocks mentioned, and no plans to initiate any positions within the next 72 hours. I wrote this article myself, and it expresses my own opinions. I am not receiving compensation for it (other than from Seeking Alpha). I have no business relationship with any company whose stock is mentioned in this article.