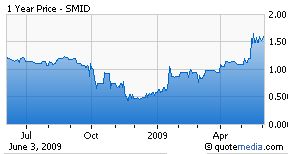 Smith-Midland (OTCQX:SMID) is one of the few infrastructure plays that have managed to fly under the radar of most investors yet at current prices it seems to be one of the better trade opportunities out there on an increase in infrastructure spending in the coming months.
SMID makes concrete barriers used primarily in highway construction as well as sound barriers and utility vaults. The company has been seeing improving results and backlog even before there has been a significant impact from federal stimulus spending.
In the most recent quarter ended March 2009, the company had earnings of .20/share on revenues of just over 9 million dollars, quite a large figure for a company trading at just 1.60/share. These numbers have to be taken in context as they were juiced by a contract to provide barriers for President Obama's inauguration, however the numbers started getting better in the prior quarter. In the December quarter the company earned .03 a share on 8.3 million in revenue, however what is not well recognized is the company had a one time legal settlement that sapped roughly .09 in EPS from earnings. Take that away and you have EPS of .12 and .20 in the last 2 quarters. The June quarter is shaping up to look strong as well partially due to seasonal factors in construction but also due to a robust backlog which stands at 15.9 million vs 13.5 million prior to their December quarter which had those normalized EPS numbers of .12. All of this is of course before any significant stimulus money has kicked in.
The company also has a very solid balance sheet trading just under book value of 1.61, a current ratio of 2.3 and .31/share in cash.
I expect the June quarter to prove that at least in the interim the company can sustain very solid earnings and a low forward PE ratio. As a result I think SMID is an excellent candidate for appreciation over the next 3-6 months as investors recognize that this is one of the cheapest plays in an industry that should be growing thanks to our tax dollars at work.
Disclosure: Long SMID.