On May 4, Barron's took issue with the accounting and hedging practices of the upstream master limited partnership ("MLP") Linn Energy (LINE). The next trading day (May 6) Linn Energy units and LinnCo (LNCO) shares were under heavy selling pressure, declining as much as 10% on heavy volume.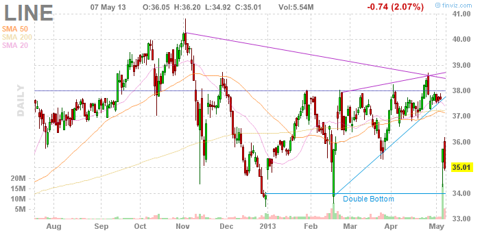 Sound familiar? It should if you are a follower of Linn Energy, as a very similar article was written by Barron's on February 20. That article also caused a sharp decline in units of Linn Energy. I also wrote about this earlier. If you had purchased Linn Energy during that earlier decline, you would have turned a profit, as Linn Energy recovered most of its losses fairly quickly. Indeed, if you held on, you would have seen Linn Energy surge after it agreed to purchase (technically merge with) Berry Petroleum (BRY).
Below I will discuss the main concerns raised in the new Barron's piece. However, investors in Linn Energy should definitely listen to and watch CEO Mark Ellis, who summed up the situation quite succinctly on Mad Money with Jim Cramer.
First, let us look at Linn Energy's production. Below is the relevant quote from the article:
Barron's is revisiting Linn because a bigger problem is now apparent. The company's energy production has flattened, despite heavy capital expenditures. The first-quarter financial report released on April 25 showed total energy production averaging 796 million cubic feet per day, with oil and other liquids production converted to an energy equivalent amount of natural gas. That was down from 800 million cubic feet a day in 2012's fourth quarter and little changed from the 782 million cubic feet in last year's third quarter.

The first-quarter production was below prior Linn guidance of about 827 million cubic feet per day. It attributed the shortfall mainly to a series of one-time events, including bad weather. Linn, however, expects little change in second-quarter energy output. And the company looks for improvement in the second half of 2013.
I am not sure calling the difference between the 796 MMcfe/d in production and the guided 827 MMcfe/d a "bigger problem" is warranted. Linn Energy's production fell less than 1% quarter-on-quarter and missed guidance by 4% -- hardly a game-changer. As Barron's mentions, most of the issues were one-time events. However, Linn Energy's CEO did mention during the TV interview that ethane-rejection may continue through most of the year.
Next, let us take a look at what Barron's wrote about Linn Energy's cash flow:
During the first quarter, Linn had Ebitda of $356 million and calculated distributable cash flow of $151 million. That's after deducting $95 million of cash interest expense and $110 million of maintenance capital. Linn's total capital expenditures were about $260 million in the period. The difference between total capital expenditures and maintenance capital costs-$150 million-is what Linn calls growth capital expenditures. Bears argue that this distinction is meaningless because Linn failed to expand production in the first quarter, relative to the total in 2012's fourth quarter. "It doesn't make any sense," says Kevin Kaiser, an analyst at Hedgeye Risk Management, a Connecticut independent research firm. "Linn can't keep production flat despite $260 million of capital expenditures. Yet the amount of capital spending that is deducted from their definition of distributable cash flow was only $110 million." Linn says "results from maintenance capital spending are not always evident in the quarter in which the capital was spent." Kaiser estimates that Linn actually had negative free cash flow of about $40 million in the quarter, after deducting total capital expenditures and making other adjustments.
Wow, so Barron's asks a hedge fund that is short Linn Energy to figure out the cash flow figure -- I wonder why there is such a discrepancy? From $150M in DCF to negative $40M is a HUGE difference. Later on in the article we discover why:
Linn "recognizes the full proceeds of hedging transactions upon maturity and while recognizing none of the initial costs," Green Owl wrote in a report earlier this year, noting that the accounting implies that Linn "buys puts for free." The firm, which was short Linn at the time of the report, studied more than 30 energy companies and found none employing Linn's put strategy...What's the put impact on Linn? It's tough to say precisely because the company refuses to disclose it. Hedgeye assumes about $120 million, or about 50 cents per unit, in annual costs that aren't reflected in distributable cash flow, which totaled $679 million last year. With more realistic derivatives accounting, Linn wouldn't have covered its distribution last year.
Basically, the hedge funds, which are short Linn Energy, assume that Linn Energy's hedges are a fixed annual cost. On the other hand, Linn Energy considers them a capital cost and an investment in its business. Linn Energy had already put out a presentation in response to these allegations. During the Cramer interview, Mr. Ellis called the Barron's interpretation of Linn Energy's put expenses 'misleading'.
I would say that both may have a point. Of course, Linn Energy's cash flow will suffer if it keeps having to buy puts when natural gas prices are near historic lows. However, what happens if and when prices recover? With its current hedges, Linn Energy has basically locked in its future cash flow, as nearly all of its natural gas production is hedged till 2017 and oil production hedged till 2016.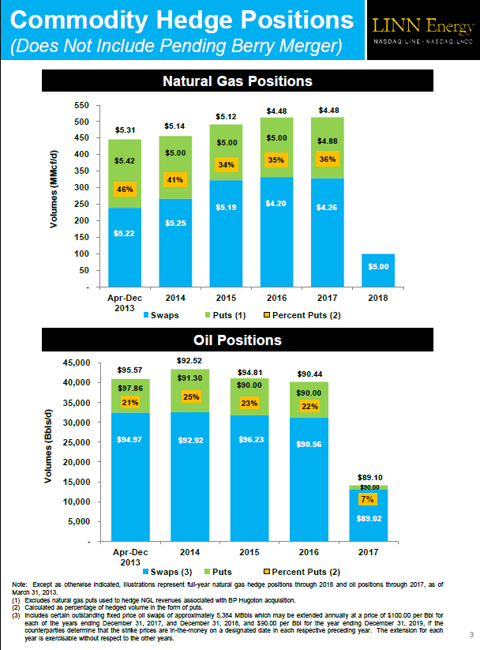 Another issue raised in the article was regarding Linn Energy's estimated book value:
HEDGEYE VALUES LINN at just $5.48 to $18.17 a unit and stated in an April presentation that Linn's distribution is funded largely with "debt and equity" offerings. To arrive at its $5.48 estimate, it combines the value of Linn's proved reserves, as shown on its 10-K, and other assets, then subtracts debt. The higher $18-plus figure gives Linn a higher value on its reserves.

Linn looks overpriced, based on other financial measures. It trades for twice its book value of $17 a unit. Book is a relevant figure for Linn because it has been so acquisitive, says Hedgeye's Kaiser. Investors essentially are valuing Linn at much more than what it paid in open auctions for oil and gas properties.
I must admit, when I first read the estimated book value of $5.48 to $18.17 per unit, I thought it was some sort of joke. During the Cramer interview, Mr. Ellis stated that Linn Energy had three different independent analysis done, and that each valued Linn Energy from between "the high $30s to mid $40s." In addition, Linn Energy's internal valuations places its book value as high as $64.74 per unit. I would add that natural gas heavy stocks have been trading at discounts to book value as of late. However, valuing unproved reserves at zero is a stretch.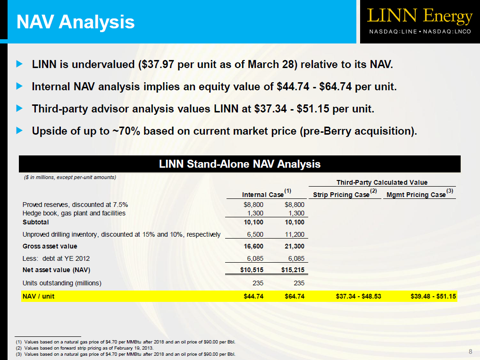 Conclusion
I strongly suggest that holders of Linn Energy watch CEO Mark Ellis' interview with Cramer. He easily debunked most of the points that were made by the Barron's article. Linn Energy has now twice faced a bear attack by Barron's. While the stock is slightly off its lows, it is still down quite a bit since the article was published. Linn Energy has quite a large amount of short interest -- much larger than other upstream MLPs. However, with the move towards monthly distributions, Linn Energy may experience more share price stability, as the price for shorting the stock rises. In addition, Linn Energy should announce a 6% distribution increase once the Berry transaction closes. I own shares in several upstream MLPs and what Linn Energy does with hedges is nothing out of the ordinary. In my opinion, this decline represented a buying opportunity.
Disclaimer: The opinions in this article are for informational purposes only and should not be construed as a recommendation to buy or sell the stocks mentioned. Please do your own due diligence before making any investment decision.
Disclosure: I have no positions in any stocks mentioned, but may initiate a long position in LINE over the next 72 hours. I wrote this article myself, and it expresses my own opinions. I am not receiving compensation for it (other than from Seeking Alpha). I have no business relationship with any company whose stock is mentioned in this article.
Additional disclosure: I am long VNR, QRE, MEMP