The shares of Schweitzer-Mauduit International Inc. (NYSE:SWM) have not been appreciating at the same speed as the intrinsic value of the company. There are several factors that contribute to the under valuation of Schweitzer-Mauduit by the market: Tax credits that are being carried forward off-balance sheet, patents pending and restructuring expenses in the past.
Insiders appear to agree: Anderson Davis Warlick (Independent Director), Robert F. Mcculough (Independent Director), William A. Finn Lead Non-Management Director, Clare L. Arnold (Independent Director), K.C. Caldabaugh (Independent Director) all have been buying shares recently. To quote Peter Lynch in "One Up on Wall Street': "I'd rather find seven vice presidents buying 1000 shares apiece than the president buying 5000."
The Business: Schweitzer-Mauduit
The company manufactures and sells paper and reconstituted tobacco products to the tobacco industry. It also sells specialized paper products for use in other applications.
| | | | |
| --- | --- | --- | --- |
| Important Financial Stats | 2012 | 2011 | 2010 |
| Gross Margin % | 31.8 | 29.5 | 26.6 |
| Revenue in USD Mil | 788 | 816 | 740 |
| Financial Leverage (average) | 1.73 | 1.78 | 1.62 |
Tobacco industry products comprised 94% of consolidated net sales, 2010 through 2012. The primary products in the group include cigarette, plug wrap and base tipping papers, or Cigarette Papers, used to wrap various parts of a cigarette and reconstituted tobacco leaf, or RTL, which is used as a blend with virgin tobacco in cigarettes, reconstituted tobacco wrappers and binders for cigars.
These products are sold directly to the major tobacco companies or their converters in the Americas, Europe, Asia and elsewhere. Non-tobacco products are a diverse mix of products that includes low volume, high-value engineered papers as well as commodity paper grades produced to maximize machine utilization.
In its annual report Schweitzer-Mauduit describes its long-term capital allocation strategy in short as follows:
Reinvest capital in core businesses through a disciplined approach to meet global demand for value-adding solutions.

Return at least one third of annual free cash flow to shareholders via balanced dividends and share repurchase programs.

Retain flexibility to explore growth opportunities in current and adjacent markets with economic returns similar to or better than Schweitzer-Mauduit's existing business.
I'm pleased with the first two parts of this strategy and so far they don't seem to overstretch in attempts to attain better returns than the existing business in adjacent markets.
Market
The company has manufacturing facilities in five countries: U.S.A., Canada, Brazil, France and Poland. Products are sold in over 90 countries, many of which are emerging and undeveloped markets.
Unfortunately, Schweitzer-Mauduit is to a large degree dependent upon a small number of customers for a significant portion of sales. The loss of one or more of these customers could have a materially adverse effect on the business.
Four customers accounted for over 55% of net sales in 2012. The loss of one or more of these customers, or a significant decrease in customer spending, could have a material adverse effect on the company's results of operations and financial results. In addition, significant consolidation has been going on in the tobacco industry, which has increased Schweitzer-Mauduit's dependence on a smaller number of customers and increased the negotiating leverage of the customers that are left.
Competitors of Schweitzer-Mauduit
The three largest competitors are Delfortgroup AG, Julius Glatz GmbH and Miquel y Costas & Miquel SA (MCM). All three primarily operate from modern and cost-effective mills in Western Europe and Asia and are strong suppliers to the tobacco industry with a long history of relationships in the industry.
Two of the companies: Delfort and Glatz, are privately-held and the third, Miquel y Costas, is a closely-held public company. This entails that these companies' financial results and other business developments and strategies are not open to the same public scrutiny.
Costs
Raw materials are a significant component of the cost of the paper that the company produces. The cost of wood pulp, which is the largest component of the raw materials that is required, is highly cyclical and can be volatile. The company does sometimes hedge material costs when it thinks this is advantageous, but this cost still has a very material impact. To give you an idea where costs have been recently and how they compare to prices in recent years, I have included a graph. I don't expect these costs to be a drag on Q1 2013 earnings: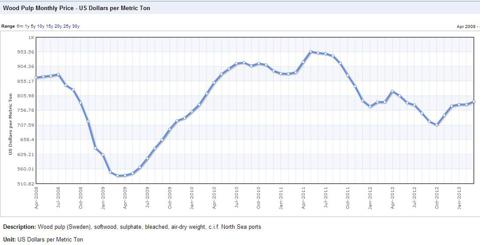 Paper manufacturing is energy-intensive. In France, Poland and in the United States, availability of energy is reliable, yet prices can fluctuate based on demand. Due to the competitive pricing of most of the paper products, it's very hard to completely pass through higher energy costs to customers. To show you where energy prices have been recently and compared to recent years, I have included a graph. I don't expect these costs to be a drag on Q1 2013 earnings: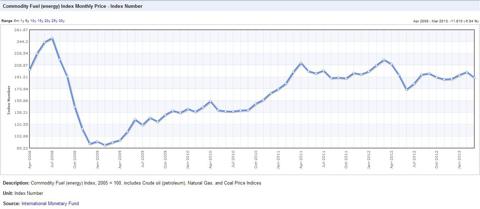 The Hidden Book Value of Schweitzer-Mauduit
There are a few aspects that play a role in the valuation of this company that are not immediately apparent. One of these is the tax credits the company is carrying forward and the second aspect is the large number of patents it has pending.
To quote from the annual report 2012 noted above:
We consider our intellectual property and patents to be a material asset. We have been at the forefront of developing new products and technology within our industry and have patented several of our innovations, particularly with regard to cigarette paper used to produce LIP cigarettes. This has enhanced our ability to sell products and to provide added function and other value to the products we sell allowing them to command higher margins. This advantage has also enabled us to license our patents and know-how and earn royalty income from competitors and customers.
And further:
The company recognized $12.4 million and $17.0 million of royalty income during 2012 and 2011, respectively, which is included in net sales in the consolidated statements of income.
Management also reported attempts by competitors to circumvent Schweitzer-Mauduit's patents and develop similar technology. However as it stands today, royalties derived from the company's patents do increase income at little extra cost.
As of December 31, 2012, the company owned 257 patents. Something that is not reflected on its balance sheet as far as I can tell: SWM has 74 patent applications pending.
By taking a look at the recent statistics on the U.S. Patent Statistics Chart, we learn that roughly 40% of pending patents turn into patents. If the rate of success of the company is in this ballpark, this would increase the company's current patent library by an average of 30, bringing its library of patents to 290. When granted, these patents are valid from the date of filing.
Deferred Tax Benefits
There are basically two tax advantages that are beneficial to the company if it manages to turn a profit in the coming years. If these benefits are realized in full, they have a value of $119.7 million. Compare that to a pre-tax income over 2012 of $131.6 million.
As of December 31, 2012 the company has $112.0 million of operating loss carry forwards available to reduce future taxable income. The remaining NOLs (Net Operating Loss) in France and Brazil carry forward indefinitely.
The NOLs in the Philippines expire three years after the year during which they were generated and NOLs in Spain expire 15 years after the year generated. NOLs of approximately $12.0 million will expire from 2014 to 2025 if not utilized against taxable income in Spain and $16.0 million will expire in 2014 if not utilized against taxable income in the Philippines.
The remaining $54.2 million and $29.8 million of NOLs are related to France and Brazil, respectively, and have no expiration date. The company closed its paper mill in the Philippines at the end of 2012, increasing the likelihood it will not be possible to realize the full value of these tax advantages.
The company was granted certain tax incentives in Poland for investment in a special economic zone. These incentives are in the form of credits granted in 2011 that are available to offset qualified taxable income through 2020. Based on granted incentives, commitments achieved, including maintaining certain employment levels, and qualified investment through December 31, 2012, the company has a $7.7 million deferred tax asset at December 31, 2012. Management expects to be able to fully utilize these credits in 2013.
On the balance sheet, the company included the following:
Current deferred income tax benefits $13.5 million

Deferred Income Tax Benefits $10.5 million

Deferred Income Tax Liabilities $28.4 million
This leads me to believe not all of these tax carry forwards have been properly taken into account by the market.
Impairment Charges Handicapping Earnings
The company started restructuring back in 2006 and has taken restructuring charges and impairment expenses ever since.
In 2011, the company's restructuring and impairment expense was $14.0 million, which included $7.1 million employee severances and other cash costs and $6.9 million of impairment charges on property, plant and equipment. In the Reconstituted Tobacco segment, the company incurred $4.6 million of impairment and other costs related to the suspended construction of the RTL facility in the Philippines.
In 2012, SWM incurred $28.0 million in expenses which included the following: $16.9 million for an impairment charge to reduce the carrying value of the company's Spotswood, New Jersey mill, which produces banded cigarette paper, following an amendment of the company's supply agreement with Philip Morris USA, a subsidiary of Altria Group Inc. (NYSE:MO). This amendment should increase the mills' profitability going forward.
$6.5 million resulting from restructuring actions during 2012 at the Philippine paper mill, including the decision in late 2012 to close this mill, of which $5.3 million was related to non-cash accelerated depreciation and impairment charges.

$3.7 million of charges in connection with the RTL Philippines site where construction was suspended

$1.6 million of costs to terminate a third-party printing agreement in the U.S. in conjunction with a restructuring of the U.S. LIP business

$2.4 million of severance and early retirement expenses in the French operations for ongoing accruals over the remaining service lives of affected employees related to previously announced actions

There was also a benefit of $2.5 million reversal of previously recorded special termination charges as a result of a change to French retirement laws during 2012.
With the decision to mothball the mill in the Philippines, and the company putting the book value of the RTL Philippines property, plant and equipment at $74.6 million as of December 31, 2012, I expect more restructuring costs to materialize in the near future. Unfortunately, it's unlikely to find a catalyst for share price increases here.
Aggressive Share Repurchases by the Company
The company has been engaged in aggressive share buybacks and recently repurchased 1,481,482 shares of common stock during 2012 at a cost of $50.0 million, in the year ended December 31, 2011, the company repurchased 4,480,392 shares of common stock at $120.9 million. A new share repurchase plan for $50 million was announced by management in the annual report. At the end of 2012 there were 30,986,200 basic shares outstanding.
Risks to Schweitzer-Mauduit
To be fair, there are many risks that Schweitzer-Mauduit faces. These are four risks that I identify as most important:
Rising prices of the important basic materials the company needs for production: wood pulp and energy would have a direct negative influence on the company's bottom line.

The plant in the Philippines that is being closed down and the operation in Indonesia that is being sold could trigger substantial write-offs.

Competitors developing technology that circumvents the patents the company has in place or competitors infringing these patents could lead to slowing growth.

The limited number of customers is a significant risk to the profitability of the company. Because of consolidation among customers the firm is facing stronger negotiating partners. The loss of one of the top five customers is significant to the sales number.
Conclusion
In my opinion, this company is a buy at the price it currently trades for. Here are a few key metrics to show that the share price does not accurately portray intrinsic value: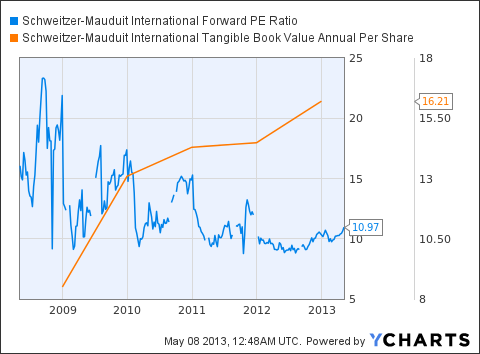 SWM Forward PE Ratio data by YCharts
The chart shows the company is currently trading at a forward P/E of 11. Tangible book value is at 16.21 per share and although property can be overvalued, the company's inventory (wood pulp and cigarettes) is easy to liquidate and likely to be fairly valued.
Although the share price has been rising over the past few years, following the rise in book value per share and the rise in EBITDA, I think the appreciation of the shares lags their true value.
With both book value and EBITDA increasing in a linear fashion while buybacks are happening, I would expect share prices to develop along a steeper line.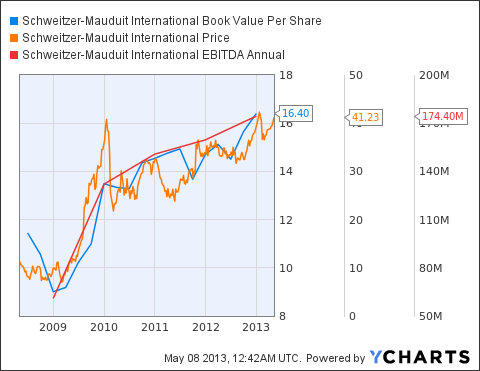 SWM Book Value Per Share data by YCharts
The tangible book value of $16.21, estimated earnings per share of $3.76 over 2013, the rate at which earnings are growing, insiders buying, company share buybacks, current price of energy and wood pulp, patents pending and the deferred tax benefits make me draw the conclusion that this company is undervalued at its current price of $41.23.
With the earnings of Q1 2013 being released on May 08 2013, this is the last day to buy into the stock if you expect the company to beat the earnings estimates as they stand.
If you don't expect earnings beating the estimates, look at the numbers of Q1 and see if they are at least in line with estimates for the year before buying into this paper tiger.
Disclosure: I have no positions in any stocks mentioned, and no plans to initiate any positions within the next 72 hours. I wrote this article myself, and it expresses my own opinions. I am not receiving compensation for it (other than from Seeking Alpha). I have no business relationship with any company whose stock is mentioned in this article.