Chesapeake Energy's (NYSE:CHK) stock has struggled since the financial crisis of 2008. The stock did rise above $30 in 2011, but has since dropped to its current price of $19. The company is a producer of natural gas and oil in the United States. Chesapeake has natural gas interests in the Haynesville, Bossier, Marcellus, and Barnett shale. The company also has numerous liquid interests in multiple states. CHK has the potential to be a promising investment if a few key wrinkles are ironed out.
One issue that Chesapeake needs to resolve is getting a permanent CEO on board. The company needs an industry leader that can lead CHK to long-term growth. The fact that the company has not replaced Aubrey McClendon has created a sense of uneasiness and uncertainty among investors. When a solid, permanent leader is announced as the new CEO, this uncertainty should fade.
Another issue that needs to be resolved is the company's high debt. CHK has $33 million in cash, but over $13 billion in debt. The company has twice the amount of current liabilities than it does in current assets, which puts its ability to pay off short-term debts at risk. CHK has signed or closed on $2 billion in asset sales towards a goal of $4 billion to $7 billion in total sales to improve this situation. Once the asset sales have been completed, Chesapeake will have a significantly improved balance sheet.
The company looks attractively undervalued with a forward PE of 9.96, a PEG of 0.27, a price to sales ratio of 0.95, and a price to book ratio of 0.81. If the stock merely rises to its book value per share, this would represent a 24% gain. In addition to being undervalued as compared to the market, CHK is also undervalued as compared to its industry. The industry has a PEG of 0.63, a price to sales ratio of 2.9, and a price to book ratio of 1.8.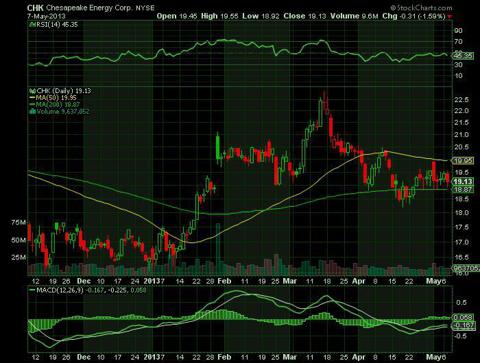 Chesapeake is now focusing on allocating about 85% of its drilling completion capital to liquid plays in 2013. The liquid plays are currently more profitable than the dry gas plays due to the low price of natural gas.
The company also implemented a hedge position for 2013 and 2014. For the current year, CHK has downside protection on about 78% of its natural gas production at an average price of $3.72 per Mcf. CHK also has downside protection on about 88% of its expected oil volume at an average price of $95.43 per barrel. For 2014, about 13% of gas production is being hedged at $4.33 per Mcf and about 40% of projected oil production is being hedged at an average of $93.63 per barrel.
Chesapeake Energy is expected to grow earnings annually at 51.9% for the next five years. This includes growth of 133% this year and 35% growth next year. This significant growth should help move CHK's stock higher over the next few years. I think that the uncertainty of a permanent CEO and high debt have been priced in to the stock. As these issues get resolved and earnings growth continues at an above average pace, the stock price could realistically move to new all-time highs above $70 over the next five years.
Disclosure: I have no positions in any stocks mentioned, and no plans to initiate any positions within the next 72 hours. I wrote this article myself, and it expresses my own opinions. I am not receiving compensation for it (other than from Seeking Alpha). I have no business relationship with any company whose stock is mentioned in this article.