Shares of Medical Marijuana (OTCPK:MJNA) continue to crater hard and fast. Speculators in this stock tend to be oblivious to the obvious fact that the shares are down from their $0.50/share peak for good reason - there's no transparency and no clear, sustainable revenue stream. As I noted in my instablog, Medical Marijuana recently put out a, shall we say, "fluffy" press-release that briefly pumped up the stock to the tune of 50%. In the typo-ridden release, Ms. Sides not only confirms Alan Brochstein's suspicions about the dubious nature of the Q4 "sales", but also makes empty threats against bloggers with the guts to expose this stock for what it is: highly inflated currency. Speaking of currency, the next thing you should expect is a promotion to be applied to a related company - CannaVEST (CANV.OB).
CannaVEST: It's Like Monopoly Money
Medical Marijuana recorded a substantial part of its "record" Q4 revenues in the form of shares of CannaVEST. For those of you unfamiliar with CannaVEST, try Googling it - you won't find a home page for the actual company, just penny stock discussion boards and the name "Michael Llamas". However, Yahoo (YHOO) Finace has an interesting profile of the company up: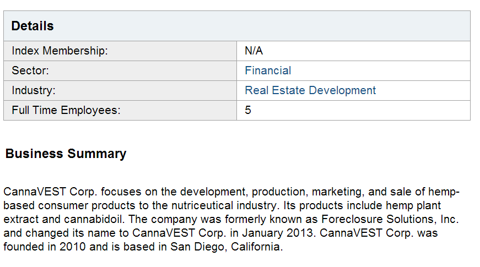 So, let me get this straight...this "company" has 5 full time employees and lists itself under "Real Estate Development" (and was formerly known as "Foreclosure Solutions Inc.")...and yet they list themselves as a company focused on hemp based products? Who are these people trying to kid? Oh, but it gets better: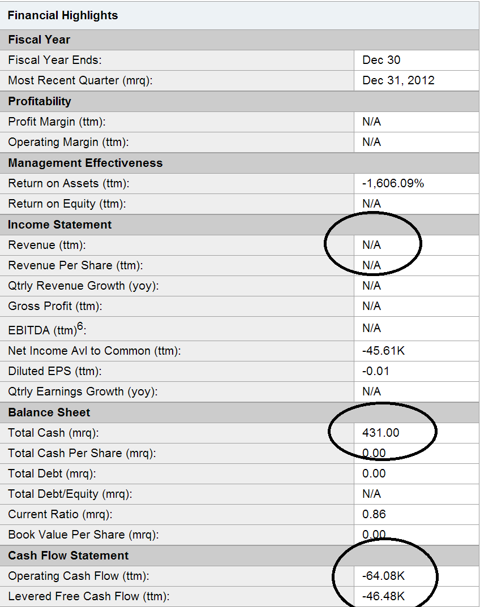 Let's see what's CannaVEST worth? Well, they have $431 to their names (I've got more than that in my checking account), zero revenues, lost $45K over the last 12 months, and are cash flow WAY negative. With 7 million shares outstanding, and total worth of about $431, that means each share is worth $0.000065 assuming the company doesn't spend its cash balance buying a few cokes at the vending machine.
Of course, as is true with all penny stock scams, this thing trades at an extraordinary premium to what it's actually worth (I'd run a DCF, but it'd probably come up negative). What's it trading at, exactly? Well according to Yahoo, $13.50/share across 7M shares implies a market capitalization of $120M. Are these guys serious?
Anyway, so Medical Marijuana just got paid "$4.5M" in what is essentially monopoly money. And for this "massive" increase in "revenues" shares of Medical Marijuana now trade at $0.17 or so, implying a market cap of $122M. If you do not see the obvious problem here, then please put your money in an index fund or with a mutual fund, because you have no business investing in stocks.
Conclusion
CannaVEST is worthless, so Medical Marijuana just got paid handsomely in Monopoly money. Not only is management of MJNA trying to mislead investors regarding the way it gets paid, but it looks like it's also trying to convince investors that the "riches" it just earned from earning fake money are deserving of your real money. Also, I'd love to see proof that MJNA management isn't draining the company by selling shares, either directly or indirectly, because if I were an investor, I wouldn't want to be trading real money for Monopoly money.
CannaVEST is worth zilch, and Medical Marijuana is worthless. Sell your shares of both now. You'll be able to sell the latter, but good luck getting more than a penny for the former. Well, that is, unless the penny stock promotion crowd tries to help Medical Marijuana monetize its "assets", in which case, a whole new class of bagholders will be created. And it won't be pretty.
Disclosure: I have no positions in any stocks mentioned, and no plans to initiate any positions within the next 72 hours. I wrote this article myself, and it expresses my own opinions. I am not receiving compensation for it (other than from Seeking Alpha). I have no business relationship with any company whose stock is mentioned in this article.