iShares MSCI Canada Index (NYSEARCA:EWC) consists of blue-chip Canadian companies. Industrial Materials and Energy sectors account for almost half of its weightings, which include Barrick Gold (NYSE:ABX), Canadian Natural Resources (NYSE:CNQ), EnCana (NYSE:ECA),Goldcorp (NYSE:GG), Potash (POT) and Suncor Energy (NYSE:SU). Financial Services accounts for 30%. The rest are other brand names such as Research in Motion (RIMM).
Following are 5 reasons why EWC might cool down from its strong rally over the last few months:
1. Over-Priced Compared to Dow
With yestesrday's close, the Dow Jones Industrial Average stands on 8,675 while S&P/TSX Composite index is 10,290. In other words, TSX (Toronto Stock Exchange ) is 1,615 points higher than Dow. The chart below shows the difference between the TSX and Dow over the last 18 months. It seems to me that the TSX recently ran too fast compared to Dow. In addition, the Canadian dollar, or CurrencyShares Canadian Dollar Trust (NYSEARCA:FXC), appreciated too rapidly over the last few weeks too.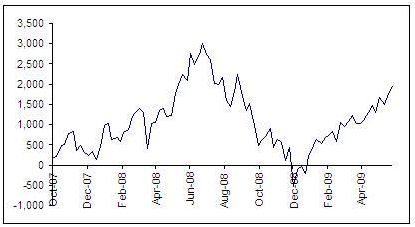 2. Growing Banking Problem
Royal Bank of Canada (NYSE:RY), the country's biggest bank, just reported its first quarterly loss since 1993. It also wrote down the value of its U.S. assets and set aside nearly $1 billion to cover bad loans. The provisions for bad loans signaled deteriorating credit.
The Canadian government contributed a total of $10.6 billion to the bailout of General Motors (NYSE:GM) and received 12 per cent of the common shares. But Prime Minister Stephen Harper admitted on June 1 that almost no hope that the bulk of the money will be repaid. Both the federal and local governments have said they are facing higher deficits for this year, largely because of the high price for retaining a shrunken GM in Canada. The federal government hiked the projection for its deficit to $50 billion from $34 billion.
On June 2, Standard & Poor's and DBRS both revised their outlook on Ontario, the biggest province in Canada. The province's ballooning deficit has prompted two debt-rating agencies to change their outlook on the province to "negative" from "stable". Restructuring of the auto sector is likely to further cut into manufacturing jobs in Canada, particularly in Ontario where GM and Chrysler closing plants.
4. Uncertain Energy Price
China kicked off its $586 billion fiscal stimulus package last November and boosted the worldwide oil price. When it runs out of steam in a few months, how high could the price of oil go? On the other hand, if energy price stays high, it would hurt Canada's economy as well. Mining is one of the most energy-intensive industries, and it happens to be one of the largest industries in Canada. According to estimates, worldwide mining operations use as much as 10% of the world's fossil fuel consumption.
5. Unable to Profit from Rising Gold Price
Barrick Gold (ABX) is famous for its gold hedge strategic. There might not be significant upside potential for ABX, even with rising gold price. It might also be a recipe for disaster if the price of gold is far out of range.
As you can see from the chart below, EWC has an almost identical pattern with iShares MSCI Emerging Markets Index (NYSEARCA:EEM) over the last 2 years. However, I already have a max allocation of EEM in my portfolio, so I have to move money from EWC to cash for now.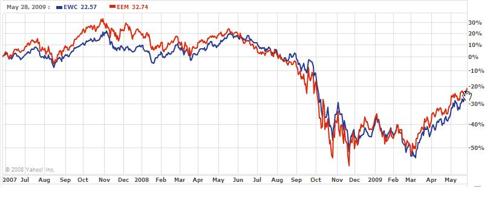 Disclosure: I have a long position on EEM