The U.S. housing market has seen a remarkable recovery in the last 12 months, with average selling prices rising almost 10% year over year, housing permits increasing, and inventory at close to a decade-long minimum. Property markets are climbing higher; however, some signs do point to a possible slowdown of growth in the U.S. housing market. Apartments are already close to their peak rents, and vacancies are close to record lows. Nevertheless, the housing market is likely to keep growing, even if growth rates may be lower.
Homebuilder stocks have been reflecting the fast growth of the housing market. Prices of some, such as Hovnanian Enterprises (NYSE:HOV), have surged by more than 200% in the past 12 months. The overall U.S. Homebuilders Index (NYSEARCA:XHB) is up 40% year over year, providing much higher returns than the broad market S&P 500 index (NYSEARCA:SPY). Despite this upswing, long-term investors have to ask, "Is all the current and future housing growth already baked into the current prices?" The majority, if not all of the gains, seem to already have been realized.
Intriguingly, the Vanguard US REIT index (NYSEARCA:VNQ) has gained only 15% year over year, underperforming not only the homebuilders, but also the broad market. However, last month, this REIT index started to substantially outperform the SPY and is now playing catch up with the homebuilders index as well.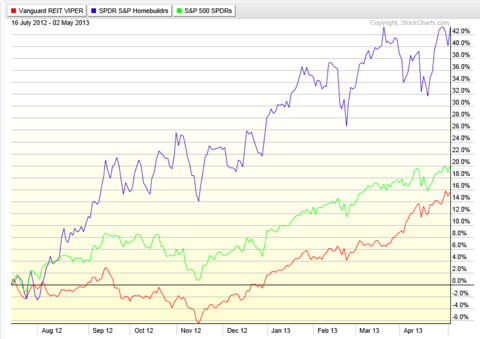 How do we profit from a housing recovery?
As it turns out, residential real estate is in a much more developed state of recovery than other real estate sectors. The two most important indicators in the rental property business, the rents and vacancies, are already at their peak positive levels for residential housing. However, other real estate sectors are currently emerging in the early stages of a recovery. The situation in the retail, office and industrial properties is expected to gradually improve in 2013, with an accelerating recovery in 2014. Long-term investors, who are patient and willing to wait one to three years for an appreciation of their investments in these segments of the real estate market, are likely to be rewarded handsomely.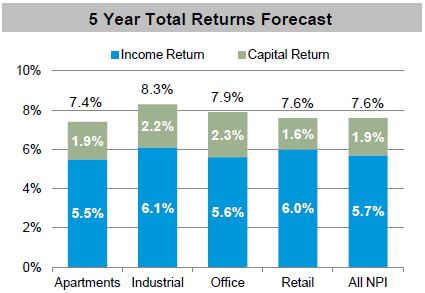 source: rreef.com
However, this gamble is not without its risks. The recovery in commercial property sectors could turn out to be mediocre. The recovery will probably not be as strong as that seen in residential real estate due to numerous factors, including strong propping up of the residential market by the Fed and the U.S. government actions. Some of these activities spill over to these commercial property segments of real estate, for example the massive QE. However, the recovery in these commercial sectors will still probably be slightly weaker than what we've witnessed in the residential property market. Capital flows into the real estate market have been steadily rising, reaching approximately half of their peak levels from the previous property cycle.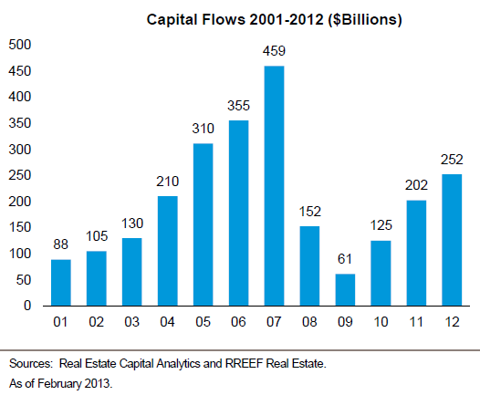 What is the current situation in retail, office and industrial real estate?
1. Vacancies
Current high vacancy rates are projected to fall as the commercial property markets gradually improve.

2. Rental yields are historically high compared to U.S. Treasuries and other assets
The so-called capitalization rate spread, that is, the difference between annual yields from property rentals as compared to yields from U.S. Treasuries, is on a historically high level, caused mainly by suppressed U.S. Treasury interest rates. The rental yield difference is impressive not only in comparison with Treasuries, but also when put head to head with U.S. dividend stock yields and other forms of income investments such as bonds. This high relative yield may provide a positive incentive for investors to hunt for higher returns in the commercial real estate sector. The absolute yield itself is not low at all, so even if the Treasury yields rise, rental property returns will still be attractive, just not by such a high margin.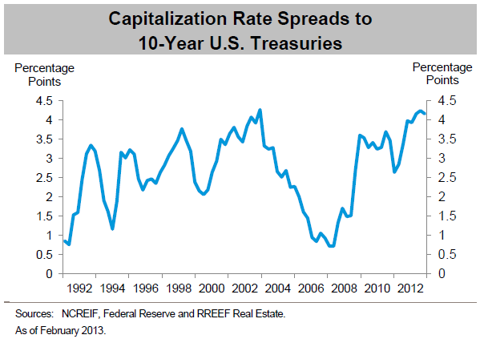 3. Absolute rental yields are very attractive, too
As shown below, yields on residential apartments and office space located in central business districts (administrative and office centers in large cities) are the lowest, proving that these segments of the real estate market have already experienced a relatively strong rebound and are ahead of the other property segments.
On the other hand, yields on office suburban, industrial and retail properties remain attractively high, showing where the largest opportunity for future market growth lies. In general, the yields during this cycle are lower than the yields were during the previous real estate cycle in 2001.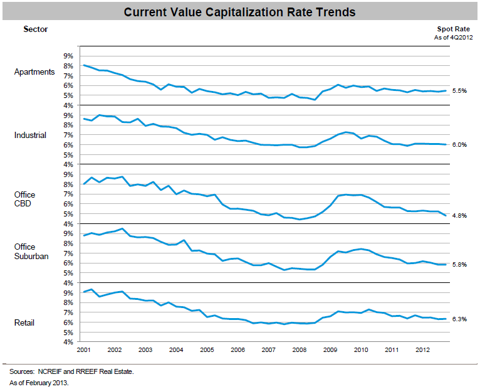 4. New construction remains subdued
Low level of new properties hitting the market gives room for continued gradual improvement of market conditions.
Conclusion
Residential real estate has seen a strong uptrend in the past two years. However, the strongest gains in the prices of homebuilders and residential mortgage REITs have already been realized. There is much more room for growth potential in the commercial property segments. Commercial property buyers will most likely benefit from not only currently high absolute and relative rental yields, but also from possible future property price appreciation.
Industrial, retail and suburban office commercial properties are currently the most attractive real estate segments with the largest future appreciation potential. These segments are ripe for direct investment purchase. However, as direct investment is highly impractical or outright impossible for many investors, let's have a look at other options to profit from the likely future rebound in these commercial property segments.
Recommendation
To bank on the future rise of the industrial, suburban office and retail properties, investors can allocate part of their portfolio to the following ETFs and REITs, which predominantly, but not exclusively, focus on the property from the given segment.
ETFs
Retail REITs
Office REITs
Industrial REITs
Disclosure: I have no positions in any stocks mentioned, and no plans to initiate any positions within the next 72 hours. I wrote this article myself, and it expresses my own opinions. I am not receiving compensation for it (other than from Seeking Alpha). I have no business relationship with any company whose stock is mentioned in this article.