Tuesday's win by TiVo (NASDAQ:TIVO) in their case vs. Echostar (Dish Network) (NASDAQ:DISH) is a game changer in more ways than one. First, allow me to review some of the history of this case.
Background (taken from Judge Folsom's ruling)
In this patent infringement action, Plaintiff TiVo, Inc. ("TiVo") alleged that Defendants EchoStar Communications Corporation digital video recorders ("DVRs") infringe several claims in TiVo's U.S. Patent No. 6,233,389 ("the '389 Patent"). In March 2006, the case was tried to a jury. The jury found that the asserted claims of the '389 Patent were valid and that EchoStar's accused DVRs infringed each of those claims. The jury also found EchoStar's infringement to be willful and awarded TiVo $73,991,964 in compensatory damages.
After trial, the Eastern District of Texas District Court issued a permanent injunction covering the infringing DVRs. After the injunction was issued, EchoStar asked the Federal Circuit to stay the injunction during its pending appeal, which the Federal Circuit granted. In their stay request of the 2006 ruling, EchoStar represented that without the stay it would be unable to provide DVR service and would risk losing a significant portion of its existing or potential customers, which could cost the company $90 million per month. EchoStar made this representation even though it had nearly completed certain design-around efforts. EchoStar began downloading redesigned software into the infringing receivers on October 24, 2006, less than a month after the Circuit granted EchoStar's stay request.
On appeal, the Federal Circuit affirmed the jury's verdict in part and remanded the case back to the Eastern District of TX (EDTX). In doing so, the Circuit dissolved the stay of the injunction and remanded for
a determination as to the additional damages, if any, that TiVo has sustained while the stay of the permanent injunction has been in effect.
On April 18, 2008, the Circuit's mandate issued and this Court's injunction was reinstated. Thus, the time period relevant to the determination of damages during the stay is the twenty-month period from September 8, 2006, when EDTX Court's injunction was entered and subsequently stayed, to April 18, 2008, when that stay was dissolved.
The EDTX Court determined that EchoStar's design-around was not more than "colorably different" from the adjudged DVRs and that EchoStar continues to infringe the '389 patent.
Therefore, all infringing products are subject to the Court's award for damages during the stay period, notwithstanding EchoStar's modified software. The Court found that a hypothetical negotiation between the parties in September 2006 would have settled on the jury's verdict for the twenty-month stay period. TiVo was awarded $1.25 per DVR subscriber per month, notwithstanding EchoStar's design-around efforts.
By modifying the royalty rate reflected in Exhibit 12 of TiVo's expert declaration, the Court calculated the total stay damages to be $103,068,836. TiVo is entitled to interest on this award in accordance with 28 U.S.C. § 1961.
More from the Actual Ruling by Judge Folsom
The comments below are pasted verbatim from Judge Folsom's ruling:
Accordingly, this Court finds by clear and convincing evidence that a court order, which required certain conduct by EchoStar, was in effect as of April 18, 2008, and that EchoStar failed to comply with that order. Therefore, this Court finds EchoStar in contempt of this Court's permanent injunction. Specifically, EchoStar is in contempt of the Disablement Provision, which ordered EchoStar to "disable the DVR functionality (i.e. disable all storage to and playback from a hard disk drive of television data) in all but 192,708 units of the Infringing Products that have been placed with an end user or subscriber."
For the reasons set forth above, this Court finds EchoStar in contempt of its permanent injunction. EchoStar's modified software is not more than colorably different from the products adjudged to infringe; furthermore, EchoStar's products continue to infringe TiVo's patent. Finally, EchoStar failed to comply this Court's order that it disable the DVR functionality in the infringing products.
The harm caused to TiVo by EchoStar's contempt is substantial. EchoStar has gained millions of customers since this Court's injunction issued, customers that are now potentially unreachable by TiVo. See Dkt. No. 773 at 10. As this Court has noted in the past, "loss of market share and of customer base as a result of infringement cause severe injury," and "every day of Defendant's infringement affects Plaintiff's business." Id.at 10-11. Although EchoStar requests that this Court stay its injunction further, this Court declines to do so. EchoStar has escaped this Court's injunction for over two years and further delay will be manifestly unjust to TiVo and cause TiVo substantial harm.
Although EchoStar is required to bring itself into compliance with this Court's permanent injunction, the Court will defer any ruling on the issue of monetary sanctions at this time. Additionally, EchoStar is required to inform this Court of any future attempts to design-around the '389 Patent and obtain Court approval before any such design-around is implemented. An Order and an Amended Final Judgment and Permanent Injunction will soon be entered in accordance with this opinion.
What Does This Mean to TiVo?
This ruling essentially ends a five year battle between digital video recording pioneer TiVo and EchoStar, now doing business as Dish Network.
Not only was TiVo granted $103 million dollars for infringement between Sept. 8, 2006 and April 18, 2008, Dish is still facing additional damages for the contempt ruling because they did not adhere to the previous injunction. They are facing a much higher royalty for infringement from April 18, 2008 to the present.
In fact, in a recent case handled by Hon. Judge Folsom (Paice v. Toyota), Judge Folsom nearly quadrupled the jury's damage award and ordered Toyota (NYSE:TM) to pay post judgment remedy to Paice of $98 per engine as opposed to the $25 per engine the jury awarded. If he does the same thing with Dish, then instead of $1.25/month per box, Dish may be facing ~$5/month per box for infringement from April 18, 2008 to the present.
The remedy could be applied on approximately 7 million boxes Dish has installed, making Dish potentially liable for another 490 million dollars in damages in the past 14 months.
But the bad news for Dish is that they have to stop using infringing technology, which could mean the loss of numerous subscribers and cost the company 90 million dollars per month
Dish (EchoStar) has asked for a stay from the Federal Circuit while they appeal. The Federal Circuit granted a "temporary stay" while they get briefs from the parties, but if the stay isn't granted, Dish is virtually forced to settle with TiVo on whatever terms TiVo demands.
We may not know this decision until June 15th or so (TiVo's brief is due on June10th), but in the meantime, Dish has to face the reality that the Federal Circuit may not grant a stay. The CAFC has already granted one stay in this case, and they can't be happy that Dish apparently attempted to game the system with a workaround that Judge Folsom ruled was not more than colorably different.
Not only did Dish not inform the courts of their attempted workaround in a timely fashion, they actually filed a case in Delaware District Court in an attempt to do an end run around the Eastern District of Texas. The Delaware Court transferred the case back to EDTX. The Federal Circuit judges abhor gamesmanship and judge shopping, and I think it is highly likely that the CAFC will deny the stay. If that happens, Dish has lost all negotiating leverage with TiVo.
Even if the CAFC does stay the case, the TiVo win in TX will not likely be overturned by the Federal Circuit. The CAFC has already reviewed this case once and they have blessed the claims construction. The CAFC can't be very happy with Dish's apparent attempt to game the judicial system, and they may choose to use this case as an example of what happens when a party ignores an injunction.
What Does This Mean for TiVo Revenues?
In addition to getting 103 million (plus interest) for infringement from September 8, 2006 to April 18, 2008, Judge Folsom is asking the parties for post trial briefing on damages associated with the continued infringement since April 2008 and for damages associated with the contempt ruling for ignoring the injunction. In my opinion, Judge Folsom structured the ruling this way in order to give TiVo and Dish an opportunity to negotiate a settlement.
Therefore, Dish only has a few days to agree to terms with TiVo. If Dish waits until the CAFC rules on the stay and they lose that decision, they would virtually be forced to settle for whatever terms TiVo would give them.
In addition, they could face a royalty payment that could be quadrupled to $5/month per box and could amount to almost $500 million in additional damages. In my opinion, Judge Folsom carefully structured the ruling this way so that TiVo and Dish would be forced to negotiate a license.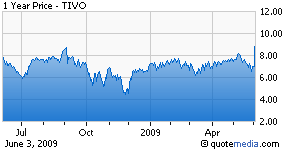 The market doesn't fully appreciate how good things could be for TiVo going forward. Assuming TiVo and Dish negotiate a reasonable royalty rate for TiVo's IP (for the sake of argument assume $2.50/box per month), that would set the standard for what other companies like Time Warner (TWC), Charter (OTC:CHTRQ), Adelphia (ADELQ), Cablevison (NYSE:CVC), etc. would have to pay TiVo TiVo's technology is used in virtually all DVRs that have the features DVR users have grown to love.
The past damages that Dish has to pay will depend on what Judge Folsom decides on the time period after April 2008, but it's hard to imagine that Dish owes less than $300 million for past infringement. Of course, if they settle, TiVo may forgive some of the past damages for a higher ongoing royalty rate. As TiVo starts signing new licensees for their DVR functionality, their revenues will grow astronomically. It's hard to imagine any DVRs that don't infringe TiVo's patents.
Until we know what the license rates will be, it is difficult to speculate on what this will mean to TiVo's bottom line, but it is not outside the realm of possibility that this ruling could translate to over $6/share in annual earnings. TiVo currently has over 200 million in cash and virtually no debt, and when they add the damages award from Dish they should have over $5/share in cash.
I think TiVo is grossly undervalued after this ruling. A stock price of $20-25 would be a more realistic valuation as TiVo gradually signs new licensees. When 75% of the DVR market is licensed, the stock price could easily exceed $50/share.