An ideal stock for a young investor is one that can grow and adapt as the environment for business changes. eBay Inc (eBay) was founded in 1995 and has developed using their online auction and shopping website. The global technology company enables commerce through three segments; marketplaces, payments and GSI. eBay provides online platforms, tools and services to enable individuals, along with small and medium business merchants around the world to engage in online and mobile commerce and payments. In 2002, Paypal became a wholly owned subsidiary of eBay which now facilitates easy payments and has become the backbone of eBay's success.
Whilst many believe eBay sits in Amazon's (NASDAQ:AMZN) shadow, these two companies should not be compared like for like. eBay has an uncanny ability to trump the market and aid consumers with innovative business ideas such as Gift Finder and Item Locator. This has helped develop and expand business operations to achieve consistent double digit growth, while looking forward to capture further market share as e-commerce evolves.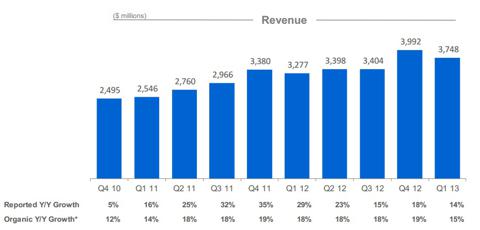 Source: eBay Earnings Report
Revenue has continued to expand, and 2013 Q1 year on year growth was 14%, which was helped by increasing penetration into mobile driven e-commerce. Paypal has been key to the growth of mobile driven revenue as it offers an easy and secure payment system. The number of global active accounts and users has also increased, again in the double digits, and this is not only due to the mobile driven market place, but expansion into emerging markets.

The website and mobile platform are very adaptable, as such provide a wide market for the company to expand into. Now, over a quarter of revenue is generated outside of eBay's three largest markets; the US, UK and Germany. This number is sure to expand and the relatively low infrastructure spending needed to launch this platform in another country will allow eBay to maintain the double digit growth rate going forward.
From a recent survey by Jana, a specialist research firm that looks into how mobile technology is transforming emerging markets, eBay was the only company that scored in the top 5 out of all countries polled. This is encouraging and highlights how their platform is accepted and is fast becoming an e-commerce powerhouse. Scoring second in India, is a great sign for eBay investors, with a population 4 times the size of the US, this could become a very profitable avenue going forward, especially when Amazon has failed to crack this fast growing consumer driven market.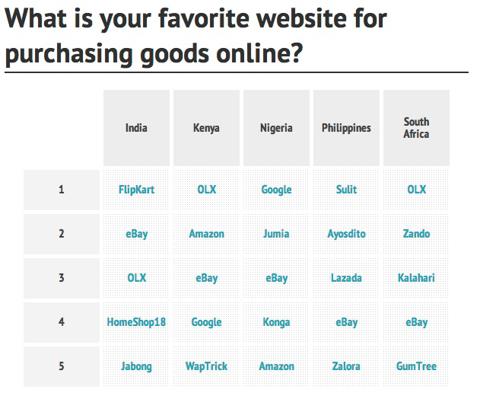 Source: wired.com
The global e-commerce marketplace is expected to reach $1.5trn by 2015, and eBay's innovative business developments leave them in a prime place to capitalize on this ever expanding sector.
Capital expenditure is relatively low compared to the likes of Amazon, and with good profit margins, free cash flow shows the success and profitability of eBay. This provides a nice cushion for further investment into marketing and product development to facilitate expansion.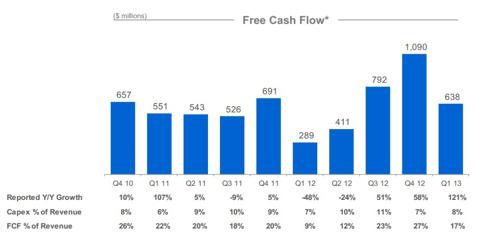 The share price is currently trading around $54 and at this level still offers a brilliant long term investment. Year to date it has returned a fairly modest 6%, however it has seen steady growth in the share price since 2008, and returned over 35% last year.

Source: Google Finance
Many would look at the price of eBay and think it is fairly expensive relative to the S&P 500 average, however it is hard to quantify value when companies are in their growth phase and are yet to reach market saturation. That said, eBay has a P/E currently of 26 (nothing compared to Amazon at 85), and a forward P/E of 16.75. As double digit EPS growth looks to continue, the share price has great potential to exceed $65 this year and continue upwards. Out of the 55 brokers that cover eBay, the lowest share price recommendation is $55, and the highest is $75.

What makes this company so attractive is their ability to generate a strong free cash flow, which is core for a successful and growing businesses. Strong Free cash flow is an integral part of stable businesses and will enable the company to reward shareholders further down the line when growth becomes less of a priority.
Summary
eBay's consistent double digit revenue growth and innovative business development and platforms put them well placed to capitalise on the growing sector and the rise of emerging market consumer demand. Their cash generative business and low CAPEX will allow them to penetrate new markets easily and maintain growth. So for those investors looking for growth over the long term, eBay is a powerhouse and should reward shareholders handsomely going forward.
Disclosure: I have no positions in any stocks mentioned, and no plans to initiate any positions within the next 72 hours. I wrote this article myself, and it expresses my own opinions. I am not receiving compensation for it (other than from Seeking Alpha). I have no business relationship with any company whose stock is mentioned in this article.