There's an episode of Mad Men in Season 5, known as the Jaguar episode, where Don Draper talks about beauty during his sales pitch. He talks about desire, about the emotions aroused when thinking about something unobtainable. He talks about how once somebody sees it, this thing they want but know they can't have, that they never forget the feeling of watching it get away. When I watched this sales pitch I wasn't thinking about a car, or a woman, or anything most of the viewing audience was, I was thinking about stock. About that chart that takes off heading at a 45 degree angle to the right and never comes down for landing. I was thinking about how many times I had missed the signs of my own version of a classic Jaguar, speeding by to never see it again. I was thinking about how Michael Kors (NYSE:KORS) might finally be something beautiful I could truly own, and how this time I wouldn't let it get away.
Beauty Is In The Handbag Of The Beholder
For anybody who hasn't been to a mall, a luxury shopping center, or just in case you've been living under a rock for the last few years, Michael Kors Holdings Limited engages in the design, marketing, distribution, and retail of branded women's and men's apparel and accessories. They went public in late December 2011 and have been on an absolute tear ever since. Their stock has more than doubled in this short amount of time and optimism and projections for future growth have done nothing but continue to grow. I happen to think this company is in the early stages of predictable growth going forward and that this company has many, many years of excellent stock performance in front of it.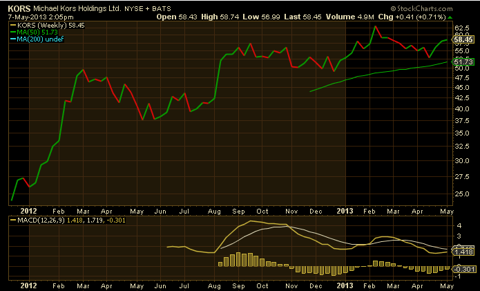 A Future Market Darling
I understand if you are a person who is skeptical of the hot new company that just went public. I also understand if you are even more skeptical of a company involved in something as volatile as fashion and retail. Over the last 17 months Michael Kors has shown nothing but signs that it has built a sustainable business model, that it can hold and expand profit margins, that it can grow its brand and product lines, and frankly that it's extremely well positioned to take advantage of the global luxury goods market that is estimated to grow from 251 billion to 327 billion by 2015, a 30% increase.
The company last quarter reported that it has increased total revenue by 70% year over year and that all segments of their business showed revenue growth including retail, wholesale, and licensing. They reported net retail sales grew 66% year over year with comp store sales increasing 41% globally with the comp store growth being powered partially by the introduction and expansion of their accessories line. Wholesale net sales, an important indicator of future growth and specifically product strength (not brand strength), grew 77%, They opened 66 net new stores from FQ3/12 to FQ3/13 and 14 new stores in the last quarter alone.
I would look for the opening of new stores and the introduction and expansion of the accessories lines to increase the speed and intensity of the same store comps going forward, more on that later. Licensing revenue grew 52% with watches being a big catalyst for this growth and again should continue to develop and add to margins and growth going forward. This company has been and looks to be able to consistently execute across all existing lines of business. Needless to say, but I will, the numbers are impressive.
Better With Age
As I said in the beginning of this article, I think the best days for both the company and the share price are ahead of Michael Kors. The company only has 388 stores total (297 retail locations) and plans on expanding globally. They feel there is potential for up to 400 stores in North America alone, which would be a full 100% growth from a retail location standpoint.
They expanded their presence in Europe with the addition of 9 retail locations and plan on opening another 15 stores in the European and surrounding areas over the course of 2013. It's important to note that despite the weak Euro economy, European revenue increased 112%, comp store sales increased 58%, and they are still in the beginning stages of developing this market from a brand awareness and an infrastructure standpoint. Even without significant improvements in the general European economy the company still has plenty of room to expand revenues. Long-term the company wants 100 retail stores in the Euro region and 2000 wholesale doors. Currently they have 43 retail locations. Again, plenty of room for growth.
The company plans to open between ten and fifteen retail locations in Japan this year and considers Japan its key global target area over the next few years. The company believes the Japanese market can support 100 retail locations, an expanded regional licensing presence, and obviously a much larger wholesale presence. Japan saw a 103% revenue increase with same store sales ONLY increasing 11%. This is the most underdeveloped and immature market in the KORS repertoire.
The company is also going to further develop China, Korea, Singapore, Malaysia, Indonesia, and the Philippines. They recently finalized and entered into a joint venture with Exclusive Brands International to create Michael Kors Panama Holdings, which will develop their retail and wholesale expansion plans for Central and South America.
The expanded global presence along with converting North American wholesale department store doors to branded "shops-in-shops" should only have an accelerated growth factor for the company's revenues going forward. With 40% of their eCommerce traffic coming from international visitors salivating over product, this is clearly one of the most attractive reasons to own KORS.
Something Beautiful You Can Truly Own
On top of the exponential growth opportunities outlined above, the company has a really solid balance sheet as well. They had 405mm cash on hand at the end of FQ3/13 with a new 200mm unsecured cash flow agreement with a five year term that will provide more flexibility to the company as they continue to grow. They have incredible gross margins of 60% that slightly increased year over year and should continue to increase with the addition of new products (shoes, watches, jewelry, eyewear) and the introduction and expansion of their men's collections in both retail and wholesale channels. With footwear and women's ready-to-wear growing at the fastest pace for the company they view men's leather as a significant market opportunity for the long term.
As with all stocks and all companies, some risk does exist. Companies in the fashion/retail space depend on the ability to consistently produce designs for their many lines of business that will get positive responses from their customer bases, opinions that can change literally as quick as the season. The company also is depending on their successful execution of their growth strategy globally but especially in Japan, where fashion can be even more of a volatile industry and move at a much faster pace.
The biggest short term risk KORS faces is that they must continue to depend on wholesale employees (Macy's (NYSE:M), etc) selling their products while they are finishing their transition of their doors to their more branded shops-in-shops models, which makes them heavily product dependent in the short term. They have thus far been able to put all of these concerns to rest but I do not want to imply that this would be a risk free investment.
I hope I've adequately expressed what an opportunity for growth KORS offers both the short-term and long-term investor. They have a great design(er), brand power, and an amazing shopping experience that helps continually drive sales to peak levels. With companies in the fashion and retail space little things become big things, and KORS does all the little things well. Talented management, strong infrastructure, and a healthy balance sheet should allow for successful execution of their growth plan globally and this should do nothing but increase the company's valuation. I think KORS would be a great addition to any portfolio.
Disclosure: I am long KORS. I wrote this article myself, and it expresses my own opinions. I am not receiving compensation for it (other than from Seeking Alpha). I have no business relationship with any company whose stock is mentioned in this article.