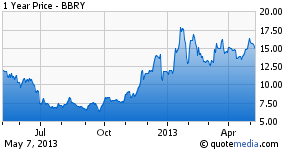 Yesterday, Pacific Crest and Cleveland research reported that there may be production cuts at BlackBerry (BBRY). Pacific Crest has a reputation with disseminating negative reports on BlackBerry, and later being shown that these reports were inaccurate. Again, we believe this pattern has continued with the latest report. The share price was affected negatively with a 5% drop by market close yesterday. In pre-market trading, the share price was up 2% this morning.
Cleveland research reported that BB10 build targets could fall from 10M-12M to 6M-8M with sell-through likely half compared to launch time volumes. Concerning is our understanding of build targets was always 6M-8M for the quarter.
James Faucette, a Pacific Crest analyst, said in a research note "BlackBerry is still maintaining production levels of 1.5 million to 2 million devices a month." This statement appears to contradict the Cleveland research statement previously mentioned.
These negative articles have led Peter Misek from Jefferies to further investigate BlackBerry sales yesterday, and issue a statement late last night. Peter Misek could not find any evidence that the statements from Pacific Crest or Cleveland research were correct. The text from Peter Misek sent from his desk via email is as follows:
We conducted retail checks in the U.K. and Canada yet again, and the conclusion is clear, demand is very robust and Q10 demand is better than Z10 demand. According to our recent checks, build plans have not been cut. We are confident in our 2M+/month BB10 build plan estimate from our Asia trip a few weeks ago. We have heard of build plan cuts, but on the Blackberry 7 device side, which should help margins.

Another round of retail checks across the U.K. We spent yesterday afternoon contacting dozens of UK stores amongst the various Carphone Warehouse locations and carrier branded stores. Our analysis of over 50 stores indicates robust and broad demand with one exception. Orange stores, both the co-branded Carphone Warehouse locations and the Orange retail stores had inventory, where every other brand was either sold out or had limited stock. All the stores we contacted had received on average two dozen devices. With 75% of all stores the we contacted sold out, we would view the Q10's broad launch as building on the successful Selfridges launch over a week ago. We would argue based on this limited data set that the Q10 will far eclipse Z10 sales.

Broad, strong, and better than expected in Canada. We also conducted store checks in Canada. Initially, only stores in the Greater Toronto Area received stock, but now the roll-out has continued across the country. After randomly calling 10 stores of different brands, we stopped as the conclusion was clear: broad, strong, and better than expected demand.

Build plans were never 12M per quarter. We additionally rechecked with our supply chain database (as a reminder we track over 400 suppliers globally), and we found no change to last week's build plans. We have a difficult time calibrating how some market participants believe quarterly build plans were around 12M or 4M per month. We have always had 2M+ a month or 6M+ a quarter. Keeping in mind that our sell-in estimates of 4M units shipped are already significantly above market expectations of 3M units shipped this quarter. The builds of certain market participants are 4x market expectations, which to us makes little sense.

Blackberry 7 cuts should help margins. Mid-range R10 ahead. We did find out two new pieces of data from our supply chain checks. Firstly, we believe Blackberry 7 builds have been reduced as BB10 devices cannibalize BB7 devices. We believe this is actually positive given Blackberry's gross margins on these products are very poor. The other item was the R10 and the touch equivalent mid-range version of the Z10 seems to be prepping for production. We are now expecting mass production to start in the early summer. This should be another boost to August.
In addition to Peter Misek's physical checks, we conducted an investigation as well. We found that Carphone Warehouse in the U.K. was sold out of the Q10 in many stores. Our checks were around the London area and stores along the English channel (Dover, Folkstone). The Z10 smartphone was mostly available with only a few stores sold out, as was expected.
From our previous store checks around the Canadian Q10 launch, we found that sales were brisk and that BlackBerry was attempting to meet demand. This was evident from some Rogers Wireless stores not receiving stock on launch day and other stores receiving a limited supply. This is normal for a new product being rolled out globally and in demand. The popular Samsung (OTCPK:SSNLF) Galaxy S4 is experiencing similar stocking issues.
Disclosure: I am long BBRY. I wrote this article myself, and it expresses my own opinions. I am not receiving compensation for it (other than from Seeking Alpha). I have no business relationship with any company whose stock is mentioned in this article.