Investing in quality dividend equities is a potent strategy to hedge against a possible stock market decline. The Wall Street Journal recently published an article on how dividend-paying stocks are hot due to the demand for income generating securities. Most companies with high yields have strong balance sheets that make them ideal for defensive investors. Additionally, these companies usually have high cash flows from operations, one of the most important factors in a prospective investment.
There are five candidates that have been analyzed below based upon SA readership criteria. The majority of the companies are energy related, including a pipeline company and diversified utility company. Yields are generally clustered in the four-to-five percent bracket but there are three equities yielding over six percent. Four of the five market capitalizations are below five billion and one company has a market cap of over $20B. I prefer that my ex-dividend candidates have market caps greater than five billion dollars but that is not a requirement, especially with smaller financial service firms and MLPs. I have focused my efforts on the ex-dividend opportunities for the second half of the week due to the volume of candidates.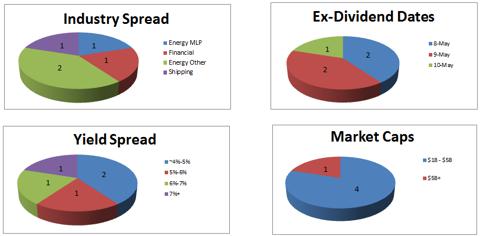 For details of the strategy and my screener details, please consult my methodology on the topic (last modified 4/7/2013). In brief, the screen focuses on relative stable equities with a concentration on liquid companies at affordable valuations. This is summarized below:
Dividend Yield ≥ 4.0%
Ex-Dividend Date = Next Week
Market Capitalization ≥ $1B
P/E Ratio: 0-20 (Relaxed for MLPs and REITs)
Institutional Ownership ≥ 15%
Ideally Modest YTD S&P 500 Underperformance
Minimal European Exposure
After applying this screen, I arrived at the equities discussed below. Depending on your belief in the investment hypothesis, you may decide to hold long enough for the dividend or to hold for long-term. The information presented below should simply be a starting point for further equity research in consultation with your professional financial advisor before making an investment decision. My goal is to present new companies to you and provide a brief overview of their recent developments; this should not be considered a substitute for your own due diligence.
Navios Maritime Partners L.P. (NYSE:NMM): 11.67% Yield; Ex-Dividend 5/8
Navios Maritime Partners owns and operates 25 dry cargo-shipping vessels. The dry bulk shipping market has been volatile in recent years as vessel values have fallen from 2008 highs in this very fragmented industry. Growth in global incomes and populations is forecasted to support an increase in world dry bulk trade. This is a relatively secure business model and Navios has taken steps to reduce risks further.
Existing contracts have an average remaining charter term of approximately three years and expirations are staggered to reduce renewal risk. Furthermore, eighty percent of charters in place are for longer than three years. The partnership strives to do business with only large, creditworthy counterparties and has an 'AA' rated insurance company protecting its revenue stream. 80% of insured revenue is with investment grade counterparties and $176M of revenue was insured as of April 2013. NMM has two primary competitive advantages that separate it from its industry peers. First, Navios has a young fleet compared to the industry average (6.5 years versus 9.8 years), thus can command more favorable contractual terms from counterparties. Secondly, Navios has a 24% lower OPEX as of February 2013 than the industry average due to the Navios group's economies of scale. The relationship with Navios Maritime Holdings Inc. (NYSE:NM), which owns a 21% LP interest in NMM, results in many other favorable characteristics for investors.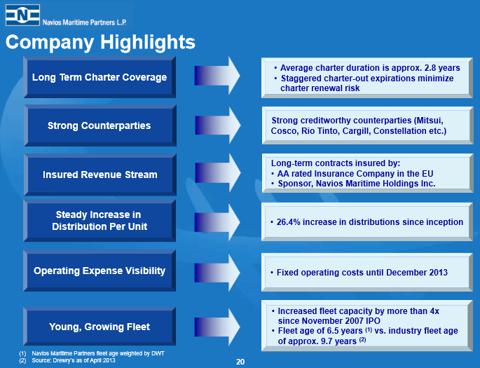 (Source: Navios Maritime Partners Q1 Earnings Presentation April 2013)
EBITDA increased nearly thirty percent YoY for the year ended December 31, 2012; however, the first quarter of 2013 saw essentially flat performance despite comparatively more vessels in the operating quarter. Essentially, growth in vessel management fees and depreciation were too high to result in EBITDA growth for the period. On a per unit basis, performance declined sharply from $.30 to $.24 YoY. Navios agreed to acquire four Japanese vessels for $108M but will not receive delivery until at least the fourth quarter. I believe that Navios' competitive advantages and growth initiatives provide it with value but it is currently too expensive at a 29.2 forward P/E. The stock has doubled the performance of the S&P 500 in 2013 and I would avoid investing until there is a pullback. The dividend is high enough for some investors to try and capture the dividend but it is not a stock for the risk averse at this level.
Management has committed to maintain the $1.77 annual dividend for 2013, which implies a forward yield of 11.7%. The dividend was increased slightly in the second quarter of 2012 but management has not increased the dividend significantly since late 2008. Note that the partnership has elected to be taxed as a C-Corporation for US tax purposes. For details on tax treatment, please consult the investor relation site.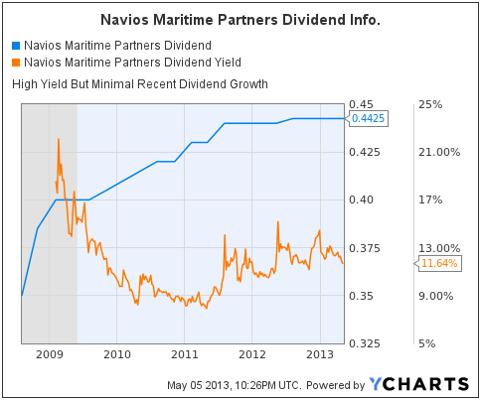 Spectra Energy Corp. (SE): 3.95% Yield; Ex-Dividend 5/8
Spectra Energy Corp. is a natural gas infrastructure company that specializes in the gathering processing, transmission and storage, and distribution of the commodity. Spectra Energy Corp. also has a fifty percent ownership of DCP Midstream (DPM); therefore, has a significant interest in midstream operations. Spectra Energy Corp. also has an ownership interest in Spectra Energy Partners LP (SEP), which I covered previously. 95% of revenues are derived from capacity reservation fees with a weighted average remaining contract life of approximately thirteen years. Spectra plans to grow in the future by investing in other fee-based assets in diverse geographies.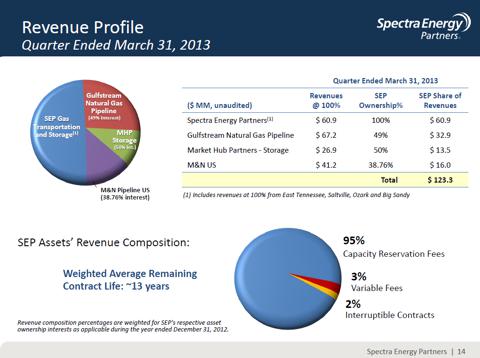 First quarter 2013 revenue, operating income, and adjusted EBITDA were generally flat but cash available for distribution increased by ten percent YoY. A 38.76% acquisition of Maritimes & Northeast Pipeline in October 2012 is the primary reason for the increase in available cash flows. This additional source of recurring cash flows should help Spectra to continue its streak of quarterly distribution increases. Spectra recently announced a marginal distribution increase, which follows the company's recent earnings beat. Spectra has weak liquidity and solvency ratios but generally appears fairly valued. The dividend slid below the four percent benchmark recently and has become an average dividend capture. Given the better alternatives this week, I would avoid Spectra Energy. Note that the YCharts dividend and dividend yield chart has been omitted for Spectra Energy as the data was unreliable.
TECO Energy, Inc. (TE): 4.64% Yield; Ex-Dividend 5/9
- 1M customers in Florida; Coal operations in Kentucky, Virginia, and Guatemala
TECO is a unique company because its operations are very diverse. The Florida regulated utility services approximately one million customers while Kentucky and Virginia interests focus on coal mining. Over eighty percent of revenue is derived from regulated activity with the remaining twenty percent generated from unregulated operations. Revenue has been declining in both segments and total revenue declined over five percent YoY in the first quarter of 2013. Not only are revenue and earnings declining but cash flows from operations dropped nearly thirty percent in the past year. The $158M in cash flows from operations was still more than sufficient to meet capital expenditure requirements but it leaves less cash available for shareholders. The stock is trading one percent below its 52-week high and appears to be slightly overvalued with a forward P/E of 16.6. I am hesitant to recommend TECO with a P/E above 15 and I would much rather prefer selecting a traditional utility rather than this hybrid.
The yield has declined fifty basis points since I covered it last quarter due to the stock's eight percent increase in the past quarter. The dividend has been flat at $.22 per share quarterly since 2012 and the probability of a large future increase is low given the 79% payout ratio.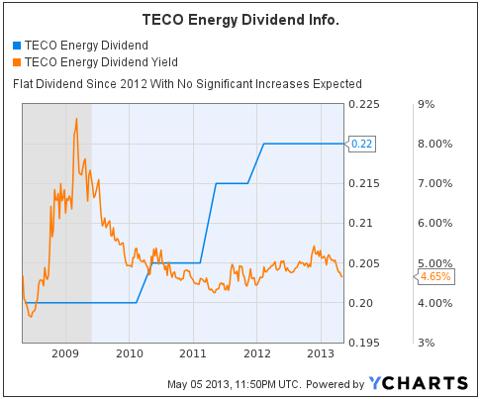 KKR Financial Holdings (KFN): 7.76% Yield; Ex-Dividend 5/10
KKR is a specialty finance company that operates primarily in the private equity and specialized investment categories. As with many of the companies that appear in my dividend screens, it appears that KKR is depressed because it is a financial services company and now has a P/E below six. Private equity firms have been in the news recently and the carried interest tax debate continues to rage on. Most recently, President Obama's latest proposed budget will remove the carried interest loophole. This is a dark cloud hanging over the entire industry.
Private equity companies are attractive dividend producers because they often either turnaround or improve existing companies and are able to return excess cash quickly. These can be volatile companies since their ventures can fail but once they have successful investments, they can pay above-average dividends. The dividend was suspended in 2008 when the market crashed, but was reinstated in late 2009 and has been steadily rising ever since. As a limited partnership, there are special tax implications for this investment that also need to be considered on an individual basis with your tax consultant.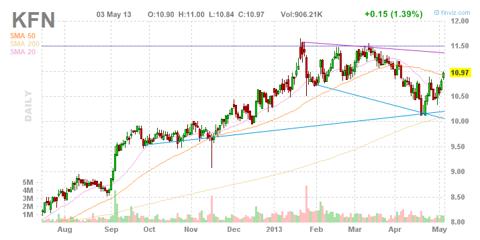 (Source: Finviz.com)
KKR is similar to Prospect Capital Corp. (PSEC), which I covered recently; however, KKR focuses more on European opportunities and macroeconomic interest trends. PSEC specializes in finding companies with robust cash flows and making strategic investments. Having said that, KKR's 7.7% yield and low P/E ratio still makes it a compelling investment opportunity. The company recently reported first quarter earnings that pushed the book value to $11.92, indicating that shares are trading at a nine percent discount to financial statement value. In the past year the discount has been as low as three percent (and even a premium at times) so KKR is cheaper than usual. With the stock trading near book value, I am not overly concerned about the shares declining significantly in the near-term.
First quarter income rose four percent on generally flat revenue as expenses declined 25% due to fewer expended bad loans. The stock was in a solid positive channel dating back to June 2012 but has floundered recently. Despite increasing over thirty percent over the past year, KKR has lagged the market by eight percent thus far in 2013. This pullback is a nice opportunity to initiate a position in this quality name.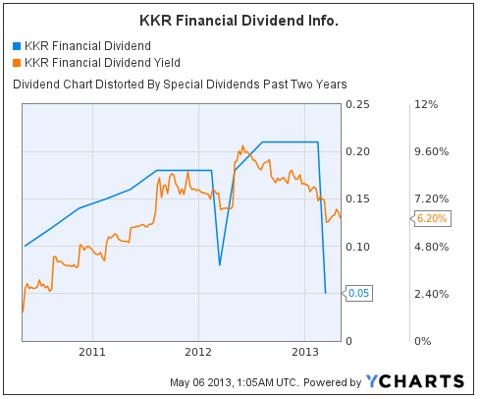 The information presented has been summarized below. I make no guarantees regarding the information in the chart as industry classifications and yield calculations are frequently imperfect. Orange and green represent "avoid" and "consider" classifications, respectively.

Please refer to profile page for disclaimers.
Disclosure: I am long PSEC. I wrote this article myself, and it expresses my own opinions. I am not receiving compensation for it (other than from Seeking Alpha). I have no business relationship with any company whose stock is mentioned in this article.
Additional disclosure: Please refer to profile page for disclaimers.