I've gotten very heavily invested in unconventional North American (mostly Canadian) oil resource play companies. My portfolio is stuffed full of them. As a result, I am very interested in where the price of oil is headed.
The No. 1 threat to the price of oil remaining high is, strangely enough, the rapid rate of production growth from the very companies I own. Energy companies killed the price of natural gas in North America with the shale gas revolution. Can they do the same to the price of oil?
My belief is that they won't.
I believe North American oil growth is going to continue, but that the pace of growth peaked in 2012 and is going to slow considerably with each passing year. That slowing rate of growth is not going to be enough to offset demand growth elsewhere in the world. I base this belief on two things:
One is that the big increase in rigs that moved from natural gas to oil in 2012 created a one-time surge, and that the amount of oil production growth in 2012 is not repeatable as a result.
Two is that the high decline nature of these high decline tight oil wells make them a very fast moving treadmill to run against in order to grow production.
I think we'd better get used to $85-plus oil, because over the long term it isn't going to get any cheaper.
How About an Expert Opinion?
Click to enlarge images.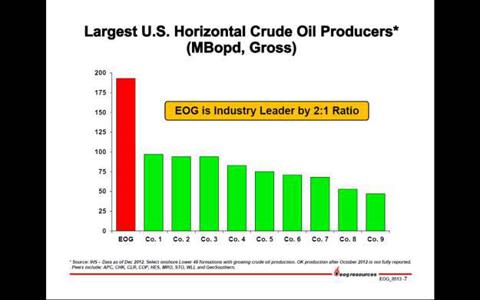 That is my view of North American oil production. A more credible view comes from EOG Resources (NYSE:EOG), which produces more than two times as much oil from these unconventional resource plays than the next company. EOG should understand better than anyone where unconventional oil production is going.
In the 2013 first-quarter conference call the following question and answer exchange took place, which provides detail on exactly what EOG is thinking:
Simmons & Company

In a prior forecast, you had put out some slides where you talked about total U.S. oil production growing by like 2 million barrels a day by 2015?

Mark Papa -- Chairman and CEO

We still are of the belief that total U.S. oil production growth that happened in 2012 was perhaps the peak that is going to occur.

That production growth was about 800,000 barrels of oil a day, and we expect that the total growth in 2013 to be less than that, and 2014 to be less than that. We're already seeing a lesser rate of growth in the Bakken. The Eagle Ford, of course, is still steaming ahead at a quite high rate of growth.

And so we believe that we're not going to see stupendous overall U.S. growth rates as we go forward.

We think there's only really two major driving forces of U.S. oil growth: Bakken and Eagle Ford. Eagle Ford is going to surpass the Bakken likely this year as the biggest oil growth rate. The Bakken is slowing down. Permian is really not on that fast of a track. And then there's what I would classify as all others. And the all others are not growing at a very fast pace at all.

So we're not as concerned as others that U.S. oil growth is going to flood the total market and ruin global oil prices.
EOG and Papa seem to share my view of a slowing rate of growth in American oil production.
U.S. Production Growth Is Really Only Two Plays
In EOG's most recent investor presentation, the following slide is included: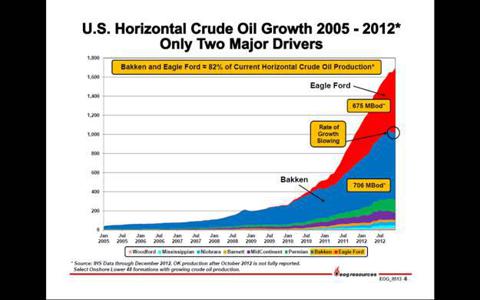 The slide shows a clear slowing of the rate of production growth from the Bakken over the last few months. It may be that the Bakken has now reached the point where it goes from an initial rapid rate of production growth to a more stabilized level of production.
EOG also makes the point that the boom in oil production in the United States basically relates to only two plays, the Bakken and the Eagle Ford. Those two plays alone account for 82% of the oil production from unconventional resource plays in North America. Once those two plays stop growing rapidly, total United States oil production is going to stop growing rapidly.
A second question and answer exchange from the first-quarter conference call also shows that EOG doesn't expect there to be any future unconventional plays that come close to the size of the Bakken and Eagle Ford:
Wells Fargo

And then as a follow up to that, if I start to think about the industry, obviously, whether you believe the land grab or not is over, it seems like it's moving much more toward a manufacturing type phase as opposed to an exploration phase. And I wanted to see what you think about that concept, and what North America looks like three years down the road.

Bill Thomas -- President

Certainly as far as the oil plays, as we talked about, and I think we're not really expecting to get another Eagle Ford or Bakken resource play of that quality and that size all tied together.

So we have a decent list of new greenfield plays we're working on on the oil side. But the quality of rock for oil plays and shales is really limited. And then the thermal maturity of the oil, the window there, of the right maturity of the oil, is really critical too.

So the sweet spots are really small, and so what I think you're going to be seeing is, and I think you're correct on this, you're not going to be seeing people announcing billion barrel new oil play discoveries.

But hopefully we'll be able to announce some success in some plays that would be maybe in the 50-100 million barrels, or maybe even bigger than that, which is a significant value in North America.

So we're not going to lose our exploration edge. The industry as a whole, I think, is certainly at a point right now where they really have a lot of acreage [leased], and people are testing a lot of ideas and plays. I think as we've talked about all along, you're seeing the cream of the crop of the plays rise to the top, which are certainly the Bakken and the Eagle Ford. And we feel very fortunate that we have very large, substantial positions in those, and we hope to add a few more smaller ones as we go along.
In addition to telling me to expect considerable slowing in the rate of oil production growth, the comments from EOG tell me that I'm happy to own companies that have locked up big land positions in the key North American unconventional oil plays. If there aren't any new large oil plays coming, the big land positions in the key ones are only going to become more valuable.
The future for EOG is outlined in the slide below: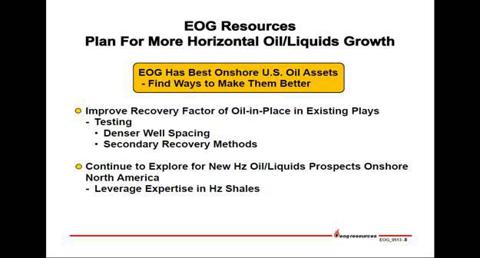 EOG's future is going to be focused on making its Bakken and Eagle Ford acreage better. EOG is going to do that by finding ways to increase the amount of oil that can be recovered from its acreage through secondary recovery techniques, such as water or natural gas flooding and downspacing. Small improvements in the recovery factor for EOG can allow the company to increase its reserves by hundreds of millions of barrels.
Step one was locking up the best acreage in these key unconventional oil plays. Step two is going to be benefiting from controlling that land over the next couple of decades, as the industry keeps figuring out how to get more of the oil in the ground out economically. These improvements in recovery aren't going to create the big boom in production that the first wave of drilling in the Bakken and Eagle Ford did. But it will allow companies like EOG to significantly lessen decline rates and sustain production for much longer.
These big acreage positions in the key plays that companies like EOG, Penn West (PWE), and Continental Resources (NYSE:CLR) are long-term advantages that can't be replicated. This could result at some point in Exxon Mobil (NYSE:XOM) and the other majors knocking at the door, looking for a bigger piece of the action.
Disclosure: I am long PWE. I wrote this article myself, and it expresses my own opinions. I am not receiving compensation for it (other than from Seeking Alpha). I have no business relationship with any company whose stock is mentioned in this article.