Is now the time to rotate away from the defensive sectors and into the undervalued and under-owned metals and mining sector? Extremely high levels of recent insider buying in mining stocks suggest so.
The stock market itself moves in cyclical waves. It's driven in both directions internally by its constituents, which also have their own waves. From Technology (NASDAQ:QQQ), Utilities (NYSEARCA:XLU), Healthcare (NYSEARCA:XLV), Transportation (BATS:IYT), Consumer Staples (NYSEARCA:XLP), Basic Materials (NYSEARCA:IYM) and Metals and Mining (NYSEARCA:XME), each sector plays a vital role in the overall performance of the market.
Sectors become hot and cold based on economic conditions and investor sentiment. Currently, the top sectors year-to-date are all highly defensive in nature. The performance of the Utilities, Healthcare and Consumer staples sectors in comparison to the Technology, Basic Materials and Mining sectors demonstrate the current investor appetite for risk (or lack thereof).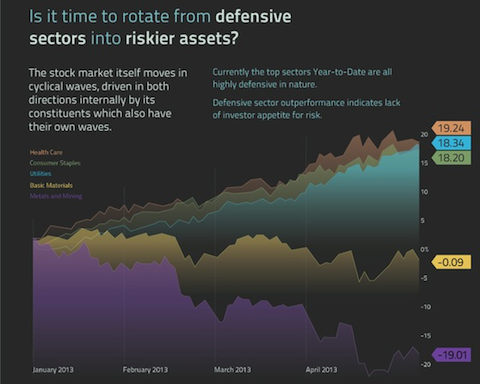 The contrarian investor and sector rotation strategy results in a rotation away from the best-performing sectors and into the worst-performing sectors, with the intent of purchasing undervalued and underappreciated sectors at a discount. In this case, rotating away from the defensive sectors and into the riskier sectors. Taking it a step further and examining the Metals and Mining ETF, the worst performing sub-sectors are the Gold Mining Index (NYSEARCA:GDX) and Jr. Gold Mining Index (NYSEARCA:GDXJ), down 36% and 37% YTD, respectively.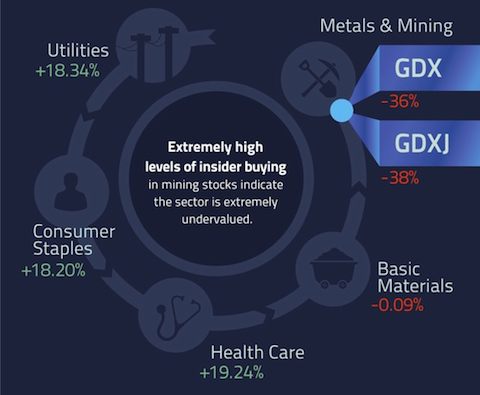 We highlight the Gold Mining Index and Jr. Gold Mining Index as potential targets for rotation because of their exceptionally high levels of recent insider buying. The belief of management in their own companies and industries is best indicated by the amount of their own money they put to work in these areas.
Bottom line: Rotation takes time, but we believe that with the current strength of the overall markets, the appetite for riskier assets will rise and lead to an increased flow of funds into the Metals and Mining sector.
Disclosure: I have no positions in any stocks mentioned, and no plans to initiate any positions within the next 72 hours. I wrote this article myself, and it expresses my own opinions. I am not receiving compensation for it. I have no business relationship with any company whose stock is mentioned in this article.