Nike (NYSE:NKE) is the largest seller of athletic footwear and athletic apparel in the world. It sells products to retail accounts, through Nike-owned retail stores, and on the Internet, in about 190 countries. In FY 2012, sales in the U.S. accounted for approximately 42% of global revenues.
Virtually all of Nike's products are manufactured overseas by independent contractors. In FY 2012, about 98% of its footwear was manufactured in factories in Vietnam, China, and Indonesia. Almost all Nike apparel is manufactured outside the U.S., in 28 countries.
Fundamentals
Nike has been a stalwart performer over the last several years. During the 10-year period ending with FY 2012, its revenues have grown 9% and its earnings per share has grown 15% on an annual compounded basis. These numbers are particularly impressive given the "challenges" the U.S. economy faced about five years ago. Also, performance of the European economy over the last few years has been less than stellar.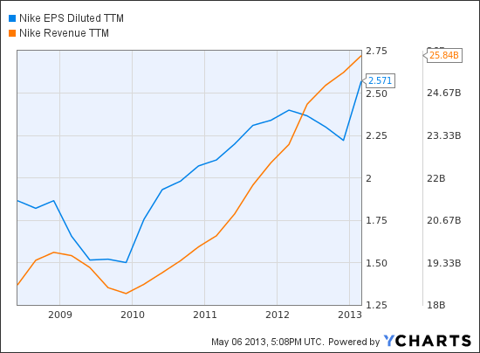 For the quarter ended Feb 28, Nike posted revenues of $6.2 billion, for a YOY increase of 9%. Net income from continuing operations came in at $662 million, representing a YOY increase of 16%. Diluted earnings per share was up an impressive 20% for the quarter.
Nike's biggest geographic market is North America, where revenues were up 18%. In Western Europe, revenues were up 8%, and in Central and Eastern Europe revenues increased 13%. Results in Japan were sluggish, where revenue fell by 6%.
Results in China sales were also down for the quarter. Revenue was down 9%, and EBIT was down 20%. This was addressed by Nike Brand President Charlie Denson in a March 21 conference call.
He said, in part:
We still believe in [China] long term, and it's a matter of cleaning up some of the inventory that we have in there, and then moderating the flow that's going in. So that we're pulling it out and pushing it in at the right pace to get us back to that pull market.
I'm not sure exactly what that means, but I think it means that inventory levels blew up a little, and the company had to bring levels down by selling some product at reduced prices. That would explain the plunging EBIT for the quarter in that area. Going forward, the plan is to moderate supply to more closely approximate anticipated demand. Predicting demand in China will be a tricky proposition, and I think plenty of people were caught off-guard by the recent slowing of the Chinese economy. To put this issue in perspective for the company, consider that China revenues for the quarter ($635 million) represented 10.3% of Nike revenues for the quarter.
On to some balance sheet observations. Year-over-year inventory for the company increased 4%, on a 9% increase in revenues. No problem there. Most recent quarter current ratio is 3.37. Debt to equity is 3.01, and a look at the graph below shows a strong proclivity to pay down long-term debt.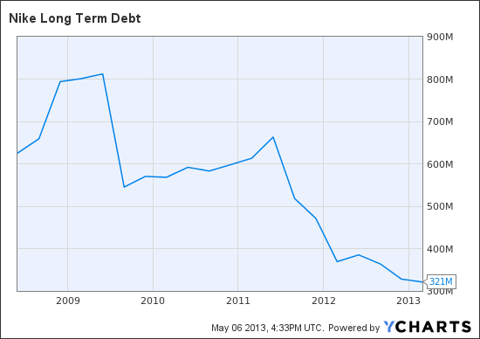 Valuation
Nike is trading at a P/E ratio of around 25, and a PEG of around 2.1. If the stock is fairly priced, that would equate to a projected annual growth rate of around 12%. Is that a bit conservative? I think so, based on Nike's performance over the last few years. (See the EPS/Revenue chart earlier in the article.) China will present some challenges in the immediate future, both with Nike getting the supply/demand equation right, and with China's own economic uncertainties. The Japan market is also slow, but represents only about 3% of revenues. Not a big deal. The rest of the picture going forward looks pretty bright, after a strong quarter, which adds to a strong few years. The U.S. economy will continue to show signs of improvement, and even though this "improvement" is courtesy of steroid injections ($85 billion per month) from the Fed, there is, nonetheless, money flowing into the economy. And this bodes well for companies that rely on discretionary consumer dollars.
How does Nike's valuation stack up against the competition? Nike's competitors include the likes of New Balance, Puma, Adidas (OTCQX:ADDYY), and Under Armour (NYSE:UA). New Balance is privately owned. Puma trades on the Frankfurt Stock Exchange, but just for comparative purposes, it currently carries a P/E of around 51. Adidas is around 32 on the P/E scale, and Under Armour weighs in at about 51.
It's not easy to compare apples to apples here, as Nike is a Goliath among Davids. Adidas is (by far) the largest competitor, but only measures $22.8 billion in market cap to Nike's $57.2 billion. As a large, mature company, you would expect Nike to have a lower P/E, and compared with the others, that's what you get.
In addition to a modest valuation, another bonus is Nike's dividend payout ratio of 37%, which provides an annual dividend yield of 1.2%.
Summary
It's hard to watch any major sporting event or walk into any sporting goods store without catching a glimpse of that fabled Nike "Swoosh." That, in itself, is brilliant marketing. Just like the Golden Arches of McDonald's, hundreds of thousands of people around the world who speak one hundred different languages recognize the trademark. There are other companies that produce quality sports apparel, but Nike is the standard-bearer. Over the past 50 years it has come to dominate the market. The stock has performed predictably well. Gains have been steady, and pullbacks within the framework of the overall economy have been relatively tame.
Nike makes shoes for every type of runner, but as a company it is a marathoner. And one that, at least for now, is showing no signs of fatigue.
Disclosure: I have no positions in any stocks mentioned, and no plans to initiate any positions within the next 72 hours. I wrote this article myself, and it expresses my own opinions. I am not receiving compensation for it (other than from Seeking Alpha). I have no business relationship with any company whose stock is mentioned in this article.