After a large run-up in the past four years, many restaurant stocks appear to be aggressively valued. Meanwhile, the Affordable Care Act will be largely implemented in 2014, and it could have a disproportionately negative impact on the restaurant sector. Taken together, these two currents have the potential to make the restaurant sector one of the best places to search for short-selling targets.
Sonic Corp (NASDAQ:SONC), operator and franchisor of Sonic Drive-Ins, has become my favorite short in that sector. In the first part of this series, I mentioned four criteria in shorting restaurants:
(1) Somewhat vulnerable to rising labor costs from the ACA,
(2) Priced aggressively relative to probable future cash flows,
(3) Lacks significant international expansion prospects, and
(4) Has significant company-specific issues that could be exacerbated in a downturn
Sonic qualifies on all four attributes.
In Part I, I showed how Sonic looked aggressively valued, had seen its profits plunge over the past four years, and was having some growth troubles. In Part 2 of this series, I dived deeper into the profitability issues, showing how Sonic's operating costs for corporate-run restaurants have increased dramatically in the past decade, and margins have plunged.
In this article, I want to take the analysis a step further and try to ascertain how rising costs and lower volume of sales at Sonic are impacting Sonic franchisees. What we'll discover is that return on equity for the average Sonic franchisee has likely declined precipitously in recent years. Moving forward, the Affordable Care Act could impose higher costs on the restaurant industry, on top of slowing revenue growth further, which could exacerbate Sonic's struggles.
The Rise and Fall of Sonic Franchisees
The number of Sonic franchised stores increased dramatically in the early 00's, but growth has stalled significantly since then. That's not terribly shocking in and of itself. Many restaurant chains saw boom times 10 years ago, but have suffered a bit through the downturn. All the same, the issue is worth delving into.
The chart below looks at average revenue and net store openings for both Sonic company owned and franchise owned drive-ins since 2002.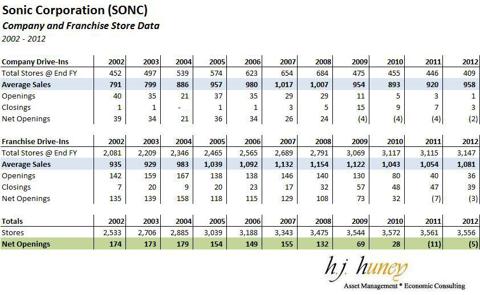 Net openings were in the 170 - 180 range from 2002 - 2004. Those numbers declined gradually through 2008, falling to 132. Then, from 2009 onward, net openings have fallen off a cliff, dropping to 11 net closings in 2011, before a rebound to 5 net closings last year.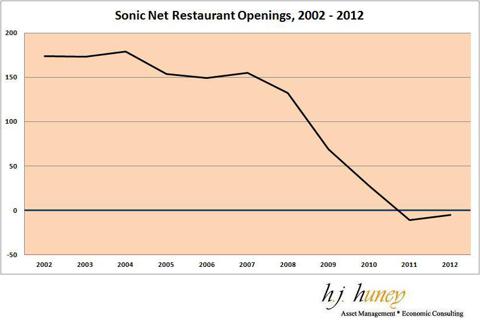 Sonic's management team suggests in its Q2 earnings call (FY 2013) that it believes it has at least turned the corner enough so that it will see net openings again in FY '13. I'm not sure how FY '13 will play out, but there are reasons I'm skeptical that the long-term trend has reversed. Let's take a look at store revenue growth to better understand why.
Weak Recovery Post-2008
Sonic Drive-Ins have struggled to recover from the recession, even moreso than many other fast-food chains. The chart below looks at the average revenue for both franchised and company-owned stores.

Sonic's average store revenues peaked around 2008, before falling in the recession, similar to many other chains. However, we are now 4 years away from that point and sales are still well below that 2008 peak. If the current trend continues, it would appear that company store revenue averages won't equal 2008 totals until around FY 2014, and franchise-owned stores might not hit that level until FY 2015 or FY 2016.
Meanwhile, all of Sonic's costs (as a % of revenues) have gone up significantly since then, suggesting that there has been a significant decline in volume since 2008. We have seen a minor recovery on that front in the past two years, but minor is the key word.
For whatever reason, Sonic seems to be falling out of favor with consumers. Perhaps new higher-end fast-food concepts, such as Five Guys and Red Robin (NASDAQ:RRGB) are poaching Sonic customers away. Or perhaps the increasing cost issue is creating a situation where Sonic's menu prices are less competitive, particularly in an environment where people are less free-spending. Clearly, however, Sonic is getting squeezed by something.
Franchisee Economics: Sonic versus Competitors
That brings us to the most vital issue here: franchisee economics. In Part 2, I showed how Sonic's margins for its company-owned restaurants have plunged over the past decade. That begs the question: how is this impacting franchisees?
The first thing to examine is Sonic's royalty and fee structure versus comparable firms. The chart below shows Sonic compared to McDonald's (NYSE:MCD), Burger King (BKW), Wendy's (NYSE:WEN), Five Guys, and Jack in the Box (NASDAQ:JACK). Note that it's difficult to get precise numbers for any of these firms, so these are estimates based on what I could find on corporate sites, as well as on franchise info sites, such as Franchise Direct.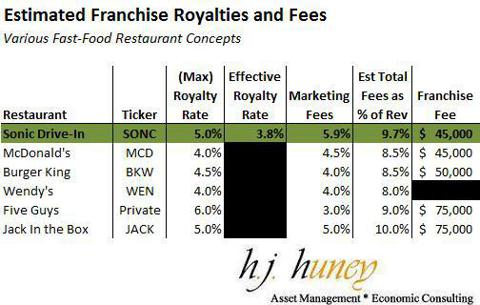 I need to add about a million caveats to this data. Unlike with financial statements, where most figures are at least somewhat comparable from company to company, franchise royalty and fee data seems to be very non-standardized. All the franchises chose to provide info about fees in very different ways and, even within one particular company, it was often difficult to ascertain the true royalty rate.
Sonic states that its royalty rates are between 4% - 5%, however, its financial statements suggest the effective royalty rate is 3.8%. Take that for what you will. Regardless, Sonic appears competitive on this front. However, it does seem to have very high marketing fees relative to all the other restaurants listed. This may be a result of the fact that Sonic is spread out more across the nation, but lacks a heavy concentration in most markets. Most of the other franchises listed are much more concentrated than Sonic.
Based on this data, Sonic would appear to be somewhat unattractive compared to other franchises. In a highly competitive franchise market that has only become more crowded in the past 5-10 years, I wouldn't rule this out as a cause for concern.
Average Company-Owned Store Economics
If Sonic's franchise structure makes it slightly less appealing than competitors, its average franchise store economics appear to have deteriorated significantly over the past six years. This could make the franchise sale even more difficult.
Below, I have pieced together the average store economics for company-owned drive-ins, for 2002, 2007, and 2012. These estimates are based directly on information from Sonic's financial statements.
The FY 2014 projections that are listed beside the past estimates are more guesswork. I created an "optimistic", "most probable", and "pessimistic" scenario. These are based on my own views of how things will progress moving forward, as I anticipate that the ACA will harm Sonic ("most probable" projection). The "optimistic" projection assumes that the ACA does not sap demand much and margins continue to improve, while the "pessimistic" projection is based on the ACA doing a significant amount of harm.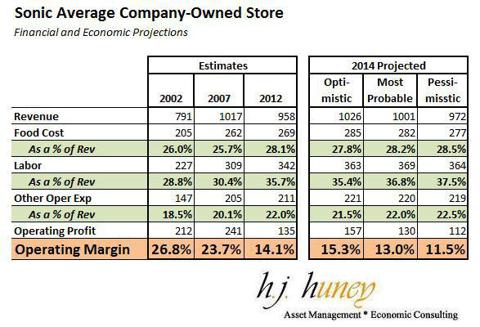 We can ignore my 2014 projections for now. What's more interesting to look at is how operating margins have significantly deteriorated since 2002.
Average Franchisee-Owned Store Economics
The next step is to figure out how this looks at the franchisee level. That is considerably more difficult. The main issue is that, as I mentioned in my prior articles, Sonic appears to have more operating leverage than other chains, making it more dependent upon volume sales. This might not be a huge issue, except that Sonic franchised stores tend to have significantly higher revenues (around 10% - 15% higher), which implies a higher volume of sales. Hence, it's likely that franchised stores have better margins than company-owned stores.
Below, I attempt to determine the costs and margins for the average Sonic franchisee for 2002, 2007, and 2012. Then, I make projections for FY 2014 similar to the ones above. Note that the revenue estimates should be accurate since they are coming directly from the financial statements. Everything beyond that requires a bit of guesswork.
I assumed that food costs were slightly lower at franchisee-owned stores. I also decided that operating costs should constitute a slightly lower percentage of revenues. The most significant gain for the franchised stores, however, is on the labor front, where I often shaved over 100 basis points off the costs as a percentage of revenue.
With that, let's take a look at the projections.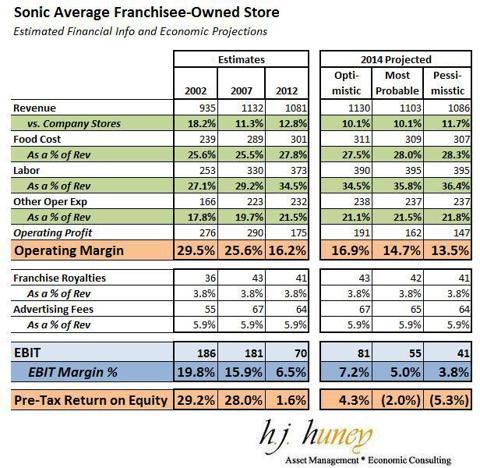 The pre-tax Return on Equity ["ROE"] figures are calculated based on investment assumptions listed in the chart below. The most important assumptions are a $1.395 million estimated initial cost, with 70% debt financing available, and a 6.5% interest rate.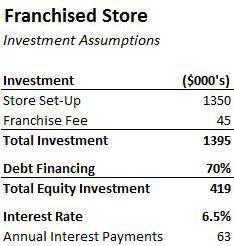 How reliable my estimates are is difficult to ascertain. I suspect I am in the ballpark on most of the costs and margins. The pre-tax ROE figure, however, is much more sensitive to minor changes.
The estimated 29.2% and 28.0% ROEs for 2002 and 2007 at least pass the smell test. We saw net store opening around 175 in FY 2003 in FY 2004 and we even saw a lot of net openings in 2007 and 2008, at 155 and 132 respectively.
What's less clear if whether the 1.6% estimated pre-tax ROE for 2012 is too pessimistic. You can see in the chart below how sensitive pre-tax ROE is based on an increase or decrease in the EBIT margin. If the EBIT margin increases 200 basis points, the pre-tax ROE jumps from 1.6% to 6.8%.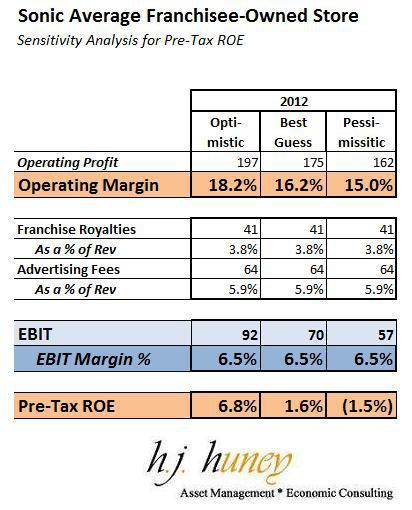 While it might be difficult to pin down the precise figures, it's very clear from my own model that franchise-store ROE has fallen significantly over the past six years. The model suggests it's gone from around 28.0% in 2007 to 1.6% today, but even if it only fell from 28% to 6% or 28% to 10%, that would still be a massive decline, and could have a significantly negative impact on Sonic Corporate moving forward.
How Will Obamacare Impact Sonic?
Sonic may be particularly vulnerable to the impact of the ACA. Due to Sonic's lower volume of sales (compared to other major fast-food chains) and more labor-intensive model, it could suffer more on the cost side than competitors such as McDonald's, Wendy's, and Five Guys.
You can glance back up at the projections for FY 2014 and see what will happen if the ACA causes a lower-volume of sales, or even stagnant revenue growth. My estimated pre-tax ROE for the average franchised store turns negative if revenues stay flat ("Most Probable Scenario"). If revenues actually fall ("Pessimistic Scenario"), it could be particularly devastating.
As I've shown in my prior articles, Sonic looks like a relatively attractive short candidate solely based on valuation. The implementation of the ACA throws another wrench into Sonic's growth, likely harming it more than competitors. If franchisee economics have also deteriorated as much as I suspect, then there may be more significant downside than most investors are anticipating.
What is Management Doing to Address These Issues?
Sonic's management team isn't oblivious to these issues. From Sonic's latest earnings call, management laid out many of their recent initiatives predicated on improving margins and franchisee ROI.
Sonic has created a new smaller building design which CFO Stephen Vaughan expects will reduce non-land costs by 15% - 20%. Franchise Direct estimates that building costs represent about 43% of the initial investment to launch a Sonic Drive-In. Vaughan estimates that this could create a savings up to $200,000 on the initial investment to open a Sonic Drive-In.
The company is also experimenting with a new point of sale system and looking at a new supply chain management system. This could help stores boost their margins, and help drive ROE back upwards.
I decided to run another pre-tax ROE scenario, based on the assumption that the point of sale system helps improve operating margins by about 200 basis points, and the new store design lowers the initial cost of investment by $200,000. I used my franchised store FY 2012 estimations to model this out. The results are in the chart below.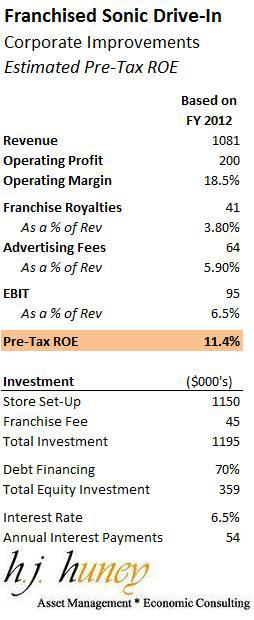 You can see that the pre-tax ROE improves to 11.4% in this scenario; up from 1.6% in my previous model. This is a huge improvement! Once again, due to leverage, the ROE figure is also very sensitive, so if we assume the original 1.6% figure was pessimistic and 4% - 8% was more accurate, then you might want to make an upward adjustment into the 13% - 17% range. This would still leave the franchised store economics significantly weaker than they were in 2002 and 2007 by my estimations, but could also help drive some growth in particularly promising areas (remember this is the "average store" economics).
Other Beneficial Factors
While I've been focusing on a lot of the negatives in this series, it's worth mentioning the numerous positive currents, as well. Sonic has been introducing new products, such as a lineup of freshly brewed green iced teas. If I had to name one think that Sonic is famous for, it's the drink menu that includes slushes and the cherry limeade. The new teas should be a great addition to the menu.
Sonic also fares well when it comes to customer service ratings. Sonic placed #7 in the 2013 Temkin Experience Rankings, making it the highest ranked fast-food burger chain on the list. This put it slightly below Trader Joe's, Chick-Fil-A, and Sam's Club; and tied with Dunkin' Donuts. It fared better than all other fast-food chains, and I'd view Sonic's service as being one of the things that sets it apart from places like McDonald's and Burger King.
Finally, it's worth noting the operating leverage in Sonic's business model. This operating leverage may be one of the primary drivers behind Sonic's struggles since 2008, but it could also mean that as the economy improves, Sonic's profitability increases more rapidly than other fast-food chains. This creates an added danger for shorting the stock.
The Short Case
In spite of the positives here and management's prudent steps to improve margins and store ROI, I view Sonic Corporation as one of the most attractive shorts in the restaurant sector for the next 12 - 24 months. Sonic's higher labor requirements and lower-volume sales make it particularly vulnerable to the impact of the Affordable Care Act. The ACA could cause a further erosion of margins, and weaken franchisee economics even further.
Even without the ACA, Sonic is facing increased competition from chains like Five Guys, Red Robin, and Smashburger. These "higher-quality" burger chains have been cutting into the sales of many fast-food chains, and Sonic appears to be getting harmed even more than competitors.
The rapid deterioration in franchisee ROE could cause an increased number of restaurant closings, or at least discourage the opening of a large number of new Sonic Drive-Ins. Without significant growth in franchisee profitability, Sonic Corporation could also struggle.
Sonic's valuation also appears somewhat aggressive and investors are assuming that the company will see significant margin improvement and franchise growth in the next few years. This provides a small bit of a buffer so that even if the short thesis does not turn out to be right, losses may be minimized.
There are risks here, however, as the ACA could have a much smaller impact than I expect. The operating leverage can also work the other well, helping Sonic's profitability improve rapidly. Management's actions to improve margins could likewise be successful and improve the bottom line for Sonic Corporation.
Yet, in spite of some of the risks and positives for Sonic, I see it as one of the better shorting opportunities available in the restaurant sector for 2014.
Disclosure: I am short SONC. I wrote this article myself, and it expresses my own opinions. I am not receiving compensation for it (other than from Seeking Alpha). I have no business relationship with any company whose stock is mentioned in this article.