Global auto giant General Motors (NYSE:GM) reported much better than expected first quarter results earlier last week. Revenue, though down 2% year-over-year at $36.9 billion, easily exceeded consensus expectations. Earnings per share, adjusted for one-time items, fell 28% year-over-year to $0.67, which was also far stronger than anticipated. Automotive free cash flow wasn't incredibly strong, turning to a negative $1.3 billion.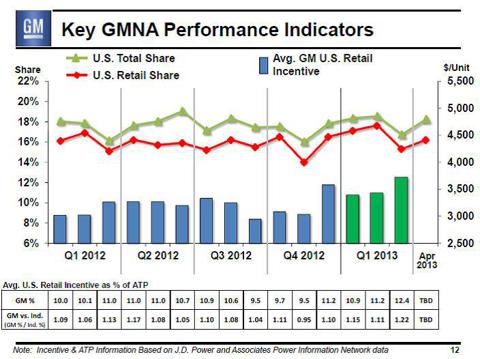 Not surprisingly, North America was among the standout performers at GM, driven by market share gains. Both Cadillac and Buick were fantastic in the United States, with sales growing 38% and 28%, respectively. We think the brands have done a spectacular job fighting back against the strong performance of the likes of Audi and BMW with strong marketing and vehicle quality. However, the above chart (Image Source: GM Q1 2013 Investor Presentation) shows that GM is spending far greater than the industry norm on incentive spending. This explains why sales have been strong, but it also accounts for why earnings in North America fell $200 million year-over-year. Since GM is fairly healthy financially, increased incentive spending may continue, but it speaks to the fact that GM's product trails other firms' in terms of desirability.
GM attempted to blame the rise in incentive spending on the refresh of the Chevrolet Silverado and GMC Sierra. Even so, we believe the Ford F-Series (NYSE:F) is simply crushing the pickup market at this point, thanks to its superior product offering. The new GM full-sized pickups will need to demonstrate improved fuel efficiency and performance to recapture share from Ford.
The other standout at GM was China, where the company has captured 15.2% market share. Adjusted EBIT was flat in the International Operations segment at $500 million due to weak South American performance, but the firm is doing a much better job executing in China than its American peers, as well as Toyota (NYSE:TM). It is no secret that one day the Chinese market could dwarf the US in terms of total size, and GM looks like it could be a huge winner. Currently, GM's Chinese joint-venture is posting a strong operating margin of 11.7% during the most recent quarter.
While it's hard to call a $200 million loss in any geographic segment a positive, we were pleasantly surprised by results in Europe. This means the firm's loss actually improved $100 million year-over-year even as revenue was $500 million lighter. Management noted that cost timing helped boost results, but we think the firm is doing a solid job containing costs and avoiding flooding dealer supplies.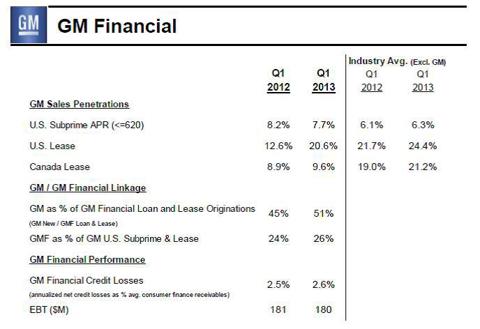 Financing arms are often ignored, but GM provided some interesting commentary on its financing operations (shown above). Not surprisingly, GM lends more money to subprime buyers than its peers, but that's largely due to its low-end product mix at Chevrolet, in our view. As Valuentum followers know, we also don't dislike subprime auto loans, since default rates tend to be relatively low. Subprime lending, combined with an increase in leases, could add a nice boost to GM's profitability. Though earnings were basically flat with a year ago, we think the increases in leases will help boost profitability in the next few years.
Overall, we thought GM's quarter was encouraging, though we think the firm's North American business success is slightly overrated. GM spends more than its peers on incentives and still underperforms its peers. However, the firm has done a fantastic job of mitigating losses in Europe, and China remains a key driver of potential long-term growth. Overall, we think shares of the auto giant look fairly valued, and we prefer Ford, which we hold in the portfolio of our Best Ideas Newsletter.
Disclosure: I have no positions in any stocks mentioned, and no plans to initiate any positions within the next 72 hours. I wrote this article myself, and it expresses my own opinions. I am not receiving compensation for it (other than from Seeking Alpha). I have no business relationship with any company whose stock is mentioned in this article.
Additional disclosure: F is included in the portfolio of our Best Ideas Newsletter.