The shares of Lululemon Athletica (NASDAQ:LULU) have appreciated by 16% over the past 30 days and are currently trading near their 52-week high. However, I believe investors should not chase the price momentum, as the stock's stretched valuation has left little margin of safety on the investment. My view is supported by the following 5 reasons:
1. From a historical valuation standpoint, Lululemon shares appear to be expensive now. The company's latest revenue, EBITDA, and EPS growth rates are all near their bottom levels in 2009, and their consensus estimates for the next few quarters do not suggest a notable improvement. Nevertheless, Lululemon's trailing P/E multiple is currently trading near its 5-year historical average, which appears to be frothy relative to the company's growth profile (see charts below).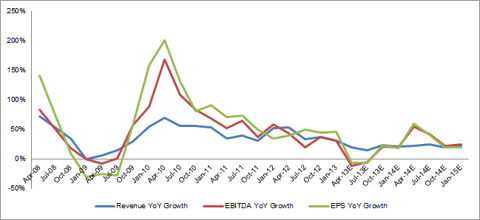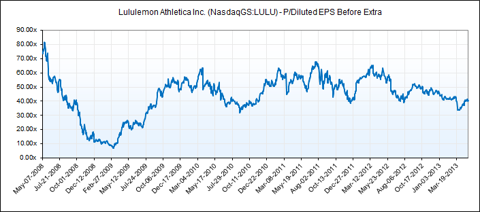 2. Over the last 6 months, Lululemon's forward P/E multiple has expanded by 6.1% (see chart below).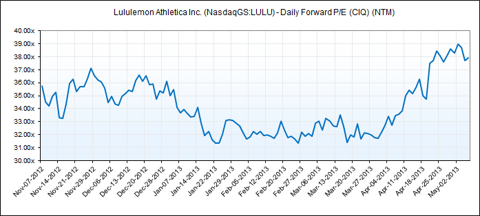 However, the company's consensus revenue, EBITDA, and EPS estimates for fiscal 2014 and 2015 have all experienced multiple downward revisions over the period, and their current levels are markedly below the historical figures in a year ago. Further, analysts' average 5-year earnings growth estimate has also been lowered slightly from 28.2% to 24.8% over the past 6 months (see charts below). As such, the negative consensus estimate trend suggests the recent rise in valuation is not supported by the company fundamentals.




3. According to 26 analyst estimates compiled by Thomson One, the average 1-year price target of $73.89 is below the current share price at $74.79. Based on the capital asset pricing model, Lululemon should command a cost of equity at around 15% (see chart below). Hence, sell-side's average price target implies a notable overvaluation for the stock.

4. There has been a technical pricing ceiling in between $75 and $80 since 2012, and the current share price is within that range (see chart below).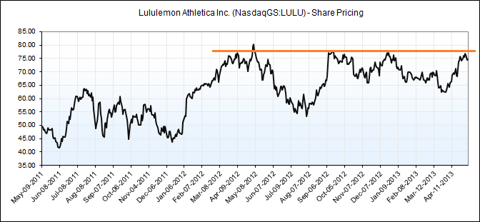 5. Wells Fargo Securities initiated their coverage on Lululemon on May 6 with a market perform rating. The broker commented on some concerns, which I tend to agree with (sourced from Thomson One, Equity Research):
LULU remains a very attractive square footage growth story with best-in-class productivity, in our view. While we believe recent product issues are isolated and will not affect long-term demand or customer loyalty, quality control infrastructure investments may take longer than anticipated and drag on returns. The quality issues may also signal a greater need for investment by the company in general as it pursues global growth. Still, the biggest hurdle for us in recommending the stock is valuation--we believe it remains a stretch.
Bottom line, Lululemon's current risk-reward profile does not warrant any buy or hold ratings. For speculative purpose, I would recommend taking a small short position.
All charts are created by the author except for the consensus estimate tables, which are sourced from S&P Capital IQ, and all financial data used in the article and the charts is sourced from S&P Capital IQ unless otherwise specified.
Disclosure: I am short LULU. I wrote this article myself, and it expresses my own opinions. I am not receiving compensation for it (other than from Seeking Alpha). I have no business relationship with any company whose stock is mentioned in this article.