As the market relentlessly pushes forever higher, I become more and more skeptical about how the rally ends. As someone who tries to fairly weigh all the data in front of me I wanted to look into what the bulls and bears are thinking at this time. I find it fascinating how similar reports are to the ones written in 2007. With just a few minor correction to this article, you wouldn't be able to tell if it was written today or in 2007. So let's weigh each case.
Bull Case:
Stocks are cheap vs. alternative investments
Many dividend stocks yield is higher than the 10 year
The Fed's easy money policy has a "put" under the market
The bears are only pessimistic because they missed the run
Stocks are fairly valued based on forward earnings
Why sell if were only going to have a 5% correction before we resume the uptrend
Balance sheets are stronger then ever
There is going to be a rotation out of bonds and into stocks
The "retail investor" still hasn't invested
There are still a lot of bears out there calling for a correction so it simply won't happen
Bear Case:
Stocks are extremely overbought and the market is overvalued
Commodities such as lumber are signaling all is not well
It would be healthy for the market to correct
Macro data is not good for the U.S., Europe, and China
Year-end targets are rarely correct
A good example of this: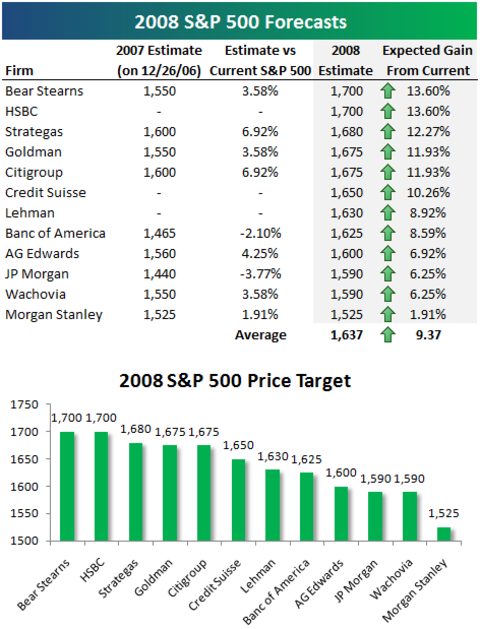 Earnings and revenue aren't growing fast enough, if at all, to support these valuations
The "chase for yield" has left utilities and consumer staples looking bloated and overvalued
How I'm positioning my portfolio:
After such a strong rally with no pullback, I believe the bears have the stronger case. I've begun to sell off assets and sell longer dated puts on stocks I'd like to buy lower. Many of these stocks are high quality, yet have high implied volatility such as Juniper Networks (NYSE:JNPR), Netapp (NASDAQ:NTAP), and Nvidia (NASDAQ:NVDA). I don't believe gold is acting like a safe haven at this time so I wouldn't recommend holding it if you believe it will rally on any downward movement in the market. In addition, I believe that when we correct it will be more than just 5% due to the amount of margin people are putting to work.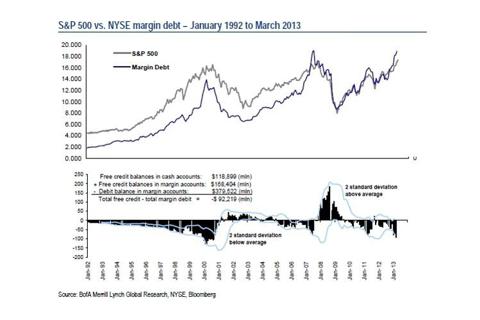 The money flow is also signaling the market is overbought on the weekly chart for the dow jones. Every time in the past two years that the money flow has reached overbought, the market sold off within the next three weeks.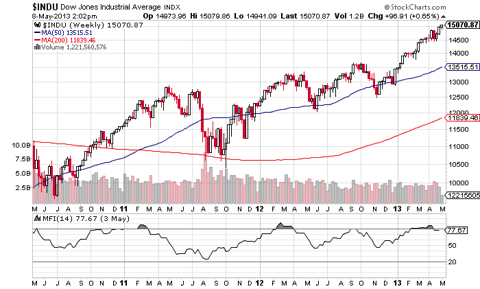 (click to enlarge)
In conclusion, I believe lowering asset exposure is the correct thing to do at this time. While there aren't many alternatives to stocks at this time, I'd rather not lose money and wait for a better entry than to stay in during a time where the market has more downside than upside. In addition I believe many of the large cap stocks that have been bought for yield are do for a fall. People are choosing to lock in a dividend yield while risking instant losses in the assets price.
Disclosure: I have no positions in any stocks mentioned, and no plans to initiate any positions within the next 72 hours. I wrote this article myself, and it expresses my own opinions. I am not receiving compensation for it (other than from Seeking Alpha). I have no business relationship with any company whose stock is mentioned in this article.
Additional disclosure: I am short NVDA and JNPR January strike puts