Introduction
From one perspective, Google Now is a threat to both Siri and Apple's (NASDAQ:AAPL) TAC revenues from Google (NASDAQ:GOOG). Yet the app is being allowed to become part of the iPhone/Ipad product line. The threat to Siri is obvious as Google Now is probably a broader, if not superior, replacement of Siri. The threat to Apple is the Google Searchbox in the Now app, which competes for attention with the Safari-based Google search from which Apple made $1 billion in TAC profit last fiscal, as I have discussed below.
So why is Apple still letting Google Now stay on in the iOS? Actually, there's a very smart move; to understand why, read on.
Google continues its dominance in the mobile computing space by introducing various user-specific applications. After achieving success from the Google-Apple TAC (Traffic Acquisition Cost) deal, it has released Google Now in order to lure Apple's users.
Google Now is Google's new innovation for Apple's iOS platform. It was introduced as an update to Google Search app on April 29, 2013. Google Now uses a natural language user interface to deliver information to the users based on its prediction on what they might want to search. It goes way beyond just answering questions or making necessary recommendations and provides updates about weather, stocks and sports also.
Google Now is definitely good news for Google investors. Unlike other apps, it collects a broad range of information about users via search history, e-mails and web services they are signed into to show information relevant to their needs. Also Apple would like its users to have apps and services that are cross platform. So, while Google Now, if it remains on the iOS, has the potential to make Google an extra billion in savings, it also has potential to increase mobile AdSense revenue by being more efficiently search-friendly.
The next big question would be whether Google Now would replace Apple's Siri and affect Apple's profitability vis-a-vis the TAC deal of before.
What is TAC?
Google generates around 96% of its revenues mainly from its global advertising efforts. In 2012 it managed to add around $50 billion to its bottom line. But there's another side to Google's earnings: the Traffic Acquisition Cost. It reveals how much Google had to spend in order to generate ad revenues.
Google runs its ads freely on various websites and services and makes money out of these, once the user clicks an ad. It has also partnered with some other platforms and players to get more exposure for its ads. Google shares a portion of its ad revenues with these advertising partners and this amount is known as TAC.
TAC helps not only the advertising partners but also the consumers to get free Google services like You Tube, Gmail etc. Therefore, Google must give away TAC every year to its partners in order to maintain its exposure.
Here's some graphics from a Morgan Stanley report, via businessinsider.com (actual page linked later), about just how much Google is paying in TAC to various parties, including Apple: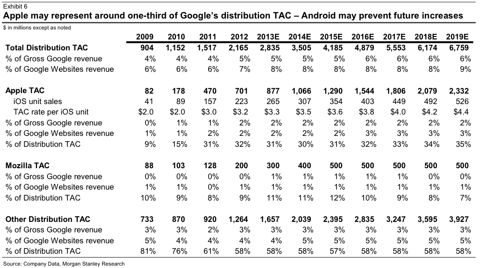 How did the TAC deal affect Google's revenues?
In order to be Apple's default search engine on its iOS devices Google paid around $82 million to Apple in a "revenue sharing model" in 2009, see chart above. It was agreed that for every $1 collected from search advertising on an iOS device Google had to give away $0.75 to Apple. In other words, out of the total revenue, 75% will be accounted as TAC and would be returned to Apple and the rest will be kept with Google. Google's TAC, over the years, has increased to around $1 billion in 2013 and is expected to cross this figure in the next year.
According to financials, Apple usually generates two-thirds of its revenues from its iOS devices and Google accounts for 1.4% of them. In other words, Google pays around $4.4 per iOS device per year and constitutes 3% of Apple's operating margin.
Google's gain from the deal:
In my opinion Google took a wise decision to pay Apple 75% of its iOS mobile ad revenues as its TAC. As Google is the largest search engine and controls 95% of the mobile search market, it needs to maintain that exposure. By getting associated with a big player like Apple, Google created a virtual monopoly in the mobile ad segment
Also the savings that Google would have made by not paying TAC wouldn't have been as substantial as losing out its position to its close competitors.
Is Google Now a Threat to Apple's Siri?
Let's have a look at the following comparison:
Siri: Siri is Apple's personal voice assistant which helps its users to get things done just by voice commands. It allows them to send messages, place phone calls, schedule meetings just by using their voice. It doesn't require the users to remember specific commands and keywords.
Google Now: Google Now, developed within the Google Search mobile application, helps people to manage their lives on Apple's iOS platform. It helps in predicting users needs and shows them things at the right time. Besides responding to voice commands similar to Siri, it fills up the phone screen with boxes showing information like weather, travel directions, stock quotes, sports results and more. All this happens without even making a request. The information provided is based on your entries in your calendar, and by letting Google use your personal data. The more it knows the user the better information it can provide.
Although Google believes that Google Now is smarter than Apple's Siri, Google can't use it seamlessly on all Apple devices. It won't be incorrect to say that Google Now is an enhanced version of Siri and not its replacement.
How will it affect Apple?
If Google manages to get a chunk of iPhone users to install and use Google Now along with its Google Search, it would be able to recapture its search and advertising revenue that would have otherwise been taken up by Apple.
The idea is: Google pays TAC if people use Apple's Safari browser and the Google search engine there to arrive at ads they then click. It does not pay TAC if people type in Google.com and then search; neither does it pay TAC if people use Google Now's search box. Now, typing google.com on an existing searchbox area wasn't typical user behavior, however it is certainly more convenient to use Google Now search. That is where Apple will lose some TAC money from Google.
Also Google's presence will increase on a vast majority of iPhones as compared to Android smartphones. This is because Google Now needs Jelly Bean, which is not available on many older Androids.
On the other hand, if Apple allows Google Now to run under the Google Search application it would also face certain repercussions. One of them would be a serious threat to its own voice assistant Siri. Also, Apple will have to part with some of the TAC it receives from Google. It would generate revenue that would directly add to the bottom line of Google, but not of Apple.
What is Apple doing about this? The Counterpoint:
Actually, nothing. So far as I have understood, Apple is not doing anything about this "threat."
Why? Is that not stupid?
Actually, it is not. It is very smart for Apple to sit back quietly and let Google help Apple make its loyal fans even more loyal. Here's how that works.
You see, the Android, by its very nature of being platform-independent, creates a problem for Google developers. Every app they make, they have to either go back and make it backward compatible, or forget about having a broad base of users being able to use the app.
Google Now is a case in point: it only works on Jelly Bean and above. Now, I use 2 Android devices. One has Jelly Bean, and the other one, about an year old, has Froyo. So, I cannot use Google Now on my older device - and it is only a year old. Imagine how many people are unable to use Google Now or other latest Google apps because of this problem? Negative score for Google.
Apple's iOS, however, is actually much more compatible with the latest Google apps than Android itself. As I read on USATODAY:
"This may sound hard to believe, but in reality, almost everything works better under iOS," says Chad Udell, managing director of Float Mobile Learning and the author of Learning Everywhere: How Mobile Content Strategies Are Transforming Training. "Because of the numerous handset manufacturers and OEM, Android and other operating systems are inherently less stable than Apple's iOS platform."
So that is Score One in favor of Apple.
Then we have the story of Apple's user loyalty. As both an Apple and an Android user myself, I love a lot things about Apple, and I also love a lot of things about Android. When Apple removed Google Maps, I almost quit believing in Apple. I like that funny girl, Siri - but seriously, she isn't my type especially when it comes to guiding my lifestyle. Google Now being on Apple gives me all the more reason to stick with Apple. See? That is Score Two for Apple.
So, it is good for Apple if Google develops iOS apps. Maybe a few hundred million dollars of TAC money is lost out of Google Now's search box. But think of the billions of dollars that Apple saves by stopping long-term Apple users from moving to Google just because some apps were not available on the iOS. Now that they are freely made by Google and made available on iOS, they have fewer reasons to leave. That is more power to Apple.
Disclosure: I have no positions in any stocks mentioned, and no plans to initiate any positions within the next 72 hours.
Business relationship disclosure: StockRiters is a team of analysts. This article was written by Apoorva Soni, B.Tech, MBA - one of our analysts, and edited by Shas, StockRiters' Editor-in-Chief. We did not receive compensation for this article (other than from Seeking Alpha), and we have no business relationship with any company whose stock is mentioned in this article.