I'm a big fan of North American unconventional resource producers. There are several things that I like about these companies:
1) The companies developing these unconventional plays sit on huge amounts of oil in the ground. Even with current technologies, which have cracked the code on these plays only small amounts of the oil in the ground is recoverable. Over time I believe technology is going to allow for a lot more of that oil to be recovered which means the land these companies sit on is only going to increase in value.
2) There is no exploration risk being taken by these unconventional resource players. These companies know where the oil is and how to get it out. These companies are operating more like manufacturing companies than oil and gas explorers.
3) These companies operate in North America where (for the most part) the companies don't have to worry about the government expropriating assets or having facilities attacked.
I like the predictable nature of the business these unconventional producers are in and I like the long-term upside that sitting on all of that oil provides. But there is a reason though why we have only started to produce oil from these unconventional resource plays in recent years. These plays are characterized by wells that deplete quickly and are costly to drill and frack. It takes a high oil price to enable these plays to be developed profitably.
Without $80 to $100 per barrel oil these unconventional resources would still be left in the ground. Mostly gone are the days when oil companies explore for and produce oil profitably and make at $30 per barrel. There are however a few locations in the world left that have prolific, conventional, easy to access and cheap to produce oil still to be discovered.
The problem is that you have to go to some interesting places to find these underexplored regions that have yet to be discovered conventional oil reservoirs. In these underexplored areas the risks are much higher (political, exploration, security), but so are the rewards (big oil discoveries that are enormously profitable at today's oil price).
Here are a couple of opportunities.
Kenya -- Taipan Resources (OTC:TAIPF)

The chart above reminds me of a fish that got away. I watched a company called Africa Oil (OTCPK:AOIFF) for a long time without buying any shares and before I knew it the shares were off to the races and I was left behind. Shares of Africa Oil jumped from under $2 to almost $12 in a couple of months on news of success from the Ngamia-1 exploration well in Kenya.
The Lokichar Basin, where the Ngamia discovery was made, is similar in size to the 9,000 square kilometer Lake Albert Rift basin in Uganda. That similarity is a good thing for Africa Oil investors because the Lake Albert Rift or "Albertine" basin is estimated to hold 3. 5 billion barrels of oil reserves. That kind of share price jump is what can happen when a small company makes a big exploration discovery.
The continent of Africa is one of the last underexplored onshore opportunities for oil and gas companies. Kenya in particular is a new frontier for exploration. To date there have been 42 wells drilled in Kenya. That isn't 42 wells this year that is 42 wells as an all time total. Africa Oil is not going to be the only small company to make investors a lot of money through successful exploration drilling in Kenya. Taipan Resources is another small company that has put together a large high impact exploration land base in Kenya that it could not replicate elsewhere in the world.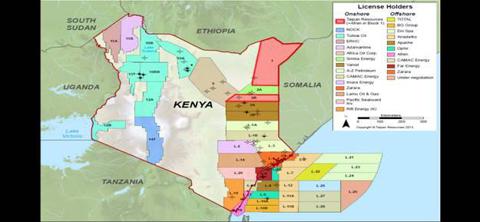 As can be seen from the map above, the Kenyan exploration blocks are quite large and split across an interesting variety of companies. Operating in Kenya are smaller companies like Taipan and Africa Oil as well as large players like Total (NYSE:TOT), Anadarko (NYSE:APC) and Apache (NYSE:APA). Taipan controls (or shares control) of almost 40,000 square kilometers in Kenyan Blocks 1 and 2B.
While Kenya and nearby countries have been underexplored, there have been some significant discoveries both in and around Kenya and Taipan's specific acreage.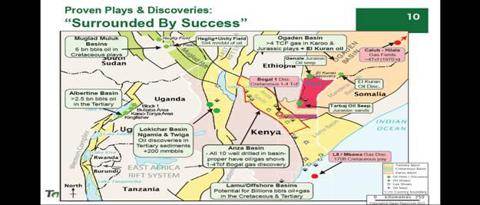 Some of the larger discoveries have direct relevance to Taipan's Block 2B.
Block 2B -- Anza Basin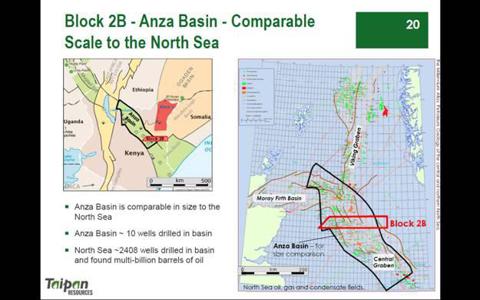 Of Taipan's two blocks, it is Block 2B that appears to have the most potential.
The Anza Basin is part of two proven, producing hydrocarbon trends:
The NE-SW opening, Cretaceous age, Central African Rift System (CAR) containing the Muglad/Melut basins (Sudan) where 6 billion barrels of oil have been found mainly in the Cretaceous lacustrine shales
The NW-SE opening, Tertiary age, East African Rift System (EAR) containing the Albertine & Lokichar basins where 2.5 billion barrels have been found from Tertiary shales.
Although hardly explored, billions of barrels of oil have already been discovered in the Anza Basin. And importantly for Taipan, the Anza Basin runs directly through Taipan's Block 2B. To get some perspective on how underexplored the Anza Basin is consider that it is comparable in size to the North Sea, but while the North Sea has had 2,408 wells drilled the Anza Basin has had 10. The most recent NI 51-101 compliant resource estimate on Taipan's Block 2B from Sproule International estimates an unrisked prospective resource of 387 million barrels.
Africa Oil's Block 9 is right next door to Block 2B and is where Marathon Oil (NYSE:MRO) has farmed-in for a 50% working interest. According to Africa Oil's most recent presentation these two companies will be drilling the Bahasi-1 well in 2013. Bahasi-1 is a well that will be closely watched as it has a best estimate of 320 million barrels and a high estimate of 656 million barrels and the results will be meaningful for the entire region.
New Seismic Data Release on Block 2B
Seismic data on Block 2B that Taipan released just this week has made some investors take notice as the size of the prospects on the Block appear to have increased.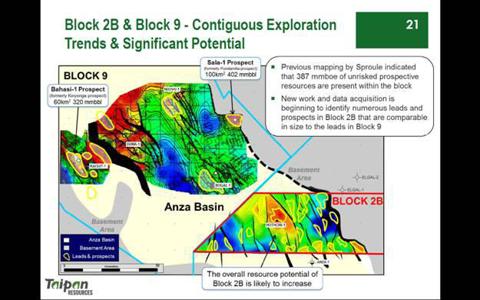 The new seismic showed more targets than Taipan had expected as well as larger targets. Taipan's block 2B now appears very similar to the "String of Pearls" play that includes the Twiga and Ngamia oil discoveries. This seismic data is likely going to increase Block 2B's prospective resource potential up from the 387 million barrels Sproule International assigned.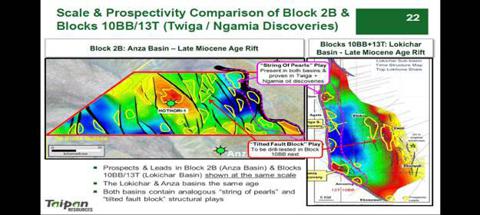 The stock market responded favorably to Taipan adding this seismic data to its monthly presentation. On the day it was released the stock price at one point was up almost 50% on the day before settling up half of that.
Block 1 -- Surrounded By Oil Seeps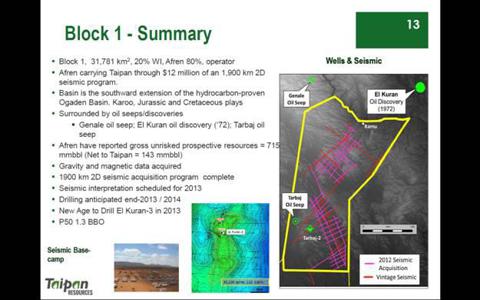 Taipan's second Kenyan property is Block 1, which is located on the western margin of the Mandera-Lugh basin in northeastern Kenya bordering both Somalia and Ethiopia. This block is connected to the Ogaden basin.
The Upper Triassic and Jurassic formations that have been identified are considered to be the primary zones of oil prospectivity. An oil seep close to the Tarbaj-1 well in the southwest corner of the block confirms the presence of hydrocarbons. Analogous data with the Ogaden basin also suggests there may be other potential source rocks and reservoirs.
On Block 1 Taipan is being carried through a $12 million 1,900 kilometer 2D seismic program by Afren PLC. Afren has reported 715 million gross unrisked prospective barrels of oil resource on this block, which would mean 143 million barrels net to Taipan. Drilling of an exploration well on this block is expected near the end of 2013 or early in 2014.
Catalysts for 2013
Over the long term, the success of Taipan is going to be determined by the results of its exploration wells. In the nearer term though there are two distinct and significant catalysts that could move the stock price significantly higher. The first catalyst is the potential for news of a farm-out that could be announced any time. Taipan is actively shopping its Block 2B for a partner.
Taipan's CEO described what Taipan is looking for in a farm-out late in 2012:
In September we commenced a farm-out process for Taipan's wholly-owned Block 2B. The aim is to bring in a partner that will be expected to add technical input to the work on the block in addition to carrying our costs through the exploration work program. We are currently engaged in various levels of discussion with a number of potential farm-in partners. We plan to farm-out up to 50% of our interest in the block.
The value of that farm-out deal alone is likely to be well in excess of Taipan's current market capitalization. The news of the farm-out should be a catalyst to move the stock price of Taipan both because of the dollar amount involved and the fact that it signals exploration drilling will soon commence.
The second catalyst is the Bahasi-1 well on Block 9 being drilled in 2013 right beside Taipan's block 2B by Africa Oil and Marathon. If that well is successful the market is going to become very interested in Taipan's Block 2B which is a continuation of the trend Bahasi-1 is on.
Kurdistan -- Gulf Keystone Petroleum (OTCQX:GUKYF)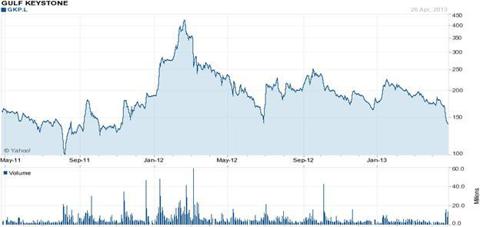 Five years ago Gulf Keystone Petroleum was where Taipan is today. A company with huge potential, but with the likelihood of success completely unknown. Gulf Keystone opportunistically acquired a desirable land position in the underexplored Kurdistan region of Northern Iraq shortly after the end of the Iraq war.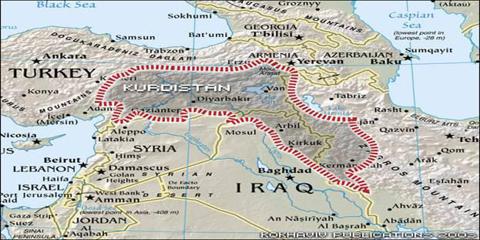 Gulf Keystone Petroleum has interests in four main oil licenses in Kurdistan:
Shaikan - 51% ownership
Sheikh Adi - 80% ownership
Ber Bahr - 40%
Akri-Bijeel - 13%
In April 2009 Gulf Keystone spud its first exploration well Shaikan-1. Shortly thereafter in August of 2009 the company announced that it had a major discovery. Gulf Keystone followed that up with oil discoveries at Akri-Bijeel in March 2010 and Sheikh Adi in late 2010. All of those discoveries are big, but Shaikan particularly so.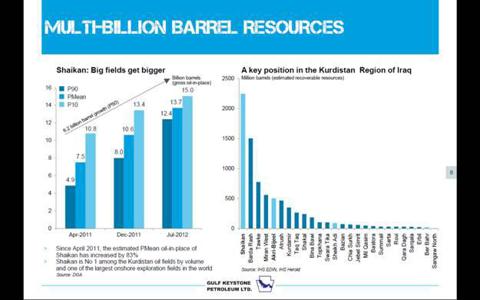 Originally estimated in April 2011 to hold between 4.9 billion and 10.8 billion barrels of oil, Shaikan is now believed to hold 12.4 billion and 15 billion barrels. Shaikan is a world class discovery. GKP owns 51% of Shaikan, which at the middle of the 12.4 billion to 15 billion barrel range means that GKP controls 50% of 13.7 billion barrels (6.85 billion barrels) in the Shaikan field.
The general consensus amongst analysts is that 20% to 35% of this oil can be recovered. Using the middle of that recoverable amount range of 20% to 35% would mean that 27.5% of GKP's 6.85 billion barrels of oil in place can be recovered. That would equal 27.5% x 6.85 billion = 1.88 billion barrels. Incredible for a company only a few years old.
What Might That Oil Be Worth?
A barrel of conventional easy to extract oil onshore like this Shaikan discovery is obviously much more valuable than oil that is under miles of ocean. It costs a fraction of the amount to drill the wells and produce the oil. But a barrel onshore in North America would be more valuable than a similar barrel of oil in Kurdistan given the political and security risks involved.
The economics of the Shaikan discovery should be exceptional with lifting costs estimated to be as low as $3 per barrel. This is the type of oil discovery that has for years made Saudi Arabia the lowest cost per barrel oil producer in the world. To be conservative and account for the heightened political risk of operating in Kurdistan perhaps an assumption of $20 per barrel would be appropriate for valuing this oil.
1.88 billion barrels of recoverable oil at $20 per barrel suggests the Shaikan discovery could be worth $37 billion to Gulf Keystone. That is about 10 times the current market capitalization implied by the Gulf Keystone share price.
Other Properties
The estimate above includes only the Shaikan property. GKP also has:
80% Ownership of Sheikh Adi which has an estimated (by third party) of 1 billion to 3 billion barrels of oil in place
40% Ownership of Ber Bahr where the operator estimates 1.5 billion barrels of oil in place
13% Ownership of Akri-Bijeel where the operator estimates 2.4 billion barrels of oil in place
I think it's quite possible that these other properties could be worth more than the current enterprise value of Gulf Keystone. It is hard to believe that the Sheikh Adi field with 1 to 3 billion barrels of oil in place is not Gulf Keystone's main prize.
Exxon (NYSE:XOM) -- Becoming a Player in Kurdistan
In a fairly high profile fashion Exxon Mobil has decided to enter the Kurdistan region of Northern Iraq. What makes the move controversial is that the Iraqi Government does not recognize Kurdistan's authority to award oil and gas concessions and will not allow Exxon to operate both in Kurdistan and in southern Iraq where it already is in business. That seems to be fine with Exxon, which has indicated a desire to sell its interest in the West Qurna-1 field in southern Iraq to focus exploration of Kurdistan blocks.
What Exxon's entry into Kurdistan may also do is set Gulf Keystone up for being a natural acquisition target. Such a transaction has been rumored in the past and would make a lot of sense if Exxon is aggressively moving into Kurdistan. Acquiring Gulf Keystone's assets would give Exxon large discovered properties to go along with its pure exploration blocks.
Big Risk and Big Reward
Gulf Keystone has already discovered a significant amount of oil while Taipan Resources is still a pure exploration company with no discoveries. Both companies have potential for multi-bagger returns from current share prices, but both companies carry high levels of risk. Gulf Keystone because of the unstable political environment in Iraq and Taipan because of the win big, lose big nature of exploration drilling. Please keep this heightened level of risk in mind when looking at these companies as investment opportunities.
Disclosure: I have no positions in any stocks mentioned, and no plans to initiate any positions within the next 72 hours. I wrote this article myself, and it expresses my own opinions. I am not receiving compensation for it (other than from Seeking Alpha). I have no business relationship with any company whose stock is mentioned in this article.