The telecom sector is on fire. As the quintessential 'widows and orphans' stocks the companies have been the go-to sector for defensive equity seekers as the market has risen almost 20% since mid-November. Since then, there have been two big news events. First, valuations on the sector's bellwethers - AT&T (NYSE:T) and Verizon (NYSE:VZ) - have gotten frothy as the stocks' rise in recent months pushes valuations at or beyond the upper end of the historical range. The second monkey wrench into the bull story for telecom was the surprising 25% cut in the dividend of CenturyLink (NYSE:CTL) back in March. This was an unexpected development that suddenly cast wary eyes on the other high-yielders, Windstream (NASDAQ:WIN) and Frontier Communications (NYSE:FTR).
The sector has attracted a lot of money into those five names. You have two blue-chips (VZ, T), two speculative high yielders (WIN, FTR), and one 'tweener' that is not quite in the risk or high-yield category but not as safe as the old Ma Bell spin-offs. Are the stocks safe? Are their dividends safe? Are the stocks still a buy? What are the downside risks?
After the big run-up in recent quarters, let's do a rundown of the various key metrics and valuation measures for the five largest telecom stocks and see where they stand:
Recent Stock Performance: Both Verizon and AT&T have sucked in the money in the last few months, resulting in a spike in their valuations as their stocks have gained tremendously since early-2012: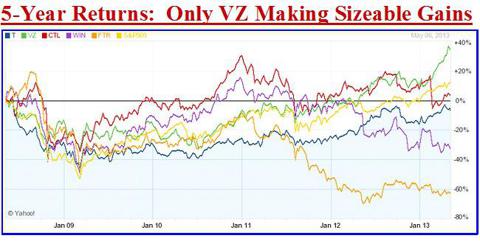 Even though it is still down on a five-year basis, AT&T has, like Verizon, made a strong move in recent quarters. Frontier, Windstream and CenturyLink have all lagged big time. Verizon has even managed to eclipse its 2007 peak P/E as it has become the default telecom stock for dividend-seekers and speculation rises regarding a potential acquisition of Verizon Wireless: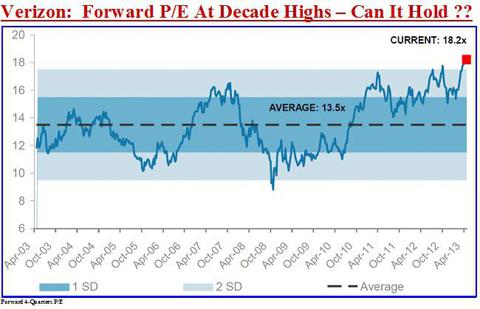 The S&P Telecom sector is only up about 45% since the March 2009 bottom in the overall market, second-worst behind only the utility sector (the S&P 500 is up over 140% since the lows). However, that relative performance has turned in recent quarters to make Telecom among the best performing in the group, led by the performance of the two RBOCs (Regional Bell Operating Companies), AT&T and Verizon.
You can see how Telecom has done in the last year as the hunt for yield and dividend-paying stocks intensified and the market underwent two corrections (June 2012, November 2012). As the market has been on a tear through Q1, telecom lagged but over the 12-month period through March 2013 it was the leading sector: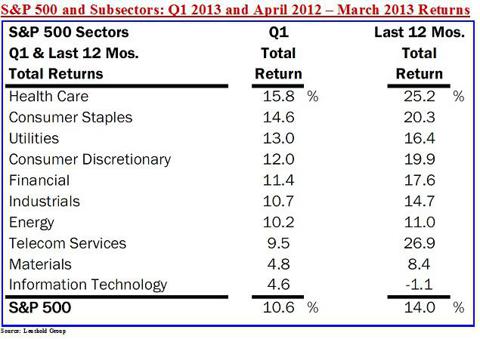 P/E & EV/EBITDA Ratios: As we see with Verizon (above), sector P/Es are elevated. Verizon, even with a recent pullback, is at 16x 2014 EPS. AT&T is at 13.7x, CTL at 13.8x, WIN at 16.4x, and FTR at 18.6x. Valuations are stretched for the entire sector: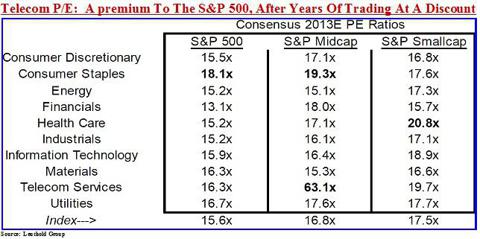 A bifurcation is evident: the two RBOCs (T, VZ) have seen their P/E ratios rise because of price appreciation from fund flows into the stocks. Many names in the small- and mid-cap sector have risen because of hopes for M&A acquisition. But CTL, WIN and FTR have been unable to reduce their P/E ratios because EPS growth has stagnated, offsetting flat or falling stock prices. Verizon and AT&T have seen some EPS growth because of wireless components, but the three smaller telecoms are under more intense pressure without wireless and with large CAPX on various fiber initiatives to stem traditional land line losses.
If you use Enterprise Value (market capitalization + net debt) to EBITDA as the valuation metric, you still find the two Baby Bells pricier at over 7x EV/EBITDA (7.3x for T, 7.6x for VZ on 2014 numbers). The three smaller telecoms are all in the mid-to-lower 6s: 6.5x for CTL, 6.2x for FTR, and 6.1x for WIN. The higher valuation for the two RBOCs is because of their perceived safety relative to other telecom stocks as well as stocks in general. But those risks may be understated (see below).
Keep in mind that traditionally 'cheap' sectors like telecom are looking relatively more expensive to the S&P 500 because the overall market's P/E has compressed as many mega-cap and technology stocks no longer have the P/Es they once had five to seven years ago, let alone from the Technology/Internet bubble peak of 2000.
Debt Levels: The 2008-09 Crisis remains strong in the minds of investors - and corporations. The telecom sector is no different, with debt levels and debt-servicing ability being paramount for analysts and senior management.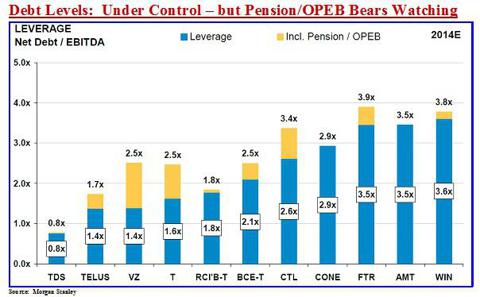 Verizon and AT&T average 1.5x debt/EBITDA but the figures jump to 2.5x when you include the underfunded pensions and OPEB (Other Post-Employment Benefits) obligations. With the Pension Protection Act mandating minimum contributions, unless the stock market continues to do well and/or unless interest rates rise (reducing the value of future liabilities and helping with bond investment yields), the telecoms will be forced to make real contributions to their pension and OPEB accounts, not engaging in accounting gimmicks. That does not even take into account possible reductions in assumed rates of return (necessitating higher contributions and cash expense), which for most U.S. companies have been far too high. If Verizon is going to acquire the 45% share of VZ Wireless that it does not own from Vodafone (NASDAQ:VOD), that added debt burden alone could stress the balance sheet even further, leading to a debt downgrade and possibly a dividend cut.
CenturyLink (2.6x debt/EBITDA, 3.4x with pension/OPEB) and FTR/WIN (approximately 3.5x debt/EBITDA, 3.8x with pension/OPEB) are even more elevated. With CenturyLink recently saying that the new debt/EBITA target was being raised from 2.0-2.5x up to 3.0x, that would imply almost 4x debt/EBITDA with pension/OPEB - leaving little wiggle room in any financial or business downturn. FTR and WIN do not have any leeway as they are already close to the 4x debt/EBITDA redline and have less financial capacity. Frontier's 10-year debt is already trading at 490 bp. above Treasury levels, when a BB- rated company should be closer to 350-375 bp. FTR is being priced as if it were a B credit, and so is Windstream. The good news for both companies is they have low levels of debt maturing in 2013-15. WIN has $800 million in 2013, which it has provisioned for, and nothing in 2014 and 2015. Frontier has zero maturities this year and only about $275 million in the next two years. So the companies have time to generate cash and accelerate revenue and EBITDA growth, if their business models will generate it.
OPEBs do not have to be funded by law so to consider their debt like a pension obligation is not quite legally or financially correct. They do not have the full backing of ERISA so whether they are fully paid or renegotiated when due is still being sorted out by each company and sometimes by the courts. But in 2013, Verizon plans on contributing $1.3 billion to OPEB underfunding and that is real money not available for the dividend, CAPX, or debt reduction. With a less unionized workforce, FTR and WIN are in better shape in handling pensions/OPEBs than the legacy land line businesses of VZ, T and CTL.
Dividend Coverage: This has become the main battleground surrounding the companies. AT&T has increased its dividend 28 consecutive years and Verizon has done so six consecutive years. But CenturyLink cut its dividend 25% earlier this year and Frontier has reduced its dividend 60% in two steps since the 2008-09 Credit Crisis. Windstream? It is only THE battleground between the immovable object - a management that has prioritized the dividend in word and deed - and the irresistible force, a rising payout ratio and high debt levels both crossing into the red-line danger zone.
The continued acceleration of depreciation as a result of the recent budget compromise minimizes some cash outlays in 2013. But how long these benefits keep free cash flow payout ratios down is a political and accounting guess. Right now, Verizon/AT&T/Windstream are all at or near the 80% payout ratio for their 2014 dividend based on the forecast for earnings and cash flows: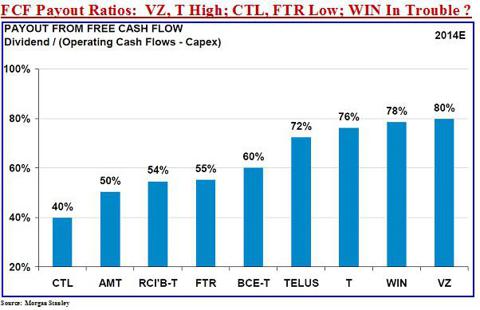 As a result of their dividend cuts, Frontier and CenturyLink have much greater flexibility at 55% and 40% payout ratios, approximately. Both numbers go up post-2015, with CTL seeing its payout ratio jump closer to 60% if various NOLs and tax benefits expire in the next 18 months as expected.
WIN's near-80% payout ratio combined with the elevated leverage is what has caused such a fierce debate regarding the sustainability of the dividend. At a 12% yield, it is double that of CTL and some 700 bp. over the sector average. From a competitive perspective, WIN could trim the dividend and still be King Of The Mountain yield-wise while conserving a few hundred million extra in cash for debt repayment, necessary CAPX, etc. The stock seems to be discounting such a cut, though some shareholders disagree. WIN management has said the dividend is safe. The market is saying it is not. Let the battle begin!
As for Verizon and AT&T, their nominal financial strength as evidenced by their lower leverage levels is why the market has allowed their dividend yields to price much lower despite a similar payout ratio to WIN. The market gets skittish at 80% payout ratios (the number CTL would have been at in 2015 without its recent adjustment) and prefers a payout of 60% or less. Expect VZ and T to slow or defer dividend increases, unless they pursue a transformative deal (see below).
Revenue & EBITDA Growth: This is the crux of the debate. Traditional land-line revenues are under pressure, so wireless and fiber initiatives requiring large CAPX requirements are needed. But this pressures free cash flow. The ability to grow fiber and wireless revenues - and minimize land-line revenue losses - is key to conserving cash and preserving dividend and debt flexibility. Because of their substantial growing wireless divisions, AT&T and Verizon have been able to stave off land-line losses and fund their U-verse and FiOS fiber initiatives. CenturyLink continues to bleed land-line losses, but the trend has definitely been moving in the right direction: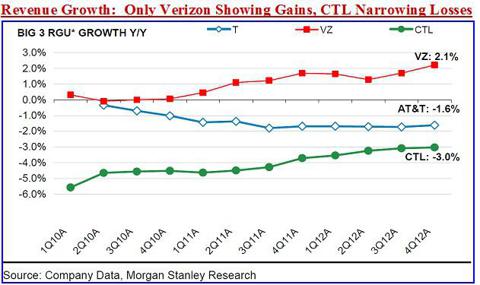 WIN is showing revenue losses close to AT&T's and CTL's (low single-digit) while Frontier is the most heavily exposed to land line and has been seeing mid-single-digit losses. The numbers below approximate the consensus estimates for revenue and EBITDA growth (or losses) from 2012-15: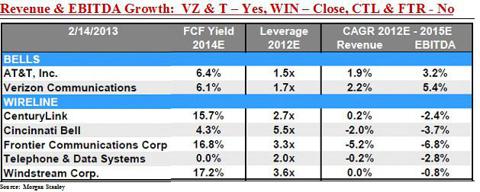 CTL, FTR and WIN are in a difficult predicament. Without any wireless or legacy fiber businesses, they have had to spend precious CAPX funds to get critical mass in those areas to stave off the land-line decline. CenturyLink is seeing low-single-digit declines in revenue, though the trend has been going in the right direction (see above). Windstream is less-exposed to the land-line business but does face numerous competitive threats. The difficulty in predicting the future and in operating in the highly-competitive telecom arena is shown by the experience of Frontier. At the time of the Verizon wire-line acquisition, FTR management was estimating pro forma net leverage of 2.2x by 2012-13. In the nearly four years that have passed, $1.2 billion in EBITDA has eroded and net leverage is almost 1x higher than projections made at that time of the deal.
Spending on fiber CAPX has helped win video share, but more money may need to be spent to be competitive with cable's more robust internet speeds. Cable has been winning the battle quite easily in recent quarters in the important 'net-adds' metric: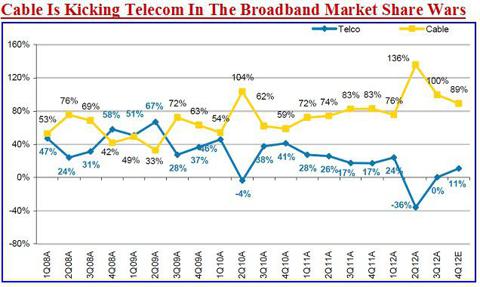 M&A Risk: Always a possibility, though with stock prices depressed from years ago for four of the five names it is not as big a risk as in the last decade. CTL was rumored to be looking at telecom fiber assets last year, but that was before its stock price fell. FTR and WIN are still trying to make previous deals work: FTR the Verizon wire-line assets, WIN the PAETEC deal. Frontier's acquisition of the Verizon land-line assets in 2009 has missed badly on both revenue and EBITDA forecasts made at that time, a warning shot for future deals. With traditional land line under assault from wireless, and cable and broadband revenues potentially facing a similar threat from consumers who 'cut the cord,' being tethered to wire is not the steady, high-margin business today it was years ago.
Cable and cellular are no longer rounding errors as more and more homes rely on one or the other or sometimes both as substitutes for traditional wired phone service. Land line can't provide the stable revenue or cash flows it could years ago. If a deal is not EBITDA accretive within 18 months, the three smaller telecoms are likely looking only at smaller 'tuck-in' acquisitions to fill specific strategic needs rather than larger or transformative M&A deals.
There is one major potential pothole in the sector. If Verizon agrees to buy out the 45% of VZ Wireless that it does not own, that could severely pressure its cash flows going forward as cash taxes would rise and total debt would skyrocket. A $100-$140 billion price tag for VZ Wireless, 50% funded by debt, would mean $4-$5 billion in additional annual interest expense. In addition, the elimination of the VZ Wireless partnership structure would result in additional cash taxes as various tax shields are no longer used. Nominal debt/EBITDA for Verizon could rise to 2.5x, meaning the figure with pension/OPEB liabilities could approximate FTR/WIN levels. Throw in equity dilution to fund the deal and a likely ratings downgrade and you could have a very messy situation. A dividend cut should NOT be ruled out in that circumstance.
Conclusions: With the exception of the recent spike-up in VZ, the remaining telecom stocks are not excessively valued despite the search for dividend income. CenturyLink and AT&T have safe dividends the next few years, and Frontier is not far behind. Windstream says it is prioritizing its dividend but it may be a win-win situation for shareholders: if it holds the dividend, great; if it cuts it, the stock might not react badly since the market is pricing in 70% chance of a dividend cut.
Debt levels are high for Windstream and Frontier, but they have either time or dividend flexibility for a few years to generate cash to either pay down debt or grow revenues and cash flow. CenturyLink acted quickly to avoid the 2015 cash-taxes wall and has the lowest dividend payout among the group while it waits for the Savvis cloud computing division and Prism TV fiber initiative to try and offset traditional land-line losses. Verizon is in the best shape of any of the telecoms thanks to VZ Wireless, but that could also be what proves to be its financial thicket.
Best Bets: CenturyLink already took its medicine and yields 5.8%; the dividend is well-covered and there should be no operational or free cash flow surprises out through 2015. AT&T has a terrific legacy and brand value and the dividend has not been cut since the AT&T breakup of 1984. Verizon has dividend questions if something is done with VZ Wireless and the yield is already a group-low 3.9%. But the business model and revenue/EBITDA trends are best-in-class so any hiccup should be short term.
Frontier (9.9% yield) and Windstream (12% yield) are both saying something with their yields. For Frontier, the rising yield is implying risk beyond 2015 even though near-term the payout ratio is under control. Windstream's business model is less susceptible to competition and debt is under control the next few years, but the payout ratio is already elevated. They say the bond market is smarter than the stock market and if that is the case the bond market is telling both companies to quit trying to unnecessarily appease stockholders with 800-1,000 bp. spreads to Treasuries or yields double or triple that of the peer group leaders in an environment of super-low yields. If this was 1982 or 1991 with a decade of growth and economic tranquility ahead, then the companies would surely win their dividend bets. But the bond market today is telling them 'don't risk it.'
Ultimately, company executives will do what is best for both the shareholders and themselves. If the balance sheet gets too laden with debt a company can go Chapter 11 - end of the stock, end of management. And surviving on the terms that Sirius XM Satellite was forced to give Liberty Media in the depths of the 2009 meltdown is also not particularly appealing. The debt markets are wide open right now with low yields. All of the companies have refinanced debt and/or pushed out maturities. Right-sizing the balance sheet for their level of debt is the next order of business for Frontier and Windstream.
Because if you get that wrong, there is no business.
Disclosure: I am long CTL. I wrote this article myself, and it expresses my own opinions. I am not receiving compensation for it (other than from Seeking Alpha). I have no business relationship with any company whose stock is mentioned in this article.
Additional disclosure: The author is long CTL in managed accounts under his control.