By: Brendan Gilmartin, VP Research And Content
Priceline.com (PCLN) is scheduled to report 1Q 2013 earnings after the close of trading on Thursday, May 9, with a conference call to follow at 4:30 p.m. EST. Priceline shares are near all-time highs headed into the report, benefiting from stabilization in Europe, expansion in Asia, and growth in the North American market. With the shares recently hurdling back above the 700-level, the market is pricing in a solid quarter. Anything less could be seen as a major disappointment.

Outliers And Strategy
Priceline previously indicated it sees Non-GAAP EPS in the range of $4.90 to $5.30 per share for the 1Q 2013 period. The current consensus is at the high end of that range at $5.27 (high estimate on the Street is $5.50).
Priceline also indicated it expects 1Q 2013 revenue to increase 17% to 24% year over year ($1.0 bln). That would equate to about $1.17 bln to $1.24 bln. The Street estimate is $1.28 bln.
Adjusted EPS Guidance (2Q 2013): The forward outlook is critical for Priceline. The consensus is $9.58. (Yahoo Finance)
Given the recent run-up in Priceline shares, look for Non-GAAP EPS and revenues to come in toward the high end of forecasts. Also note that guidance typically drives the price action in the shares after the results are released.
Apart from the traditional financial measures, keep an eye on Gross Travel Bookings. The estimate is $9.055 bln. (Zacks)
Sympathy Plays: Expedia (NASDAQ:EXPE), Travelzoo (NASDAQ:TZOO), TripAdvisor Inc. (TRIP), And Orbitz Worldwide (NYSE:OWW).
Recent News
04/15: According to a report in Barron's, Priceline shares could come under pressure in response to increasing competition. The publication also highlights increased risks associated with expansion plans into Latin America and Asia. If earnings growth were to begin decelerating, Barron's contends Priceline shares could drop 20% or more.
04/11: Booking.com (Priceline's European affiliate) reported total transaction value of mobile hotel bookings tripled from $1 billion in 2011 to over $3 billion in 2012.
04/02: Deutsche Bank maintained a Neutral rating on Priceline, due in part to increased competition, according to a post on StreetInsider.com. Other risks include the cost of desktop search and the threat of Google advancing its Hotel Finder product.
Technical Review
Priceline.com shares recently rallied back above the $700-level to within earshot of the all-time peak of $745.24 established on April 12. Should earnings or forward guidance disappoint, look for initial support near $720.00, with downside risk to $710.00 (nearly coinciding with the 20-Day SMA), $700.00, and $690. Conversely, there is initial resistance at the aforementioned $745-level, with plenty of upside on a strong release. (Chart courtesy of StockCharts.com)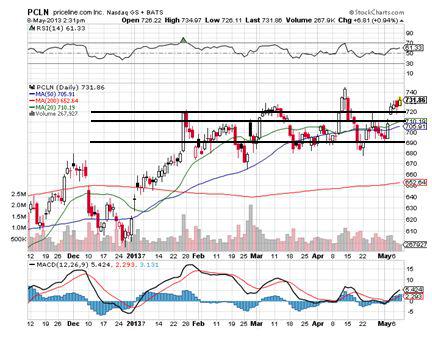 Summary
Priceline.com shares are up more than 16.8% YTD and fetching 26.2x trailing earnings in advance of the 1Q 2013 release after the close on Thursday. Bulls are quick to argue that Priceline dominates the online travel market, particularly on the international scene with a dominant foothold in Europe via Booking.com, along with assets in Asia. The recent lift in the share price is also attributable to the underlying pickup in the global economy. Despite this favorable backdrop, however, Priceline is facing increased competition, both domestic and abroad, along with rising marketing and customer acquisition costs. With that said, the bar is set pretty high ahead of the 1Q earnings release, leaving Priceline vulnerable to even the slightest missteps.
DISCLAIMER: By using this report, you acknowledge that Selerity, Inc. is in no way liable for losses or gains arising out of commentary, analysis, and or data in this report. Your investment decisions and recommendations are made entirely at your discretion. Selerity does not own securities in companies that they write about, is not an investment adviser, and the content contained herein is not an endorsement to buy or sell any securities. No content published as part of this report constitutes a recommendation that any particular investment, security, portfolio of securities, transaction or investment strategy is suitable for any specific person.
Disclosure: I have no positions in any stocks mentioned, and no plans to initiate any positions within the next 72 hours. I wrote this article myself, and it expresses my own opinions. I am not receiving compensation for it (other than from Seeking Alpha). I have no business relationship with any company whose stock is mentioned in this article.