ETF Spotlight on the iShares Dow Jones U.S. Technology Sector Index Fund (NYSEARCA:IYW), part of an ongoing series.
Assets: $1.87 billion.
Objective: The iShares Dow Jones U.S. Technology Sector Index Fund tries to reflect the performance of the Dow Jones U.S. Technology Index, which tracks the U.S. tech sector, including areas like software, computer services, technology hardware and equipment.
Holdings: Apple (NASDAQ:AAPL) 16.9%, Microsoft (NASDAQ:MSFT) 9.9%, Google (NASDAQ:GOOG) 8.8%, International Business Machines (NYSE:IBM) 8.6% and Oracle (NYSE:ORCL) 5.1%.
What You Should Know
BlackRock's iShares sponsors the fund.
IYW has a 0.46% expense ratio.
The fund has 136 holdings and the top ten make up 67.2% of the overall portfolio.
The ETF has a 1.04% 12-month yield.
Sub-sector allocations include Technology Hardware & Equipment 51.8%, Software & Computer services 48.0%.
IYW is up 1.8% over the past month, up 2.5% over the last three months and up 4.9% year-to-date.
The fund is 3.8% above its 200-day exponential moving average.
"IYW has a very high-quality portfolio-wide-moat and narrow-moat firms account for about 49% and 39% of the portfolio, respectively. In other words, Morningstar's equity analysts believe that about 88% of the assets that comprise this portfolio are invested in companies with sustainable competitive advantages," according to Morningstar analyst Robert Goldsborough.
The Latest News
Tech companies are trading at cheap valuations compared to non-cyclical sector stocks as investors piled into dividend-yielding utilities and consumer staples.
"You have these tech companies that have double-digit earnings growth, no debt, huge cash balances and they're trading at 12 times forward earnings, while you have a utility in Ohio at 16 times earnings," James Swanson, chief investment strategist at MFS Investment Management, said in a Wall Street Journal article. "If you don't think there's a recession coming, how far do you go with this game?"
Nevertheless, tech firms are also jumping on the dividend train as more start giving back to shareholders from their copious cash hoards.
iShares Dow Jones U.S. Technology Sector Index Fund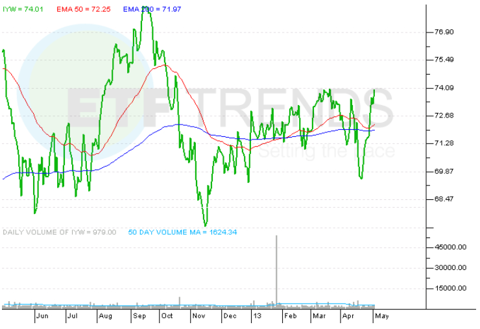 Max Chen contributed to this article.
Disclosure: I have no positions in any stocks mentioned, and no plans to initiate any positions within the next 72 hours. I wrote this article myself, and it expresses my own opinions. I am not receiving compensation for it. I have no business relationship with any company whose stock is mentioned in this article.