Most dividend stocks and exchange traded funds have either kept pace with or slightly lagged behind the broader market, while enticing investors with generous yields. The iShares Dow Jones Select Dividend ETF (NYSEARCA:DVY), on the other hand, has been outperforming the S&P 500.
DVY is up 15.8% year-to-date, 20.7% over the past year and an average 5.5% in the last five years. In comparison, the S&P 500 Index has gained 14.0% so far this year, 18.7% in the last year and an average 5.0% over the past five years.
Along with its outperformance, DVY sports a decent 3.4% 12-month yield.
The iShares Dow Jones Select ETF tries to reflect the performance of the Dow Jones U.S. Select Dividend Index, which is comprised of the highest-yielding stocks in the Dow Jones U.S. Index but have also passed a rigorous screen, including a current dividend per-share ratio greater than or equal to its five-year average, a five-year average payout ratio of 60%, dividends need to be paid each year over the past five years and an average 200,000 shares traded per day.
"To reduce the risk of dividend cuts, this fund excludes firms with current dividend/share ratios lower than their five-year average and firms that have paid out more than 60% of their earnings over the past five years," according to Morningstar analyst Michael Rawson. "Five years is roughly the length of a typical business cycle, so the fund can pile into industries and companies that have ridden high on a cyclical upswing, only to come crashing down on the downswing."
DVY comes with a "deeper contrarian tilt than many of the other dividend funds out there," Rawson added.
The fund's sector allocations make it a little more vulnerable to business cycles. Sector allocations include utilities 31.0%, consumer goods 16.7%, industrials 14.8%, financials 10.7%, basic materials 5.8%, consumer services 5.3%, oil & gas 4.9%, technology 3.2% and telecom 2.5%.
The ETF has a spread out mix of 101 holdings, and the top stock components include Lorillard 3.6%, Lockheed Martin 2.8%, Chevron 2.2%, Entergy 2.0% and Kimberly Clark 2.0%.
Looking at the top holdings, Jeff Stouffer for The Motley Fool points out that Lorillard has implemented a $500 million share-repurchase program.Lockheed has been known for its historical dividend rates paid, but the recent sequestration cuts on defense spending could put a dent on income. Chevron has experienced robust dividend growth rates over the past five years.
iShares Dow Jones Select Dividend ETF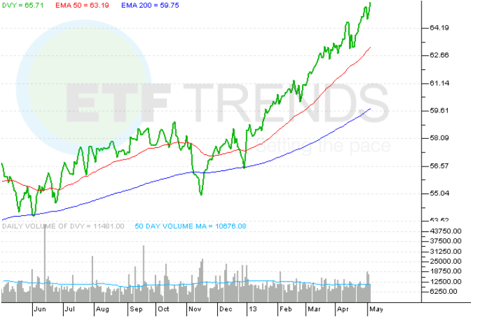 Max Chen contributed to this article.
Full disclosure: Tom Lydon's clients own DVY.
Disclosure: I am long DVY. I wrote this article myself, and it expresses my own opinions. I am not receiving compensation for it. I have no business relationship with any company whose stock is mentioned in this article.