Many investors have exposure to Europe though ETFs, either as a basket crossing country borders or country specific. The most popular ETFs are listed below:
Top 3 Regional European ETFs:
Top 3 Country-Specific European ETFs:
iShares MSCI Germany Index Fund (EWG)
iShares MSCI Switzerland Index Fund (EWL)
iShares MSCI France Index Fund (EWQ)
It may be time for those who have no or little exposure to consider taking a position in the European markets. However, it should be done with a longer term vantage point in mind. While Europe has more than its share of problems with a recession, a banking crisis and country-specific fiscal issues, the European stock market has vastly underperformed the US as shown by the chart below. The 5-yr chart is a price-only comparison of the S&P 500 (NYSEARCA:SPY), IEV and FEZ: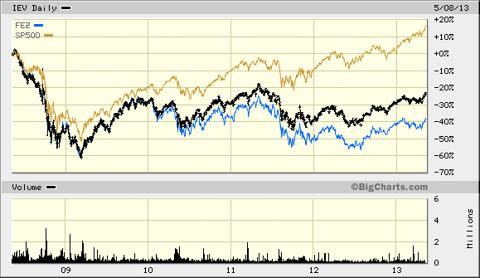 As shown, the S&P 500 is up just shy of 20% while the two European ETFs are down more than 20% and about 40%, respectively.
To a value investor, this relative underperformance could perk one's interest.
An alternative to these ETFs could be investing in investment holding companies managed by some of the oldest, wealthiest families in Europe. The investment theory is much like investing with Warren Buffet as these families have built substantial holdings in some of Europe's most influential companies. The main difference is Berkshire Hathaway (NYSE:BRK.A) (NYSE:BRK.B) also owns many mid-cap companies outright and these families usually own a partial, but substantial, share in publicly traded companies.
The first is the Wallenberg family in Stockholm, Sweden. They run the holding company Investors AB (OTCPK:IVSBF). The second is the Frere family in Brussels that manages Groupe Bruxelles Lambert (OTCPK:GBLBF). Both of these stocks have US listed ADRs. However, while they have substantial market capitalizations in Europe of $23.0 billion and $10.5 billion, respectively, these companies are relatively unknown outside of Europe. Note the conversion rate used is 6.5 Swedish Krona = $1.00 USD and 1.3 Euro = $1.00 USD.
The Wallenberg family has managed Investor AB for almost 100 years while the Frere family has a bit shorter history of running GBL for just shy of 60 years. Both have a rich history. Details on the history of Investors AB can be found here and an in-depth description of Investors AB from Bloomberg.com here. GBL is a bit more secretive as to its history and does not list events on its website. A detail description from Bloomberg.com is found here. Suffice to say, GBL has some interesting connections with French bank BNP Paribas (OTCQX:BNPQY) and Swiss holding company Pargesa Holdings (OTCPK:PRGAF) as owner of 50% of outstanding shares.
As a holding company, both Investors AB and GBL have substantial investments in various European firms, most of which have a global reach in their respective businesses.
Investors AB list their publicly traded holdings as follows:
Company

% Outstanding Shares

% of Company Assets

Year Invested

Atlas Copco

17%

18%

1916

SEB

21%

13%

1916

ABB

8%

12%

1925

AstraZeneca

4%

8%

1924

Ericsson

5%

6%

1950

Electrolux

16%

4%

1956

Wartsila

9%

2%

2012

Saab

30%

2%

1934

Sobi

30%

2%

2009

Husqvarna

17%

2%

2006

NASDAQ OMX

12%

2%

2011

Subsidiaries/Financial Investments

Mölnlycke Health Care

98%

8%

2007

Aleris

98%

2%

2008

Grand Hotel

100%

na

1968

Vectura

100%

na

2012

EQT

6%

6%

1995

Investors Growth Capital

100%

5%

1995
Groupe Bruxelles Lambert lists the following traded investments on its website:
| | | |
| --- | --- | --- |
| Company | % Outstanding Shares | % of Company Assets |
| Total | 4% | 26% |
| GDF Suez | 5% | 13% |
| LaFarge | 21% | 23% |
| Pernod Ricard | 8% | 14% |
| Imerys | 58% | 16% |
| Suez Environmental | 7% | 3% |
As is shown, Investors AB has more privately held assets than GBL. This makes creating a book value for Investors AB a bit more difficult.
According to Bloomberg, Investors AB is currently trading at a discount to book value, or NAV, of 21% while GBL is trading at a discount to book value of 24%. Investors AB offers a current yield of 3.5% and a dividend growth rate of 8.0%. GBL has a current yield of 4.5% and a 5-year dividend growth rate of 4.5%.
As with all foreign dividends, it is important for investors to appreciate the impact of withholding taxes on dividends paid. The Netherlands deducts 25% of the cash dividend for taxes while Sweden holds back 30%. If shares are held in a US taxable account, these taxes are offset as a credit when filing personal income taxes, but there is no corresponding offset if the shares are held in a tax-advantaged account such as an IRA.
Investors' annual report video can be uploaded here and GBL's 2012 annual report n is found here (pdf).
Below is a 5-year chart comparing IEV with the US ADR IVSBF.PK and GBLBF.PK.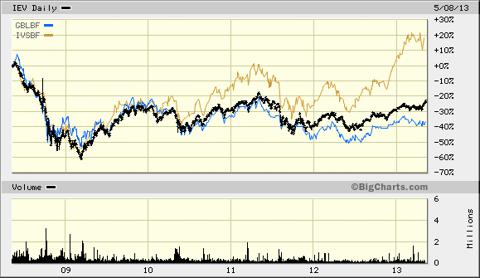 Both of these ADRs trade very few shares a day and the lack of liquidity on US exchanges may concern some investors. It would be preferable for investors who have brokerage accounts that can access foreign exchanges to buy and sell on their respective home exchanges due to increased liquidity.
Investors looking to expand their horizons to Europe should consider these investment holding companies as an alternative to the usual and popular ETFs. What should be intriguing for investors in Europe is the hefty discount to NAV offered by each. However, keep in mind these two historically trade at a discount.
Author's Note: Please review important disclaimer in author's profile.
Disclosure: I am long OTCPK:GBLBF, OTCPK:PRGAF. I wrote this article myself, and it expresses my own opinions. I am not receiving compensation for it (other than from Seeking Alpha). I have no business relationship with any company whose stock is mentioned in this article.