As competition forces changes in newspapers' revenue model, the industry will need to transform its cost structure to reduce the fixed costs associated with print-centered distribution, or default risk will grow, according to Moody's.
"Currently, a structural disconnect exists in the newspaper industry's cost structure," Moody's says. "Just 14% of cash operating costs, on average, are devoted to content creation — the primary value creation activity — while about 70% of costs support the print distribution model and corporate functions. The remaining 16% of cash operating costs relate to advertising sales — another critical task that drives the majority of newspapers' revenue. The overall imbalance limits the industry's flexibility to overcome competitive threats."
Most newspaper companies have moved only slowly away from in-house print production and distribution, said Moody's. Thus, high operating leverage for the industry remains, and is creating intense pressure on cash flow as revenue declines.
Our outlook on the newspaper industry's credit fundamentals remains negative, based on our expectation that advertising revenue will drop upwards of 25% in 2009, before a slow economic recovery sets in next year.

Even so, we expect ad-revenue will decline about 10% in 2010, and that the major ad categories—such as classified and retail ads—won't fully recover to pre-recession levels, dealing a blow to the industry's long-term profitability.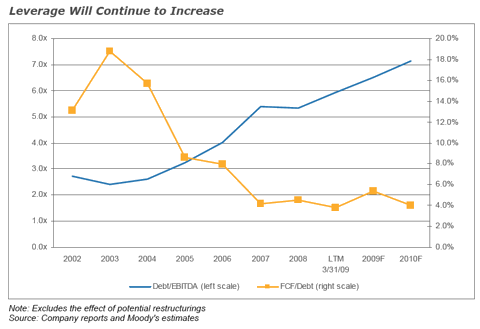 Ultimately, we expect the industry will need to reverse the vertical integration strategy through cross-industry collaboration and outsourcing print production and distribution processes … Although newspapers may lose some of their in-house control over press time, they would also release resources to beef up investment in content and technology.
While Moody's does not anticipate a widespread shift by issuers to an online-only business model as the revenue loss is too significant at this point, such a change would meaningfully lower operating costs. Reducing the frequency of print editions is a hybrid approach that may result in cost savings while preserving newspapers' value-added service for advertisers.
Newspaper companies' credit ratings have moved considerably lower over the last few years, but additional downward pressure remains … If newspapers can't monetize the content in new digital channels at the same level as with print, or cut structural costs enough to keep up with the changing competitive environment, the prospect of additional recapitalizations or shutdowns will grow, adding further pressure to ratings.
For details, see Newspaper Industry Costs: Out of Balance.